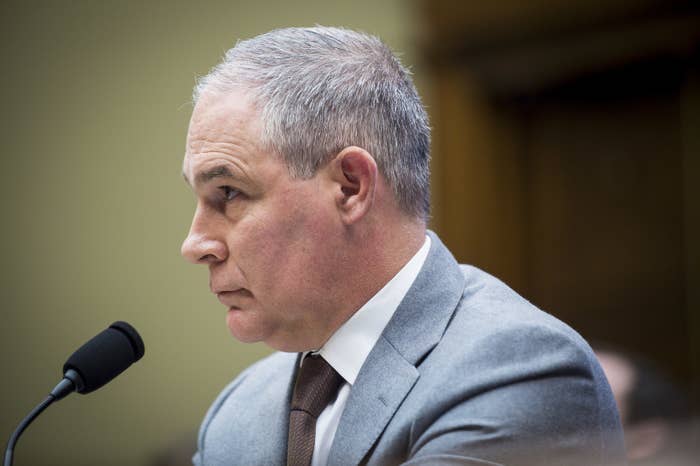 A former top EPA official has come forward with allegations of "unethical and potentially illegal" acts by agency chief Scott Pruitt, congressional Democrats say in a pair of letters released on Thursday.
Kevin Chmielewski, who was deputy chief of staff for operations at the EPA, shared examples of Pruitt's expensive spending on security, office decorations, and more. He also confirmed reporting that Pruitt knew about big raises to a pair of aides and that he was marginalized for speaking out about these issues.

"The new information provided by Mr. Chmielewksi, if accurate, leaves us certain that your leadership at EPA has been fraught with numerous and repeated unethical and potentially illegal actions on a wide range of consequential matters that you and some members of your staff directed," five congressional Democrats wrote in a letter to Pruitt. They wrote a similar letter to President Donald Trump.

After meeting with Democrats on Tuesday, Chmielewksi on Thursday afternoon met with staffers on the Republican-led House Committee on Oversight and Reform. In this meeting, Chmielewksi confirmed many of the details in the Democrats' letter, committee spokeswoman Amanda Gonzalez told BuzzFeed News.
"We're still in the middle of assessing next steps," Gonzalez said.
The new letters come as Pruitt faces increasing scrutiny over whether his actions on housing, spending, and with staff have been improper. For example, Rep. Trey Gowdy, chair of the House Oversight Committee, is investigating Pruitt's activities and on Wednesday asked the EPA to hand over documents related to his travel and former condo rental tied to an energy lobbyist. The Office of Government Ethics recently asked the EPA to probe the ethical behavior of its chief. Moreover, the White House is reviewing Pruitt's housing deal, although Trump has publicly voiced support for his cabinet member.
In the letter to Pruitt, the Democrats write that Chmielewski told them he had some sense of what was to come at the EPA under the new administrator. "When he first started in his role as a politically appointed Senior Executive Service official at EPA, Chief of Staff Ryan Jackson informed him that 'the nightmare is now yours.' Mr. Chmielewski said those words turned out to be accurate," according to the letter.
Chmielewski has confirmed many of the details previously reported in recent weeks, such as the EPA giving massive raises to two aides close to Pruitt and staff getting reshuffled or demoted for speaking out. "He was in the room. He was on conference calls," a congressional staffer told BuzzFeed News. "He was there discussing this with Ryan Jackson."

Chmielewski provided a long list of allegations to Congress. Here are some of the most notable:
— He said the decision to give two aides big raises was "100% Pruitt himself," contradicting Pruitt's own words on the issue in an interview last week with Fox News. EPA's Jackson has since taken credit for the raises, and said they were reversed, according to the Atlantic.
— He told members that Pruitt blew past a $5,000 limit for decorating his office, including refinishing an antique desk, leasing art from the Smithsonian, and framing an 8-by-10-foot US flag.
— He provided many examples of expensive security spending beyond Pruitt having a large security detail and traveling first-class, which the agency's internal watchdog is already looking into, such as the purchase of bulletproof vests and weapons, biometric locks, a security sweep of Pruitt's office, and one or more new SUVs for Pruitt's travel rather than using vehicles from the General Services Administration.
— He said that the agency signed a $30,000 contract with private Italian security during Pruitt's trip last summer to Italy for the G-7 summit. For this trip, and other ones planned, Chmielewski said Pruitt refused to stay at hotels recommended by US Embassy in favor of "more expensive hotels with fewer standard security resources."
— He said Pruitt "insisted" on using lights and sirens to go to "the airport, meetings, and social events on numerous occasions." He also is alleged to have "permitted" his drivers to "speed through residential neighborhoods and red lights, far in excess of posted speed limits." This confirms previous reporting from CBS News.
— He confirmed reporting by the Washington Post that the EPA's Millan Hupp acted as Pruitt's "personal real estate representative," finding housing for him during work hours.
— He said Pruitt's travel was "often dictated by [Pruitt's] desire to visit particular cities or countries rather than official business," and staffers were directed to book Pruitt's flights on Delta so he could grow his frequent flyer miles. He also confirmed Washington Post reporting that the agency looked into a $100,000-per-month contract to rent a private jet for Pruitt's use.
— He confirmed New York Times reporting that staff, including himself, who spoke up about Pruitt's spending were reshuffled or demoted. After the EPA's Ryan Jackson voiced concerns about Pruitt's travel, according to Chmielewski, Pruitt told his chief of staff via text not to come to future scheduling meetings related to travel.

— He provided new details about Pruitt's controversial housing deal, challenging the idea that energy lobbyist J. Steven Hart was not a landlord and that the Hart family didn't know Pruitt's daughter shared the condo. Chmielewski said he overheard J. Steven Hart on the phone, "complaining that [Pruitt] had never paid any rent to him, and that [Pruitt's] daughter damaged his hardwood floors by repeatedly rolling her luggage across the unit when she was staying there."
Responding to details in the Democrats' letters, Ryan Williams, a spokesman for the Hart family, told BuzzFeed News in an email: "As the landlord, Vicki Hart was the only person who handled rent payments. The rent was paid in full and the hardwood floors were never damaged." He added that Pruitt did pay some of his rent a few weeks late, and the Hart family does not know if Pruitt's daughter ever spent the night there.

Before joining the EPA, Chmielewski worked as an advance staffer on Trump's campaign. "I do everything from making sure there are enough port-o-johns for the events to being a direct liaison to the Secret Service detail," he told the Maryland Coast Dispatch of his campaign job in summer 2016.
Democrats in both chambers signed the letters. The list includes Sens. Thomas Carper of Delaware and Sheldon Whitehouse of Rhode Island, as well as Reps. Elijah Cummings of Maryland, and Gerald Connolly and Donald Beyer of Virginia.
"We will respond to Members of Congress through the proper channel," Jahan Wilcox, an EPA spokesman, told BuzzFeed News in an email.

Chmielewski told the Democrats he was fired. It's still not entirely clear how that happened. The New York Times previously reported that he was placed on administrative leave without pay. His work voicemail is still set up. The EPA did not respond to questions about Chmielewski's current employment status.
UPDATE
This story has been update to include a comment from Ryan Williams, a spokesman for the Hart family.