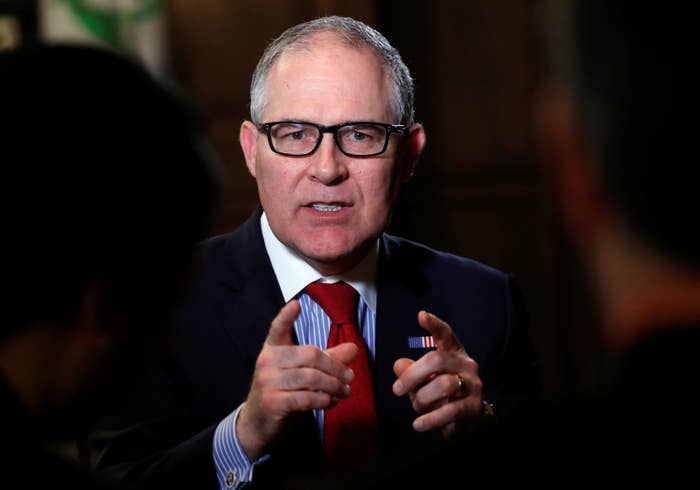 There is a whirlwind of controversy surrounding Environmental Protection Agency chief Scott Pruitt and his staff. In just the past week, Pruitt's EPA has come under fire for tapping current and former lobbyists to arrange travel abroad, pushing negative stories about Interior Secretary Ryan Zinke, a wave of high-level resignations, and more.
Pruitt and his staff are at the center of many overlapping investigations by Congress, the White House, EPA's Office of Inspector General, and the Government Accountability Office, the federal watchdog.
The flood of news has been dizzying for everyone, including EPA staff. "It's been insane," an EPA program analyst told BuzzFeed News. Several others told BuzzFeed News that the near-constant stream of stories has been distracting.
It's confusing AF. So here's a guide to what exactly is going on.
The scrutiny started over EPA spending on Pruitt's travel and security
The EPA has spent more than $3 million on Pruitt's first-class travel, lodging, and security since he became administrator, according to the Associated Press. Last summer, for example, Pruitt and his staff traveled to Italy for two weeks for a G7 meeting. The trip cost more than $120,000, including $36,000 for a military jet to make a connecting flight, a $7,000 plane ticket for Pruitt to cross the Atlantic Ocean, more than $30,000 for security, and more. The EPA also spent $100,000 on Pruitt's controversial four-day trip to Morocco to tout natural gas last December. Much of the security costs come from Pruitt's around-the-clock detail, which continues even when he's not working, and involves a team of about 20 people.
The EPA has justified Pruitt's travel expenses, citing security concerns tied to death threats. But Senate Democrats in an April letter say they've obtained agency documentation that suggests otherwise; this includes an Oct. 17, 2017, memo stating, "EPA intelligence has not identified any specific credible threat to the EPA Administrator."
Kevin Chmielewski, who was deputy chief of staff for operations at the EPA, recently told Democrats in Congress that Pruitt's travel was "often dictated by [Pruitt's] desire to visit particular cities or countries rather than official business," including visits to his home in Tulsa, Oklahoma. He also alleged that staffers were directed to book Pruitt's flights on Delta so he could get frequent flyer miles. Chmielewski also confirmed Washington Post reporting that the EPA considered a $100,000-per-month contract to rent a private jet for Pruitt's use.
EPA's Office of Inspector General is auditing Pruitt's travel through at least the end of 2017, and members of the House Oversight Committee are investigating EPA's travel and security spending.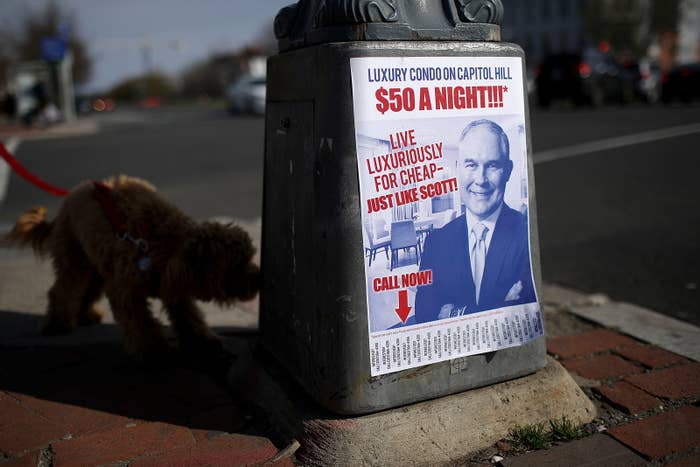 Lobbyists are reportedly being tapped to help set up Pruitt's travel abroad
Shortly after taking over as chief, Pruitt drew up a list of countries he wanted to visit and sought help from friends and others to make it happen, according to the Washington Post.
One trip where this became a reality was Pruitt's visit to Morocco last December. Richard Smotkin, a former Comcast lobbyist and longtime friend of Pruitt's, helped arrange and then tagged along on Pruitt's trip, according to the Washington Post and New York Times. Smotkin then received a $40,000-a-month contract, retroactive to January 2018 and lasting at least a year, with the Morocco government to promote the country's economic interests, from golfing to TV and film production. He also registered this year as a foreign agent for Morocco.
Members of Congress have already questioned why Pruitt even went to Morocco to talk about natural gas when that's not really his job and more befitting of the US energy secretary, and now two Senate Democrats are asking for a hearing on the trip.
Former lobbyists and other outsiders also played a role in some trips that never made it off the ground. Matthew C. Freedman, a former lobbyist for foreign governments, helped arrange a trip for Pruitt to Australia that was canceled due to Hurricane Harvey, according to the New York Times. Freedman gave recommendations to EPA staff for the trip and was in contract with Australian officials, but he didn't want to be listed as a member of the US delegation on the trip.
For another canceled trip, this one to Israel, EPA got help making arrangements from Sheldon Adelson, a top Republican donor and casino owner, according to the Washington Post.
EPA spent $43,000 on a phone booth
The EPA spent $43,000 for a secure phone booth in agency headquarters for Pruitt, a steep expense that has raised eyebrows in Congress. While an initial internal review of the purchase found nothing wrong with the purchase, a subsequent investigation from the Government Accountability Office concluded the EPA broke two laws when it paid for the phone booth without asking permission from Congress. The White House's Office of Management and Budget is now investigating the matter.
When asked about the booth in a late April congressional hearing, Pruitt said "the process failed," and he had not known how much the phone booth had cost.
....And more security spending
Pruitt's EPA has also purchased bulletproof vests and weapons, biometric locks, a security sweep of Pruitt's office, and one or more new SUVs for the administrator's travel, rather than using vehicles from the General Services Administration.
Pasquale "Nino" Perrotta, Pruitt's former head of security and who had served at the EPA under multiple administrations, is allegedly behind many of these spending decisions. Perrotta's colleague conducted the sweep of Pruitt's office, raising questions in Congress about how that contract was awarded. The sweep turned up nothing and was called "very basic and cursory" by EPA's Office of Homeland Security, according to Senate Democrats.
Perrotta resigned from the EPA at the start of May and has faced hours of transcribed questioning from House Oversight Committee members.
...And spending on EPA office decorations and supplies
The EPA has been accused of spending more than the $5,000 limit to decorate Pruitt's office, according to former EPA staffer Chmielewski, including refinishing an antique desk and framing an 8x10-foot US flag.
Pruitt also wanted commemorative coins, called challenge coins, printed that were bigger than past ones used by the agency and featuring symbols of his faith and home state of Oklahoma, including a picture of a buffalo and a Bible verse, according to the New York Times. Pruitt reportedly did not keep EPA's logo on it, however, because he thought it looked like a cannabis plant. The coins were never printed.
Pruitt also wanted leatherbound notebooks, fountain pens, and stationery that featured his name and not EPA's seal. In the end, some items were purchased with a smaller version of EPA's seal.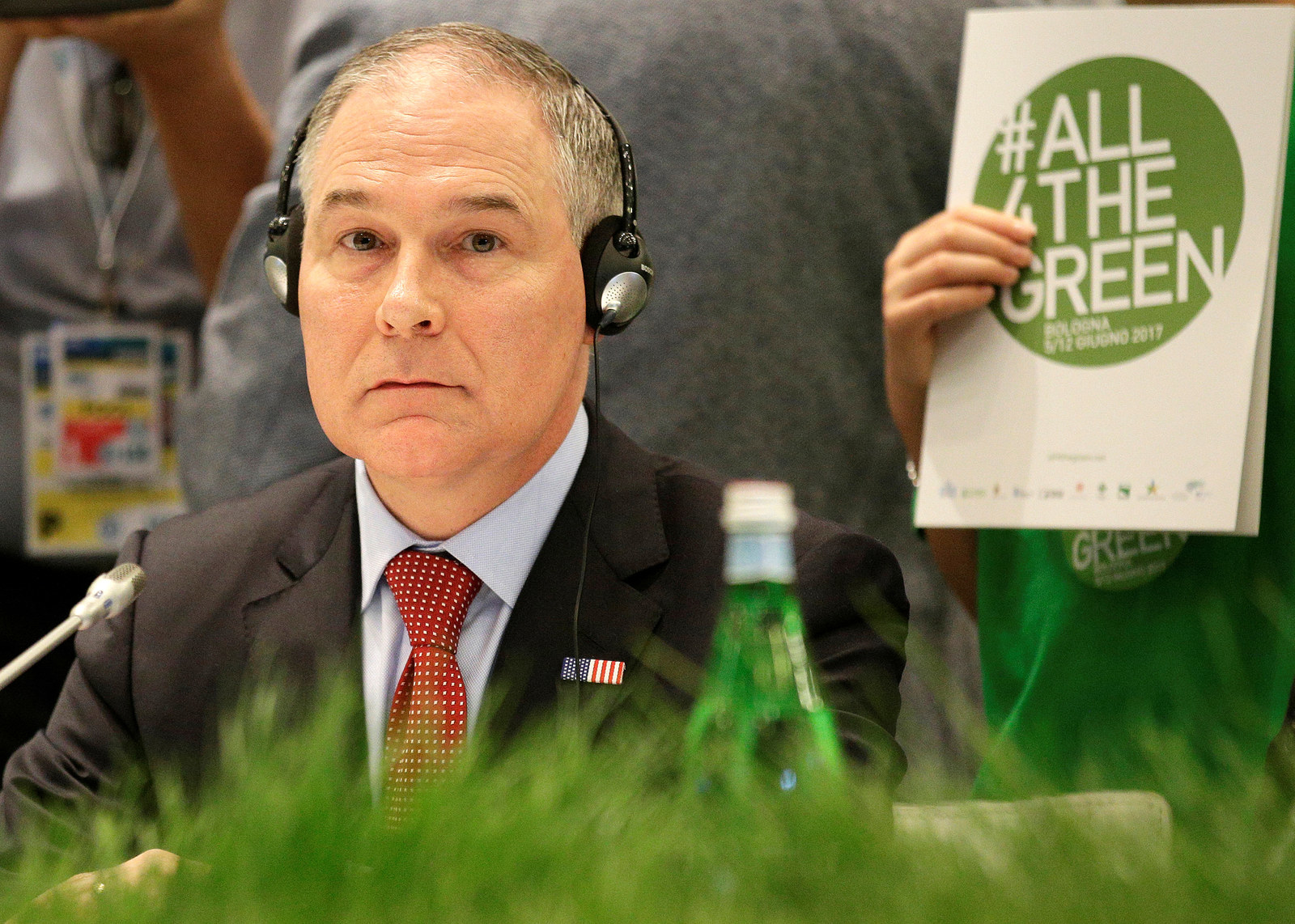 Pruitt allegedly used sirens to get to dinner
Pruitt "insisted" on repeatedly using lights and sirens in car rides to the airport, meetings, and social events, according to former EPA staffer Chmielewski. The agency chief also allegedly let his drivers move through neighborhoods and red lights "far in excess of posted speed limits."
Pruitt has used lights and sirens to quickly travel to the airport in Washington or get to restaurants for dinner, including a trip to Le Diplomate, a French restaurant in DC, according to the New York Times.
Pruitt is accused of retaliation against workers who question him
At least five EPA staffers, including Chmielewski, were reportedly reshuffled, demoted, or fired after raising questions about Pruitt's actions and spending, according to the New York Times. According to Democrats in Congress, Chmielewski said that when he refused to approve unethical agency spending, he lost his senior post and was put on administrative leave. In another case, then-security agent Eric Weese shot down Pruitt's proposal to use lights and sirens in a nonemergency and was quickly replaced by Perrotta. Pruitt also reportedly used one of his aides, Millan Hupp, to help him find an apartment during office hours.
The House Oversight Committee is investigating these claims.
The EPA has made hires and given raises using a legal loophole
A pair of top EPA aides, Hupp and Sarah Greenwalt, received big raises even after White House officials denied them, the Atlantic reported in April. The EPA approved the raises using a little-known provision in a water rule. While Chmielewski has said Pruitt "100%" knew about the raises, the administrator has denied this.
Pruitt told Congress in April he didn't even know about one of the raises, and that he had given his chief of staff Ryan Jackson the authority to approve them. He said he had not known about the way the raises were pushed through.
According to an interim report from EPA's internal watchdog, this legal loophole was used by Trump's EPA to hire multiple staffers and to authorize raises for at least seven employees, including Greenwalt, Hupp, and Chmielewski. EPA's Office of Inspector General has not yet ruled whether the uses of this provision were improper.
Pruitt got cheap housing tied to an energy lobbyist
Between February and August 2017, Pruitt spent only $50 a night to stay at a multi-story condo on Capitol Hill owned by the wife of an energy lobbyist, and he only had to pay for the nights he was actually there. After the news broke in March, EPA's ethics team reviewed Pruitt's lease and found nothing improper. The top ethics official then clarified that his review was limited in scope and didn't address all ethics concerns. For example, the agency review did not account for Pruitt's adult daughter, McKenna Pruitt, staying with him or consider whether the energy lobbyist, J. Steven Hart, had business before the EPA.
Pruitt told Fox News in an early April interview that Hart "has no clients that have business before this agency." But an email obtained by the New York Times suggests otherwise, showing Hart reached out to the EPA last August on behalf of his client Smithfield Foods with recommendations for the agency's new science advisers. This is a mischaracterization, according to Hart. "I assisted a friend who served on the Chesapeake Bay Commission, and this is inaccurately being tied to Smithfield Foods. I was not paid for this assistance and any suggestion that I lobbied for Smithfield Foods is inaccurate," Hart said in a statement.
Lobbying records list Hart as a lobbyist for the company, and for many others in the oil and gas industry who work with the EPA.
Hart has since left his job at the law firm Williams & Jensen. In a letter to friends about the decision, Hart wrote: "As you know, these days I am no more an energy lobbyist than I am an astronaut. But, why let the facts get in the way of a good story?"
According to a source familiar with the situation, Pruitt overstayed his welcome at the apartment, paying rent late and not taking out the trash; ultimately, the owners reportedly changed the locks on Pruitt.
EPA's internal watchdog has agreed to review the situation. Both the House Oversight Committee and White House are also investigating Pruitt's housing.
An EPA office in Pruitt's hometown?
In the early days of the Trump administration, EPA staff looked into opening a new agency office in Pruitt's hometown of Tulsa, Oklahoma. Agency officials reached out to the General Services Administration about the idea, and notified Congress, according to letters from three House Democrats.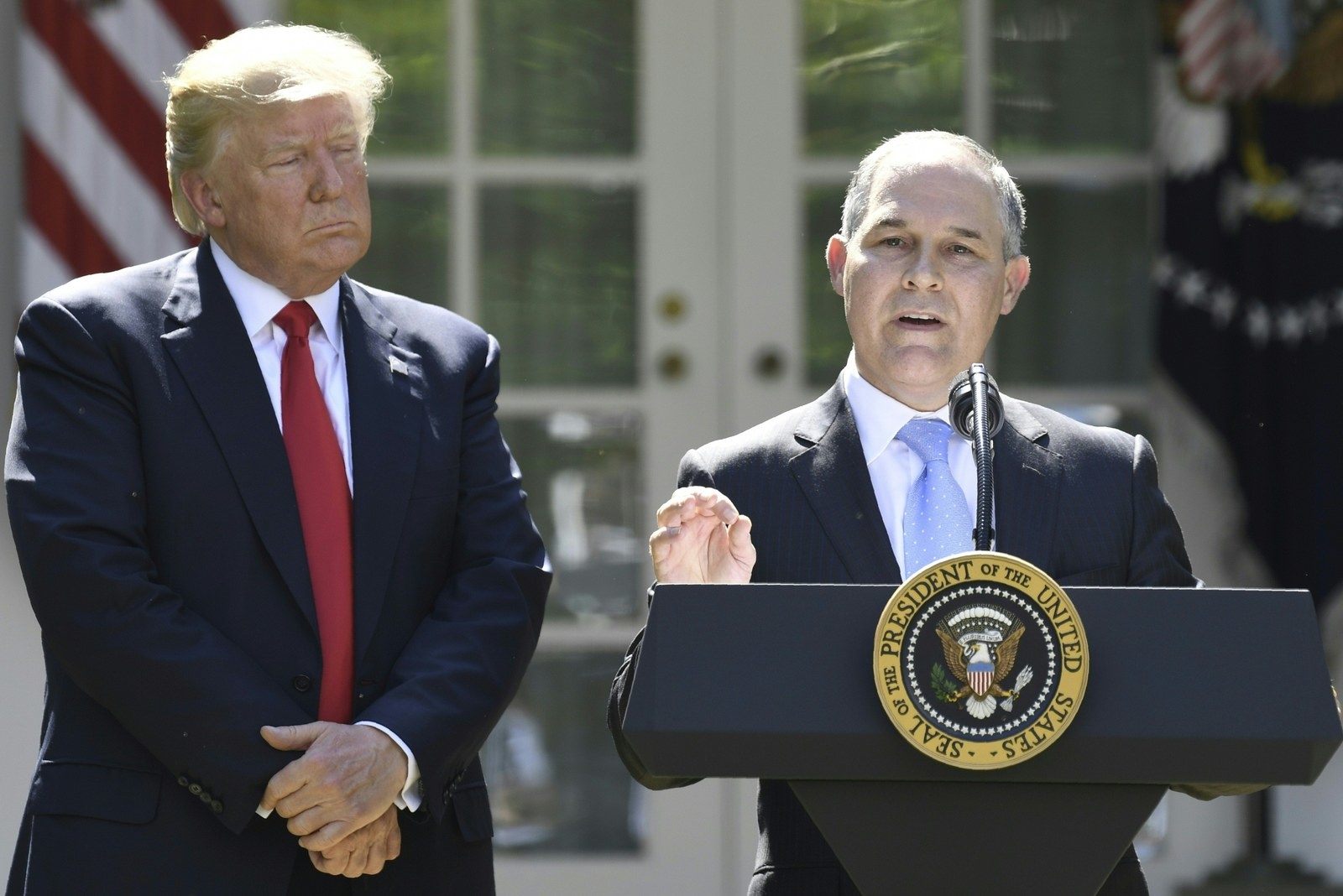 Pruitt reportedly has four email accounts
As EPA administrator, Scott Pruitt has four email accounts: pruitt.scott@epa.gov, esp7@epa.gov, adm14pruitt@epa.gov, and sooners7@epa.gov. The discovery of multiple emails, first reported by the Washington Post, has sparked questions about whether Freedom of Information Act (FOIA) requests into Pruitt's correspondence have been complete.
Sen. John Barrasso, a Republican from Wyoming and chair of the Senate Committee on Environment and Public Works, asked the EPA on April 13 to confirm all these emails were checked during FOIA requests.
As Oklahoma attorney general, Pruitt used multiple email accounts, including his personal one, for official business. The Center for Media and Democracy is in an ongoing legal battle with the Oklahoma attorney general's office to release thousands of Pruitt's emails with fossil fuel companies and others in response to their open records request.
EPA's press shop has reportedly taken aim at the Interior Department
To take some of the scrutiny off of Pruitt, at least one EPA spokesperson tried to shop around negative stories about Interior Secretary Ryan Zinke, according to the Atlantic. When White House officials found out, they reportedly looked into firing an EPA official they believed to be responsible.
The EPA exodus
Four high-level EPA officials left at the start of May, or announced plans to leave soon, the EPA has confirmed to BuzzFeed News. Albert "Kell" Kelly, the head of the Superfund program, is leaving amid questions into his past, Axios first reported. Kelly, also from Oklahoma, last year received a lifetime ban from the banking industry.
Nino Perrotta, Pruitt's head of security, recently resigned amid questions about his role in approving new security measures and costs.
Liz Bowman, the top spokesperson at the agency, told BuzzFeed News she plans to leave mid-May. She was among the EPA staffers who received raises using a legal loophole and was at the helm of an office that openly sparred with reporters and hired political operatives to monitor the news. "Being a member of the EPA team has allowed me to further my skills, learn from my mistakes, and make lifelong friendships," Bowman said in a statement.
John Konkus, a political hire put in charge of EPA grants, has also resigned, Politico first reported and confirmed by BuzzFeed News. While at the EPA, Konkus was approved to also do outside media consulting.
"Omg I am so excited," one EPA staffer told BuzzFeed News about Bowman's upcoming departure. "We're pretty much all doing the Munchkin song from Wizard of Oz. Ding dong the witch is dead."
Samantha Dravis, former EPA senior counsel and associate administrator in the Office of Policy, resigned in April following reporting that she did not work between November 2017 and January 2018 but still was paid. EPA's Office of Inspector General is investigating Dravis.
It's not just at the EPA. There are questions about Pruitt's time as Oklahoma attorney general, too.
Before coming to the EPA, Pruitt was Oklahoma's attorney general. In that role, he had a cozy relationship with oil and gas companies and repeatedly sued the EPA over environmental regulations, such as the Clean Power Plan. There's also a growing number of ethics concerns tied to Pruitt's role in the job.
Pruitt reimbursed himself nearly $65,000 from his two attorney general campaigns, and it's unclear if these payments broke the law, according to CNN. He also reportedly reassigned investigations staff to be drivers or security personnel.
According to property documents reviewed by the New York Times, Pruitt bought a home in Oklahoma with a shell company and the purchase involved two people that later joined him at the EPA.