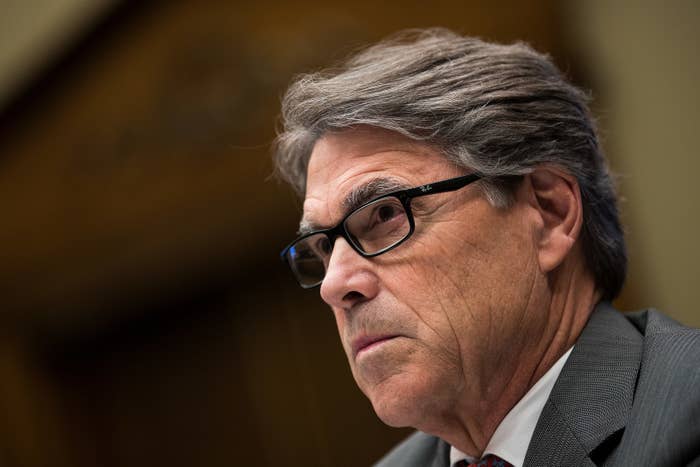 Energy Secretary Rick Perry on Thursday suggested that developing fossil fuels could help prevent sexual assault.
Perry recently returned from an energy tour across Africa, where he heard from people who live in communities without access to electricity about the difficulties they face. Speaking about this trip at an energy event hosted by Axios and NBC, Perry reportedly said:
"Let me tell you where people are dying, is in Africa, because of the lack of energy they have there. And it's going to take fossil fuels to push power out into those villages in Africa, where a young girl told me to my face, 'one of the reasons that electricity is so important to me is not only because I'm not going to have to try to read by the light of a fire and have those fumes literally killing people.'"
Perry continued:
"But also from the standpoint of sexual assault. When the lights are on, when you have light that shines, the righteousness, if you will, on those types of acts. So from the standpoint of how you really affect people's lives, fossil fuels is going to play a role in that. I happen to think it's going to play a positive role."
Department of Energy spokeswoman Shaylyn Hynes attempted to clarify Perry's statement, saying that he was referring to all types of electricity, not just fossil fuels. "The Secretary was making the important point that while many Americans take electricity for granted there are people in other countries who are impacted by their lack of electricity," she said by email.
"One person told him about how light can be a deterrent to sexual assault and security in remote areas. Another leader told him about how women in their country have to go to the store every day for a new carton of milk because they don't have a working refrigerator," she added. "Those powerful stories stuck with him and that is what he was sharing with the crowd in Washington today."