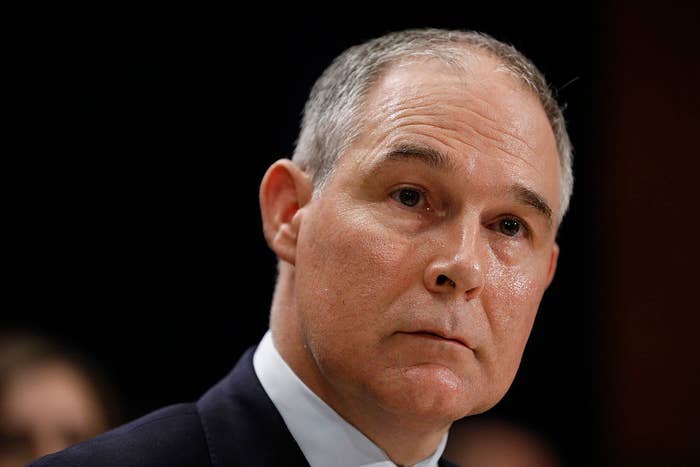 Republicans and Democrats came together on Thursday to jointly attack the Trump administration's proposal to slash the Environmental Protection Agency's budget by $2.4 billion, or 31%, next year.
Rep. Ken Calvert, a Republican from California, raised strong concerns about Trump's budget proposal in his opening remarks to a two-hour EPA budget hearing, held by an appropriations subcommittee focused on the environment and chaired by Calvert.
"In many instances, the budget proposes to significantly reduce or terminate programs that are vitally important to each member on this subcommittee," Calvert said.
He listed a few examples, including proposed cuts from clean-up sites polluted with hazardous material, called Superfund sites, and the elimination of grants for reducing air pollution, called the Targeted Air Shed Grant Program. "These are all proposals we are unlikely to entertain," he said.
Rep. Betty McCollum, a Democrat from Minnesota, went even further with her criticism, saying the proposed budget "abandons EPA's responsibility to the American people" and that she would not support a budget coming out of the committee calling for spending below the current level.
"The most revealing thing to come out of that committee is how many members each brought up concerns," Rep. Chellie Pingree, a Democrat from Maine, told BuzzFeed News after the hearing.
EPA head Scott Pruitt in his opening remarks defended the budget proposal. He argued it was consistent with meeting his "back-to-basics" agenda that focuses on clean water and clean air rather than climate change.

Pruitt offered few new clues about his leadership of the agency during the hearing. Responding to a question on overreach, Pruitt said the agency is "going to stay in our lane." If Congress has not specifically delegated the EPA authority to act on a given issue, "we are not going to reimagine" it, he said.
When pressed on the reasoning for reducing funding for regional programs such as Puget Sound restoration efforts in Washington state and protecting the water quality of the Great Lakes, Pruitt said he was open to working with members. When Ohio Rep. Marcy Kaptur invited Pruitt to travel east of the Mississippi River to discuss the health of Lake Erie during the hearing, he accepted on the spot.
Perhaps the most clear example of the bipartisan support for funding the EPA beyond Trump's proposal came late in the hearing from Rep. Tom Cole, an Oklahoma Republican that worked with Pruitt when he was the state's attorney general.
"At the end of the day, Congress will make the decision" on the budget, Cole said, "and I think you're going to do better than you asked for."
Cole then raised concerns about funding cuts to projects in tribal communities, especially poor and rural tribes.
"My colleagues, we all have our particular areas of concern but you'll find one of the great common themes on this subcommittee is bipartisan cooperation on Native American affairs." If the federal funds for specific environmental tribal programs run dry, he asked, "how will they make up this money?"
On at least one topic, the partisans could not agree: the Paris climate agreement. Cole and at least two other Republicans praised Trump's recent decision to pull the US out of the Paris accord, at times noting Pruitt's role in making that happen. Pruitt was among the most vocal opponents of the climate agreement and has repeatedly questioned the science showing that human efforts, including the burning of fossil fuels, are causing an increase in global temperatures.

Democrats, in contrast, pointed to Trump's decision on Paris as a mistake. McCollum called the move the "most reckless action" of the new administration. "The budget is the latest expression of the administration's woeful [denial] of climate science," she said.
"Climate change to us is very real. It's not an environmental platitude," said Pingree from Maine. Between the climate threats to the state's fishing industry and tourism, "I can't go home to say people this isn't happening" she said.
Trump's budget proposal seeks to eliminate 15 research and voluntary programs relating to climate change, according to an analysis released Monday by the Environmental Protection Network, a group of former EPA officials. Some of the targeted programs for elimination include the program for greenhouse gas reporting as well as one for state and local action on climate and energy.
The recent hearing kicked off a months-long effort to settle on a final budget for the EPA.
"The big issue is how does our committee, where you have clear bipartisan agreement that we should fund these things, manage to do that if the administration over the overall budget has such a low number?" Pingree said. "There's no money there."
CORRECTION
Rep. McCollum is from Minnesota, not Michigan.