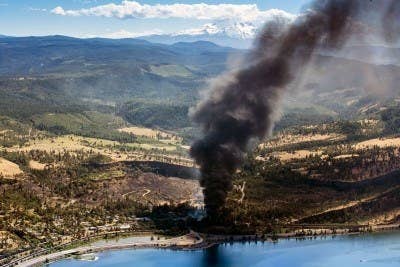 The Trump administration on Monday rolled back a safety rule that would have required trains carrying oil and other flammable materials to install special brakes.
The Pipeline and Hazardous Materials Safety Administration announced the rule reversal online, citing an updated federal analysis that found the high costs of implementation outweighed the benefits. PHMSA did not immediately respond to a request for comment.
The rule took effect in 2015 under the Obama administration, following a series of dangerous oil train explosions in Alabama, North Dakota, and elsewhere. Many of these past derailments have resulted in the release of hundreds of thousands of gallons of oil and have prompted local evacuations.
This reversal is just the latest example of the Trump administration undoing oil and gas safety and environmental regulations, coming just a week after the Interior Department axed a rule to curb the leaking of methane, a potent greenhouse gas, from oil and gas drilling on public land.
"The electronically controlled brakes would have been a long-awaited safety improvement," Fred Millar, an independent consultant specializing in chemical safety and transport, told BuzzFeed News.
By undoing this and other safety rules, Millar said, "the cost will be borne by the people who die or are injured or who have terrible property damage."
After the 2015 rule was finalized, giving oil-carrying trains until at least 2021 to install the new brake technology, Congress called for an updated analysis on its costs and benefits. Trump officials did that study and concluded in late 2017 that the brake requirements "are not economically justified."
The Association of American Railroads last fall endorsed the rule's repeal in its public comments submitted in response to the updated federal analysis.