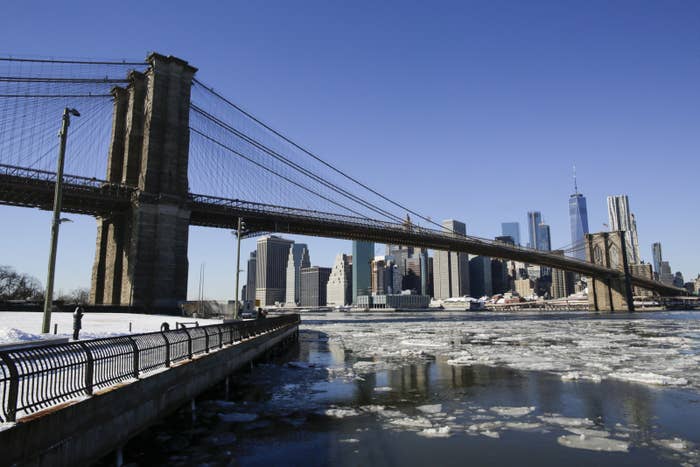 New York City is the latest — and largest — US city to sue five big oil companies for billions in damages from the impacts of climate change, such as rising seas and extreme weather.

"It's time for Big Oil to take responsibility for the devastation they have wrought," New York City Mayor Bill de Blasio said in a press conference Wednesday about the decision.
The lawsuit, filed Tuesday night in a federal district court, targeted BP, Chevron, ConocoPhillips, ExxonMobil, and Royal Dutch Shell over their role in climate change. The biggest driver of global warming is the burning of fossil fuels like oil and gas.
"This lawsuit is based upon the fundamental principle that a corporation that makes a product causing severe harm when used exactly as intended should shoulder the costs of abating that harm," New York City wrote in the lawsuit.
New York City follows in the footsteps of six California cities and counties, including San Francisco and Oakland, which filed their own climate lawsuits against the same five oil companies last year.
At least one of the companies — ExxonMobil — is fighting back. Earlier this week, ExxonMobil petitioned a district court in Texas for an order to depose and obtain documents from all the California officials who filed lawsuits against the company, claiming an "abuse of process, civil conspiracy, and violations of ExxonMobil's constitutional rights." In the filing, ExxonMobil said it is considering filing its own lawsuit.
New York's suit is particularly notable because its attorney general is investigating whether ExxonMobil misled investors about its risks to climate change. ExxonMobil has repeatedly tried to halt the probe, and also criticized it in its recent petition in the Texas court.
ExxonMobil, BP, and Chevron did not immediately respond to requests for comment. ConocoPhillips said it did not comment on pending litigation.
"Climate change is a complex societal challenge that should be addressed through sound government policy and cultural change to drive low-carbon choices for businesses and consumers, not by the courts," Natalie Gunnell, a Shell spokeswoman, told BuzzFeed News by email.
In addition to the lawsuit, New York City also announced on Wednesday its intention to divest some $5 billion in its pension funds from oil and gas companies. New York's mayor and comptroller Scott Stringer on Thursday will submit a resolution to pension trustees to kick off this process, and it's expected to finish by 2022.
Climate activists trumpeted the city's efforts. "Yes, these are actions prudently taken to protect the wallets of all New Yorkers," Bill McKibben, 350.org co-founder, said at the Wednesday press conference. "But everything that happens in the most global of cities is amplified." The environmental group 350.org has been leading the divestment push.
New York City has previously announced its intention to honor the Paris climate accord even though President Trump has pledged to withdraw the US, the largest historical emitter, from the historic agreement.
Despite the city's many steps to prepare for and respond to climate change, Mayor de Blasio last fall opposed a proposal for charging drivers in the city's high traffic areas, a plan that would have reduced pollution.