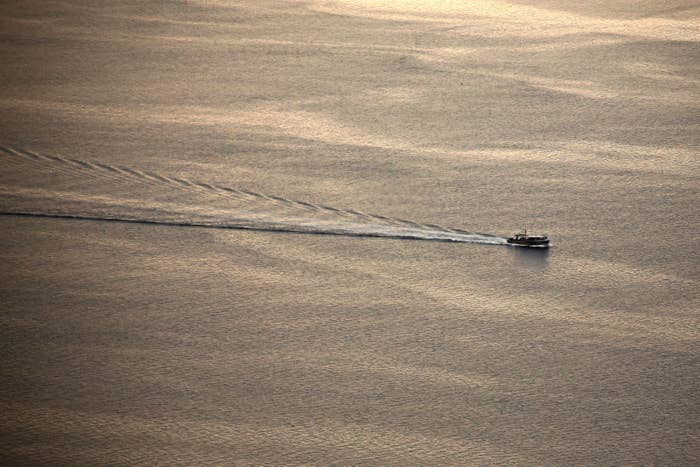 Controversial cuts to Environmental Protection Agency grants under the Trump administration are facing a first legal challenge, from a small Pennsylvania newspaper that lost $1.25 million in promised funding for environmental news coverage.

In a brief email dated Aug. 23, the EPA notified the Bay Journal, a small Pennsylvania newspaper covering the Chesapeake Bay, that it was cutting short a six-year, $1.95 million grant "[d]ue to a shift in priorities."
Local politicians from both sides of the aisle, such as Republican Gov. Jim Justice of West Virginia and Democrat Gov. Tom Wolf of Pennsylvania, have questioned the decision and rallied behind the local paper. Now the Bay Journal is appealing the revoked grant on the grounds it was unlawful and politically motivated.
"The termination was an ill-conceived and poorly executed political decision that may well have been made because of the content of what the Bay Journal published," according to the Bay Journal's appeal filed on Monday and shared with BuzzFeed News. For example, the paper has repeatedly reported on how Trump's proposed budget would shrink or eliminate several Chesapeake Bay programs.
This case is testing how much discretion the EPA has in rolling back past funding decisions, especially on competitively awarded grants, and explaining its actions. The appeal comes as questions and concerns swirl about having political appointee, John Konkus, in charge of reviewing the agency's grants. The Union of Concerned Scientists, a science advocacy group, and the progressive think tank Center for American Progress have called on the EPA's Office of Inspector General to review Konkus's role.
"It's not unprecedented for a new administration to conduct a thorough review of the previous administration's funding decisions, which is currently ongoing for all grants," EPA spokeswoman Liz Bowman said in a statement emailed to BuzzFeed News. "We are focused on ensuring taxpayer funds are spent responsibly on programs that yield tangible results to protect clean air, land, and water, and as part of that effort, funding for the Bay Journal will now go back into the Chesapeake Bay program to fund other Chesapeake Bay grants."
EPA declined to say how many grants have been terminated in the review so far. As of early September, the agency had canceled at least $2 million in awards to nonprofits and academic institutions, according to the Washington Post.
For example, the Midwest Pesticide Action Center received a heads-up on May 3 that it won $20,000 for a training on how to get rid of bedbugs for Michigan residents. At the month's end, however, the group was formally told the grant wouldn't be awarded.
The nonprofit Winrock International similarly learned on Aug. 22 it preliminary got about $150,000 grant to distribute clean cooking stoves only to be told the next day the official decision was the opposite.
But in the Bay Journal's case, unlike the Midwest Pesticide Action Center or Winrock International, the grant was partway through when it was cancelled. The newspaper received $350,000 in February 2016 and 2017. A free monthly with a circulation of 50,000 readers, the independent newspaper has relied on agency grants for decades.
According to Richard Kuhlman, who retired from the EPA in 2015 and has 30 years of grant management experience, he couldn't recall a case where an EPA grant was revoked aside from a reduction in Congressional funds or some sort of negligence or malpractice by the grantee. "It's unusual to do that. But if there's any time it would be less unusual, it would be during a change in administration," Kuhlman told BuzzFeed News.
In July, the EPA told the newspaper it was on track to receive its third payment, of $325,000, in February 2018. EPA staff "are in the process of forward funding your '18 funds prior to the end of this fiscal year (Sep 30)," Tom Wenz of EPA's Chesapeake Bay Program wrote in a July 26 email to Bay Journal editor Karl Blankenship. Wenz also confirmed the grant's remaining payment schedule: $325,000 in 2019, as well as $300,000 in 2020 and 2021.

A month later, the agency had changed its tune: "This message is to notify you that EPA will not fund your grant application for The Chesapeake Bay Journal," Diana Esher of EPA's Mid-Atlantic Region 3 office wrote in an email to Blankenship. "Due to a shift in priorities, EPA has decided not to provide funds for your project. Please accept our sincere thanks for your interest [sic] this EPA funding opportunity."
The Bay Journal wasn't the only one surprised. So were members of the Chesapeake Bay Commission, a bipartisan legislative group for three states in the bay's watershed that work closely with the EPA's Chesapeake Bay Program.
"I'm really holding out that [EPA staff] realize this is a mistake and they put the Bay Journal back on track," Ann Swanson, executive director of the commission, told BuzzFeed News. The commission urged the grant to be reinstated and praised the newspaper's reporting in an Aug. 28 letter to EPA head Scott Pruitt.
Regardless, the EPA reiterated its decision in a follow-up email to Blankenship in September. No new clues were provided about the specifics of the EPA's shift in priorities.
"That was something we've never been clear on," Blankenship told BuzzFeed News. To find out, he submitted a records request to the EPA for all internal communications about the decision. After the agency went unfulfilled for nearly two months, the Bay Journal last week sued to get access.
The recent appeal digs into this. "The purported basis for the termination (a supposed shift in priorities) is not an allowable reason under applicable law, and, even if it were, the stated basis is unsupported and contradicted by the factual record," the filing said. The Bay Journal's lawyers pointed out that the Chesapeake Bay Commission hasn't received any notice about a shift in priorities, for example.
They also argued that under EPA's grant regulations, there are only specific circumstances in which a grant can be terminated. This includes if a grantee fails to comply with conditions of the award or when a grantee agrees to the cancellation, they say, but not a "shift in priorities."
According to Kuhlman, this is not a straightforward case. "There are limited reasons for EPA terminating a grant, consistent with the regulations," and the appeal makes an interesting case, he wrote in an email. Kuhlman was not involved in the appeal but reviewed the filing at the request of BuzzFeed News.
"EPA still has a point about not being required to award additional funds," he added. He said he can envision a scenario where the appeal results in EPA technically keeping the grant open but then not handing out more money for it. "Not sure how this one may play out," he wrote. "But, I think EPA has the edge."
The EPA grant money currently provides about 40% of the Bay Journal's budget. If the decision isn't overturned, Blankenship told BuzzFeed News, "that's a lot of money to make up."