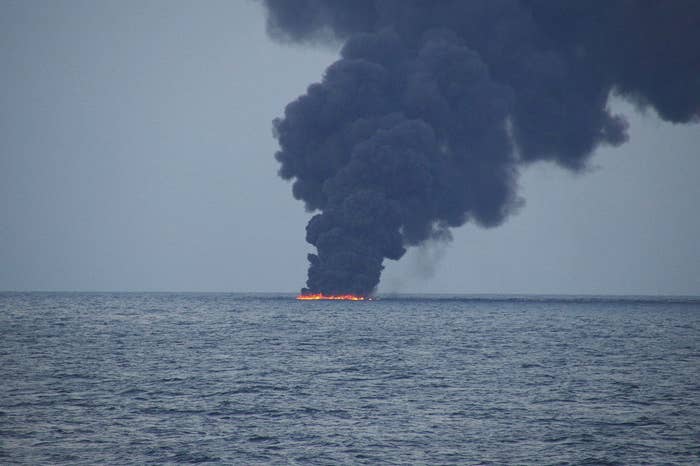 An Iranian oil tanker sank in a commercial fishing area in the East China Sea on Sunday, potentially unleashing one of the largest toxic spills in decades in a prime spot for commercial fishing.
The tanker, named Sanchi, was transporting 136,000 metric tons (or about 1 million barrels) of a flammable and toxic light crude oil, called condensate, when it crashed into a Chinese freight ship hauling grain on Jan. 6, triggering a series of explosions on the tanker and eventually sinking it.
While the entire crew of the CF Crystal freighter was rescued, Sanchi's 32-person crew is considered dead and only a few bodies were recovered.
And the disaster is far from over. Around the collision site, which is located about 160 nautical miles east of Shanghai and is a hot spot for fishing, there's an oily sheen on the ocean surface. As of Wednesday, the oil slicks stretched about 108 square kilometers total (or nearly 42 square miles), according to Richard Steiner, an Alaska-based environmental consultant who helped respond to the Exxon Valdez spill.
Chinese officials are cleaning up the surface spill, according to the South China Morning Post. They also have sent down robots to survey the underwater shipwreck for possible leaks. (When asked about the spill response, the China State Oceanic Administration did not immediately respond.)
From Deepwater Horizon in 2010 to Exxon Valdez in 1989, the biggest offshore oil spills in recent history have involved heavy crude oil.
In the recent incident, it's crude oil that powered the tanker that is suspected to have caused the unseemly slick seen in photos. But the current situation is very different from past disasters because it could also have leaked an enormous amount of condensate, which reacts to the environment differently than heavy crude does.
"There's a lot we don't know about a major condensate spill since we've never seen one," Steiner, who has been talking with Chinese officials about this spill, told BuzzFeed News.
Because it's ultralight and volatile, condensate doesn't form a surface slick that can be cleaned up. Instead, the oil evaporates into the atmosphere, burns, or dissolves in the water. Once it dissipates in the water, there's no way to clean it up, Steiner said.
No one knows yet whether Sanchi is leaking its condensate. If not, then it's not as big a deal. But if it is, this incident has the potential to be the largest condensate spill ever, the largest tanker spill in nearly 30 years, and one of the biggest toxic spills in the ocean.
If condensate has indeed entered the water, Steiner continued, "the bulk of the pollution, I think, is this invisible, subsurface toxic plume that is spreading outward from the site and probably already covered hundreds of square miles."
This ultralight crude can last in the ocean for months. Even at low concentrations, it's harmful, possibly deadly, to different types of marine life. For example, exposure can cause cancer or harm an animal's reproductive organs. In the impacted area, hundreds of species are commercially fished, and it's also home to large mammals, such as whales and porpoises.
"The collision site was within the area which considered to be one of the richest fishing grounds in China, the Zhoushan shipping ground," Ma Jun, a Chinese environmentalist, told CNN.
A US State Department official told BuzzFeed News by email that it has not received any requests for assistance through the Chinese Embassy in Washington, DC, or the US Embassy in Beijing. "The Department of State is aware of the oil spill, but declines comment on its current status," the official said.