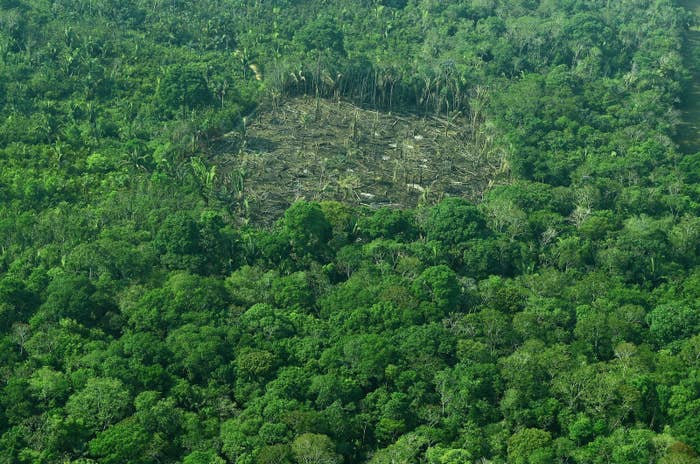 The election of Jair Bolsonaro to be Brazil's next president is the latest political shake-up to threaten global climate action, and environmentalists are nervous.

Bolsonaro is a far-right politician who has vocally opposed immigration, spoken favorably about Brazil's former military dictatorship, criticized the country's LGBT community, and made numerous misogynist comments against women. On the subject of the environment, he campaigned on folding the country's Environment Ministry into its agricultural one and rolling back environmental protections. He has been backed by illegal loggers and miners.
If he opens the Amazon to more business, as his backers want, he threatens the country's ability to meet its climate goals under the Paris climate agreement — and the world's ability to prevent catastrophic climate change. That's because forests like the Amazon, the largest tropical forest in the world, soak up large amounts of carbon dioxide. Deforestation, meanwhile, releases those emissions back into the air and worsens the problem.
Bolsonaro also said on the campaign trail that he would withdraw Brazil from the international agreement altogether if elected, seemingly following in the footsteps of President Trump, who last year pledged to pull the US out of the climate deal.
But days before Brazil's election, Bolsonaro reversed course. "Brazil stays in the Paris Agreement," he said when asked about the issue last week at a press conference, according to Bloomberg News.
Bolsonaro's win comes as many countries wrestle with their stance on climate policy. In August, Australia's failure to pass climate legislation triggered the ousting of Malcolm Turnbull as prime minister. Meanwhile, Germany said this year that it was not on track to meet its 2020 climate targets.
Brazil has the sixth largest climate pollution footprint, largely due to its unsustainable land use practices. The country has committed to reducing its emissions 37% by 2025 compared to 2005 levels, and pledged additional pollution cuts by 2030, to help limit future global warming to at least 2 degrees Celsius (3.2 degrees Fahrenheit). To achieve this, the country has planned to stop illegal deforestation by 2030, restoring and reforesting 12 million hectares by then, and more sustainably manage its forests overall.
Those actions would be on top of Brazil's dramatic curb in deforestation in the past decade or so, making it one of the world's most successful climate stories to date, according to Alden Meyer, a director at the science advocacy group Union of Concerned Scientists.
If Brazil returned to its past rates of deforestation, "that would be a real hit on global emissions," Meyer told BuzzFeed News.
Brazilian officials announced earlier this year that the country had met its initial climate targets early. The news came about a year after former president Michel Temer declared Brazil's Renca National Reserve, an area bigger than Belgium, open to mining; the controversial decision was swiftly reversed.
"Brazil's Paris commitment is of global significance, and any retreat from it would be deeply concerning," May Boeve, executive director of the environmental group 350.org, said in a statement. "If Brazil steps back from the content of its commitment on forest protection and switching to zero-carbon fuels it could unravel the progress made on climate action in recent years, and would be deeply unpopular and dangerous."
When it comes to climate negotiation, Meyer added, Brazil has helped "build bridges between developed and developing countries." The next round of annual climate talks, to develop the rules of the Paris Agreement, are in Poland in December, and Meyer and others will be closely watching if Brazil's negotiating positions have changed. Brazil put in a bid to host the 2019 climate talks.
According to a recent special climate report by the Intergovernmental Panel on Climate Change, there are only a few decades left, at most, to keep future warming to 1.5 degrees, and even then some dire climate impacts are unavoidable.
For example, the Amazon would face less water and food scarcity problems under a 1.5-degree increase versus a 2-degree one, according to the report. Moreover, some of the proposed ways for countries to fight climate change outlined in the report included avoiding deforestation and increasing reforestation.