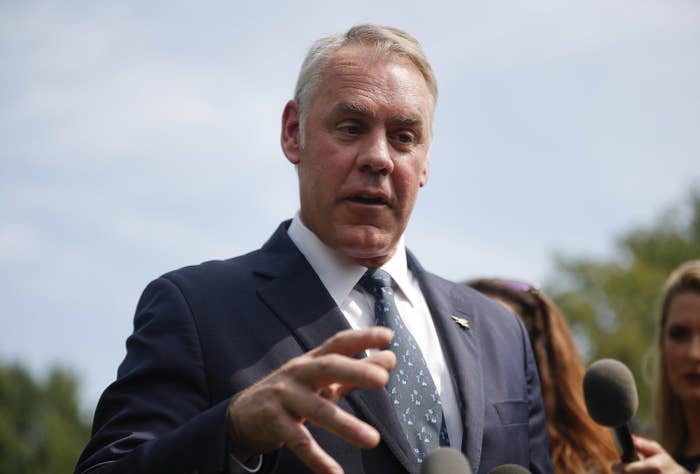 Interior Secretary Ryan Zinke repeatedly violated his agency's travel policy by allowing family members to travel with him in government vehicles, according to a new report by the agency's internal watchdog.

Despite knowing it was against the Department of the Interior's policy, staff signed off on allowing Zinke's wife, Lolita, join the secretary in government cars, as well as on a boat and plane, the agency's Office of Inspector General concluded in a report that was first reported by the Washington Post and confirmed by BuzzFeed News.
Zinke is just the latest Trump administration agency head to face a series of ethics allegations. Scott Pruitt left the Environmental Protection Agency in July amid roughly a dozen ethics probes by federal watchdogs, Congress, and the White House into his housing, his spending on the job, his treatment of staff, and more.

The leaked report, which was slated to be posted online next week, also dug into a series of other ethics allegations. For example, officials found that Zinke asked staff "to research the legal and ethical implications" of making his wife an official Interior Department volunteer, which would have allowed her to travel with him for free. Zinke's staff ultimately determined having Lolita join the agency would be perceived negatively, and the idea was nixed.
Two people who held a fundraiser for Zinke's congressional campaign in 2014 joined him as guests on an official Interior boating trip, per the report. Zinke said the information had been shared with ethics officials, but they disagreed. Additionally, the inspector general reviewed whether it was proper for Zinke to bring a security detail on vacation to Turkey and Greece, costing the agency more than $25,000. There was no rule forbidding the move, the internal watchdog found.
The Interior did not respond to specific questions about the report, instead referring BuzzFeed News to Deputy Secretary David Bernhardt's Oct. 18 memo to Deputy Inspector General Mary Kendall about the probe. Zinke's staff has since "engaged in an aggressive and consistent effort to enhance the ethics program and to solidify an ethics culture" in the agency, Bernhardt wrote.
According to an agency staffer interviewed by the internal watchdog, Interior's travel policy was "very strict" and did not work well with Zinke's need to travel with security. Staff are allowed to travel in personal vehicles, the employee explained, but this wasn't an option for the secretary. The staffer had still advised against Lolita's travel, the report said, but was told schedulers and Secretary Zinke "want her in the car."
Zinke did reimburse the agency for relatives joining him on four car rides and one boat ride, according to the investigation. Lolita also joined on an Air Force One trip. While the Interior reimbursed the White House $15,000 for the trip, watchdog officials could not confirm whether that covered Zinke's wife.
Bernardt called the conclusions about Zinke's wife's travel "unsurprising" in the Thursday memo, and added the "written policy or practice should have been changed long before now." This has since been remedied, he said. After learning of the investigation, the Interior updated its travel policy to allow family members to travel with the secretary in government vehicles on July 27, 2018.
But Bernhardt did not address the watchdog's other findings.
"Republicans have known about Secretary Zinke's scandals for eighteen months and done nothing," Rep. Raúl Grijalva, an Arizona Democrat, said in a statement. "Putting Democrats in charge of Congress is the only way to stop these abuses." Grijalva is ranking member of the House Committee on Natural Resources.
The federal watchdog also determined several allegations proved to be untrue. For example, they determined Zinke did not try to get his wife a government cellphone, as one person had claimed. Moreover, a tip about a former employee resigning over having to walk Zinke's dog on the job was also disproven.
The findings come amid confusion over the future leadership of Interior's Office of Inspector General. Ben Carson, leader of the Department of Housing and Urban Development, announced in a leaked email that one of his top political officials, Suzanne Israel Tufts, would be moving to the Interior to take over as inspector general — which surprised the Interior's watchdog staff, the Hill reported earlier this week. Questions quickly swirled about why a political appointee with seemingly no relevant experience would take over the office just as it was investigating Zinke on multiple fronts.
Since then, the Interior's top spokesperson, Heather Swift, has accused HUD of sending out an email "that had false information" and attacked reporters for jumping on the story. Tufts was in the running for the job, Swift said, but was not offered it in the end. HUD has not responded to repeated requests for comment.
BuzzFeed News reporter Nidhi Prakash contributed to this story.