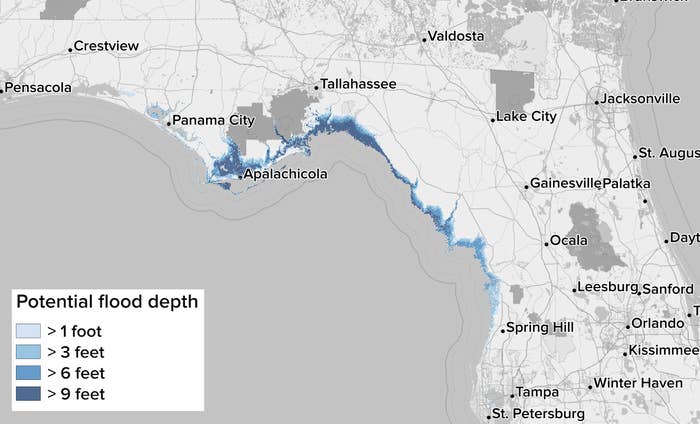 The waters have already begun to rise along the Florida coast thanks to Hurricane Michael, and the storm surge is expected to quickly become dangerous and damaging. The map above shows the areas that may be worst affected, according to the latest forecasts from the National Hurricane Center.
When a hurricane hits land, sea level can suddenly rise at the coast as atmospheric pressure drops and water is pushed toward land by the storm's winds. These surges can be major killers, and are most risky when they coincide with a high tide.
"The combination of a dangerous storm surge and the tide will cause normally dry areas near the coast to be flooded by rising waters moving inland from the shoreline," the National Hurricane Center warned in an advisory on Tuesday. "This is a life-threatening situation."
Storm surge is predicted for parts of the Florida coast, including the Panhandle, Big Bend, and Nature Coast. A storm surge warning is in effect for these regions, and the impacts could start hours before Michael makes landfall on Wednesday. The highest storm surge — up to 12 feet above normal sea level — is predicted for the stretch of Florida coast between Indian Pass and Cedar Key.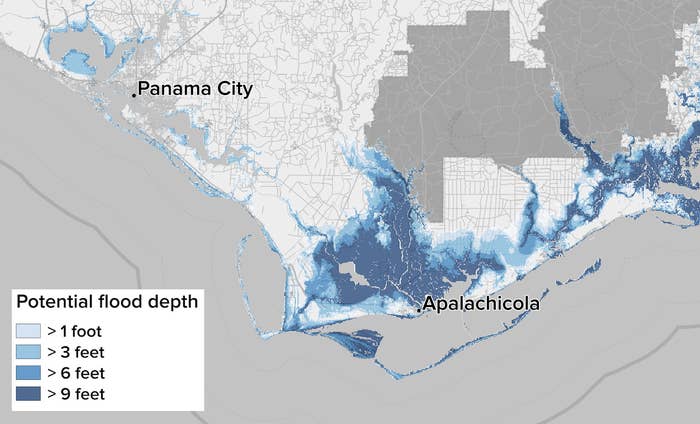 That could place some coastal areas under at least 9 feet of water. This at-risk area includes the coastal town of Apalachicola, and Carrabelle, to its east. To the west, parts of Panama City could see water rise to around 6 feet above ground level.
Some surge flooding — 2 feet or more — could occur as far south as Tampa Bay, halfway down the peninsula of Florida.
Much of the Gulf Coast is incredibly vulnerable to storm surge, but what makes parts of Florida especially susceptible is the curvature of the coast, according to Jamie Rhome, a storm surge specialist at the National Hurricane Center.
"The area is like a catcher's mitt," Rhome said, effectively collecting and funneling the water around the coast into tighter and more restrictive areas.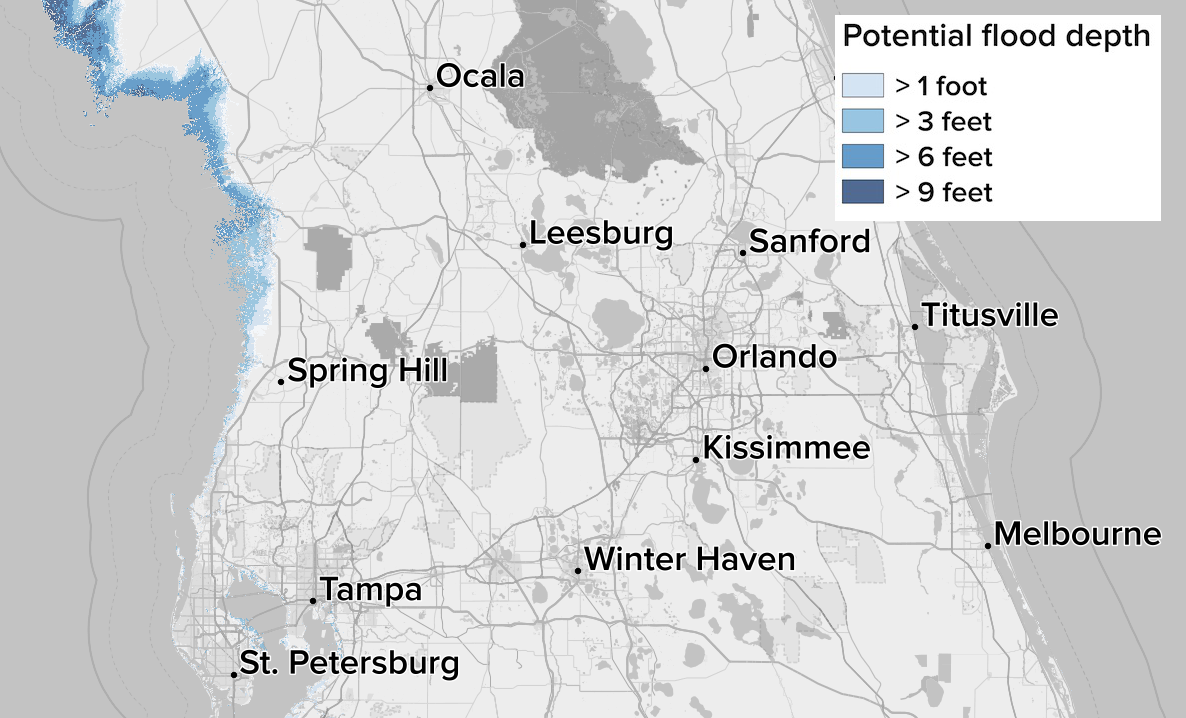 Predicting the exact height of a storm surge at any location is difficult because of complicated factors — including wind, waves, and the geography of the coast — that influence how much the water may rise. So if you're near an area that may flood, listen for evacuation orders from local officials.
"Storm surge is the biggest killer in a hurricane," Rhome said.