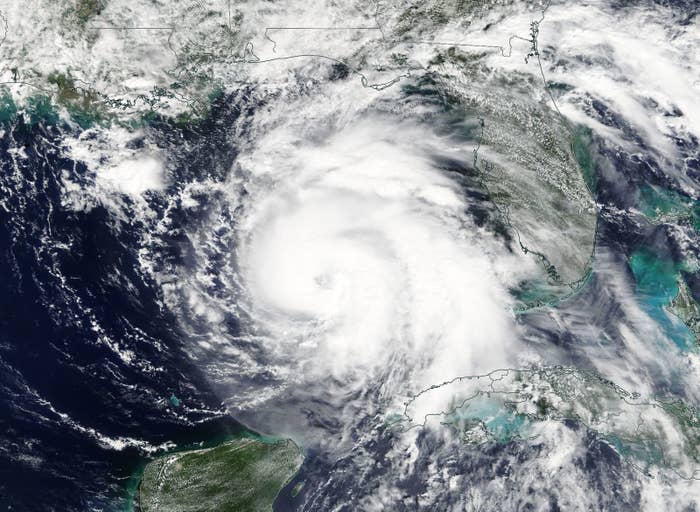 Hurricane Michael strengthened into an extremely dangerous Category 4 storm early Wednesday morning as it approached the Florida Panhandle, threatening to make landfall along the Gulf Coast with life-threatening storm surge upwards of 13 feet, heavy rains, and damaging winds.

"Hurricane Michael is a monstrous storm. The forecast keeping getting more dangerous and we are now just 12 hours away from seeing impacts," Florida Gov. Rick Scott announced in a televised press conference on Tuesday morning. "The time to prepare is now."

One of Michael's "biggest hazards is going to be storm surge," David Zelinsky, a hurricane specialist at the National Hurricane Center, told BuzzFeed News.
Florida's northern and northwestern coasts are highly susceptible to dangerous storm surge due to the shape of the ocean floor and the curve of the coastlines there. The area between Florida's Indian Pass and Crystal River, for example, could see 9 to 13 feet of water surging above normally dry land.
With maximum sustained winds of 130 miles per hour, Michael's powerful winds could knock down trees and power lines. The storm is also expected to drop up to a foot of rain in some places, likely triggering flash flooding.
Some parts of the Florida coast already started experiencing some of these impacts on Tuesday, including flooding in the Blind Pass and Northern Siebel areas.

Scott declared a state of emergency for the Florida Panhandle and surrounding regions on Sunday, and extended the emergency declaration on Monday. The governor has also activated 500 Florida National Guard troops ahead of the storm, and thousands more are on standby. Meanwhile, some local schools and universities have already announced closures.

There's now a mandatory evacuation in place for at least 13 counties, and a voluntary evacuation in at least 6 more counties. And so far 33 shelters have opened up, housing more than 2,300 people, according to Florida's Division of Emergency Management.
"Take this seriously and keep your family safe," Scott said Monday, the Tallahassee Democrat reported. "We know that a storm like Michael can be devastating and deadly."
Peter Aldhous / BuzzFeed News / Via nhc.noaa.gov
The map above shows Michael's most likely predicted path. The color gives an estimate of the likelihood of that area experiencing hurricane force winds — meaning greater than 74 miles per hour — over the next five days.