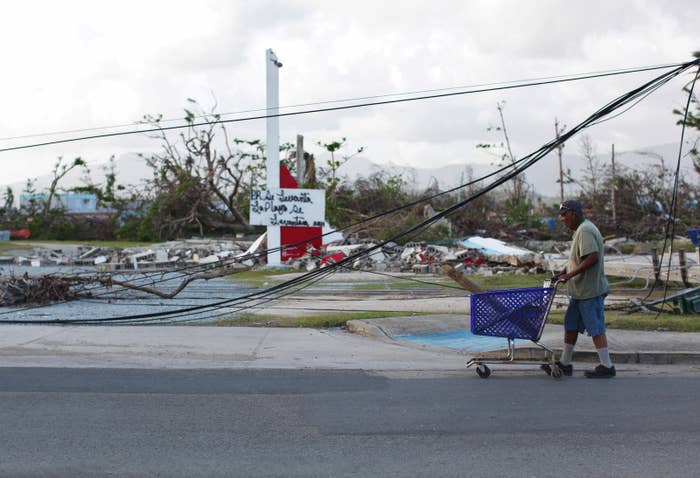 As most Puerto Ricans face their 36th day without power, a new analysis suggests Hurricane Maria's damage there and in the nearby US Virgin Islands has officially triggered the biggest blackout in US history.
New research published Thursday by the policy and analysis firm Rhodium Group reveals Maria has so far resulted in an estimated record-high 1.25 billion hours of lost electricity to Americans since September 20, the date when the storm made landfall in Puerto Rico with strong winds and rain that knocked out the US territory's entire power grid.
The researchers tallied the customer-hours of lost electricity linked to Maria, based on daily reports by utilities to the Department of Energy through Wednesday, October 25. That allowed for a comparison to past blackouts over the last 17 years. Going back more than 60 years, they used media reports, academic studies, government and industry resources to identify other top causes of US blackouts.
Overall, they found that hurricanes were responsible for 9 of the top 10 major US power outages in modern history.
"Nothing destroys electrical grids like hurricanes do," Trevor Houser, who leads Rhodium's energy and natural resources work, told BuzzFeed News.
Following Maria's continuing impact in the US territories in the Caribbean, the second-largest blackout occurred in 1998 when Hurricane Georges struck Puerto Rico and elsewhere.
The third-biggest one was caused by Hurricane Sandy in 2012, and another 2017 storm — Hurricane Irma — triggered the nation's fourth biggest loss of power due to its September destruction, mostly in Florida.
Before the recent hurricane, Puerto Rico Electric Power Authority, the island's government-owned utility, was wrestling with $9 billion in debt and had filed for bankruptcy in July. Now the island is facing a costly grid overhaul and it's unclear how long that will take, especially as questions from Congress and others arise about how PREPA is selecting contractors to help rebuild in the wake of a $300 million contract awarded to a small Montana utility.
Currently about 75% of Puerto Rico's 3.4 million residents lack electricity following Maria's strike, according to federal estimates.
Puerto Rico's Gov. Ricardo Rosselló earlier this month set a series of bold electricity targets: restoring 30% of the island's power by the end of October, 50% by November 15, and 95% by December 15. "This is an aggressive agenda, but we cannot be sort of passive in the face of Puerto Rico's challenges," Rosselló said at a press conference at the goals. "We are going to need all hands on deck."
Even if these aggressive targets are met, Rhodium's experts say Maria will have resulted in more than 2 billion hours of lost electricity. "It's more than all US outages between January 1, 2013 and August 31, 2017 combined," they wrote in their report.
According to Houser, Puerto Rico shouldn't just rebuild its grid back the same way — it should make it more "resilient to future storms." There's already some signs that this is happening: Renewable energy company Tesla this week set up a solar panel and battery project to help power San Juan's Hospital del Niño.