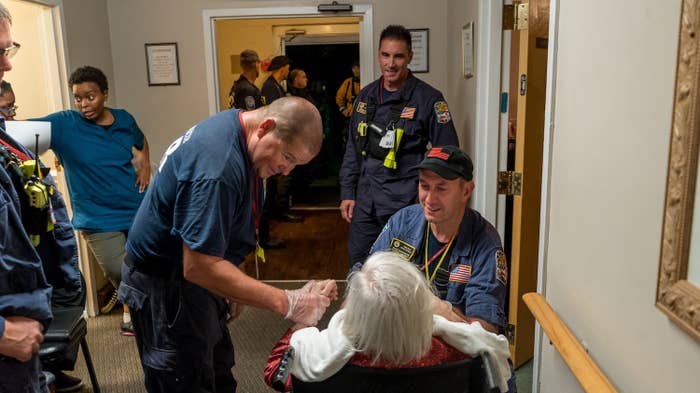 FAYETTEVILLE, North Carolina — Wrapped in a white blanket, a small woman with gray hair was rolled out in a wheelchair from the front hall of Cedar Creek Assisted Living, located on the outskirts of Fayetteville, North Carolina, to an evacuation bus waiting in the flooded parking lot.
One member of FEMA's Nebraska Task Force 1 unit held her feet up off the wet ground. Another from the search and rescue squad pushed the wheelchair, and a third held a big blue-and-white striped umbrella, slightly storm-battered, in an effort to shelter the elderly woman from Hurricane Florence's constant rains. An iteration of this scene was repeated for the facility's at least 124 residents, many of whom are elderly and have severe disabilities, between 7 p.m. and midnight on Saturday, Sept. 15.
"I've never seen so much help in my life," said Cherie Readus, the nursing home's head administrator, when FEMA's multiple vans full of responders drove up to start the evacuation to Shiloh Methodist, a nearby church.
"We didn't know we were going to evacuate. This church opened up their doors literally at the last minute," Readus told BuzzFeed News. "Some of our residents are very, very old. … You can see the urgency." As Readus was talking, she was readying food supplies for the shelter and checking in with residents that called her over. Readus has been sleeping over at the shelter for multiple nights, and was planning to stay with the residents at the church.
The move came hours after a mandatory evacuation notice was issued for Fayetteville residents living within a mile of the nearby Cape Fear River to leave by midday Sunday. While this facility is not within that zone, there was concern about staying as the water rose in the parking lot.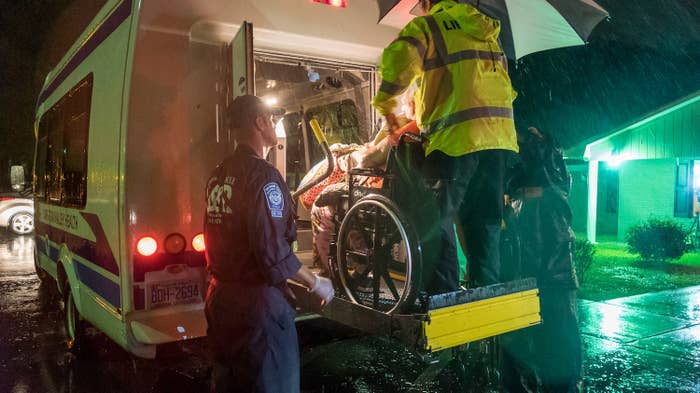 According to the National Weather Service, the river levels near the city were upward of 36 feet by 7 a.m. on Sunday morning, where a major flood level is considered 35 feet. The river levels are expected to keep rising in the coming days as more rains come down, possibly surpassing the river's record level of about 58 feet set by Hurricane Matthew in 2016.
The nursing home's residents were told over the intercom that evening they would be moved due to the storm, and to bring themselves and any last-minute items to the cafeteria. According to the facility's staff, they had prepacked a three-day supply of clothes in advance of the storm, but many residents did not remember.
Many of the residents were already in bed when the evacuation announcement came. By the time the FEMA team showed up — a crew of mostly firefighters that drove out from Nebraska — the residents were largely tired, scared, and confused.
Speaking to anyone who would listen, the residents during the evacuation would say "I'm scared" or ask "Can I get more clothes?"; "Where are we going?"; and "What's going on?"
The residents were a diverse mix of men and women of different races and ages, and with various disabilities. More than half were in wheelchairs or sitting on their walkers. Some talked to themselves; others screamed incoherently. Most were silent. While the best prepared had on pants, sweaters, socks, and shoes, many wore only T-shirts or nightgowns, and slippers, socks, or nothing on their feet.
Compared to evacuating a facility after it has flooded, "this is the time to do it," David Kirchofer, one of the FEMA responders, told BuzzFeed News. During the Nebraska unit's deployment to Texas during Hurricane Harvey, they helped rescue wet nursing home residents in a partially flooded building.
"We have to help the elderly," Kirchofer added. During the night, he sung, spoke, and sweet-talked to those waiting to be taken to the bus. "I know you're tired," he told one woman, and later helped get her a blanket.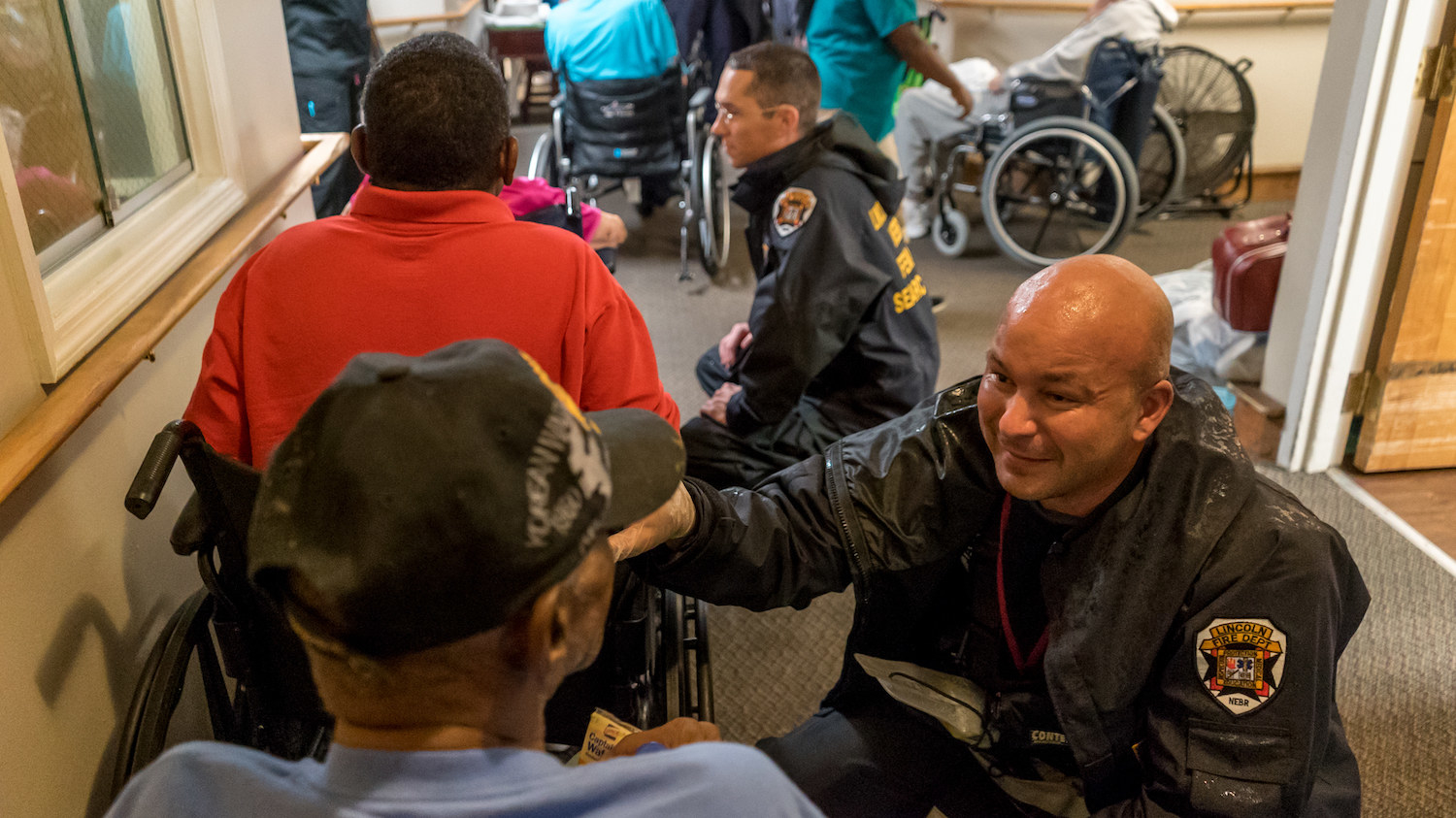 "A lot of craziness going on right now, isn't there?" Mark Bridwell, a medical specialist on the FEMA team, told another resident. During the night, Bridwell treated one senior man with chest pains, and initially treated one woman who hurt her ankle before an ambulance showed up. He also had to patch up one of his own guys who smashed several of his fingers, and lost a few fingernails, while carrying out big boxes of the nursing home's supplies to a bus.
For some residents, this was their second Florence evacuation. Earlier in the week, two neighboring facilities — Lumberton Assisted Living and Heritage Place — brought their residents to Cedar Creek for fear of local flooding.
The Lumberton facility evacuated to this same Fayetteville nursing home during Hurricane Matthew, and the building was so badly damaged residents couldn't move back for a year, according to Mary Nearly, a Lumberton staff member who followed the residents to Cedar Creek during Florence. After fixing the floors, the walls, and more, the senior citizens moved back in November 2017. "We are worried," Nearly said.
"We hope we can go back," Noralene Locklear, another Lumberton staffer, told BuzzFeed News.
After the residents got to Cedar Creek, the power went out. It was pitch-black at night, according to Readus, and the power only came back on hours before they decided to evacuate. And at least one of the doors at Cedar Creek was damaged by the storm and wouldn't properly close. This meant an alarm would intermittently blare during the evacuation and would have to be repeatedly manually reset.
Besides the FEMA team, the evacuation was assisted by members of the US Forest Service, Army officers from the nearby Fort Bragg, and Fayetteville firefighters.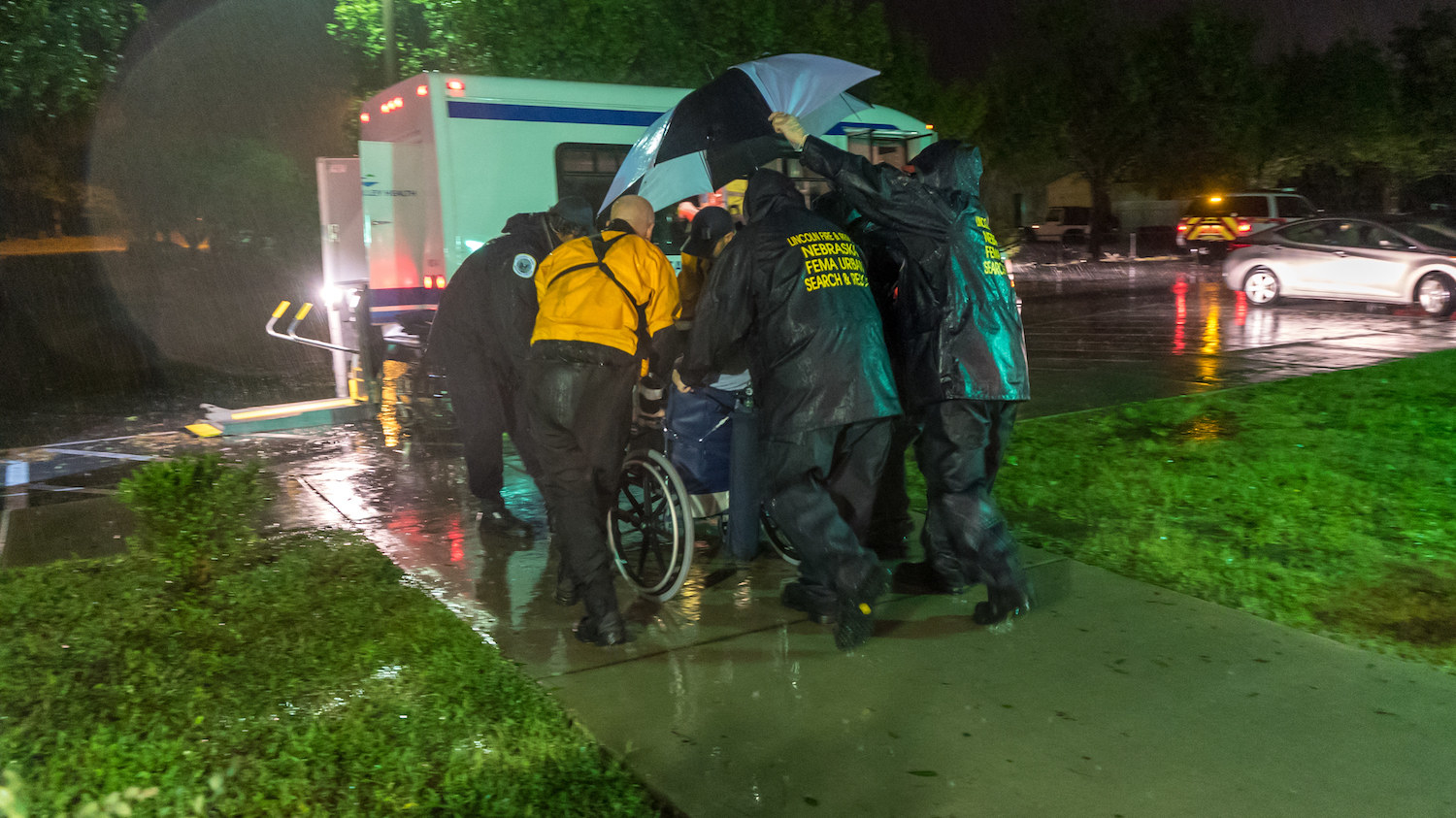 "We have flooding in our city — that's not unusual," Mitchell Morgan, Fayetteville's assistant fire chief, told BuzzFeed News. But the level of flooding expected, he said, "that's unusual."

During Hurricane Matthew, the flooding was unexpected and sudden. But this time, it's slow and spread out over days. "It's strange to see and to know it's coming," Morgan said.
A nursing home in Hope Mills, a nearby town, was evacuated the day before, according to Morgan, and a veterans nursing home that reportedly houses more than 100 bed-confined patients will have to be moved on Sunday.
More than three hours into the evacuation, Readus retreated to the front office for a brief rest. "I'll just be happy when the residents have been moved to safety," she said, but noted her job still wouldn't be done. She still needed to alert many of the patient's families about the evacuation.
Once the last resident was loaded into the bus, Roger Bonin, the FEMA chief, said he was proud of his guys for staying so positive and keeping the residents calm. Since the Nebraska unit was deployed last week, this was their first evacuation.
"I got a marriage offer," he later added. One woman told him: "If you were just a little bit older and could hold a steady job, I'd marry you."