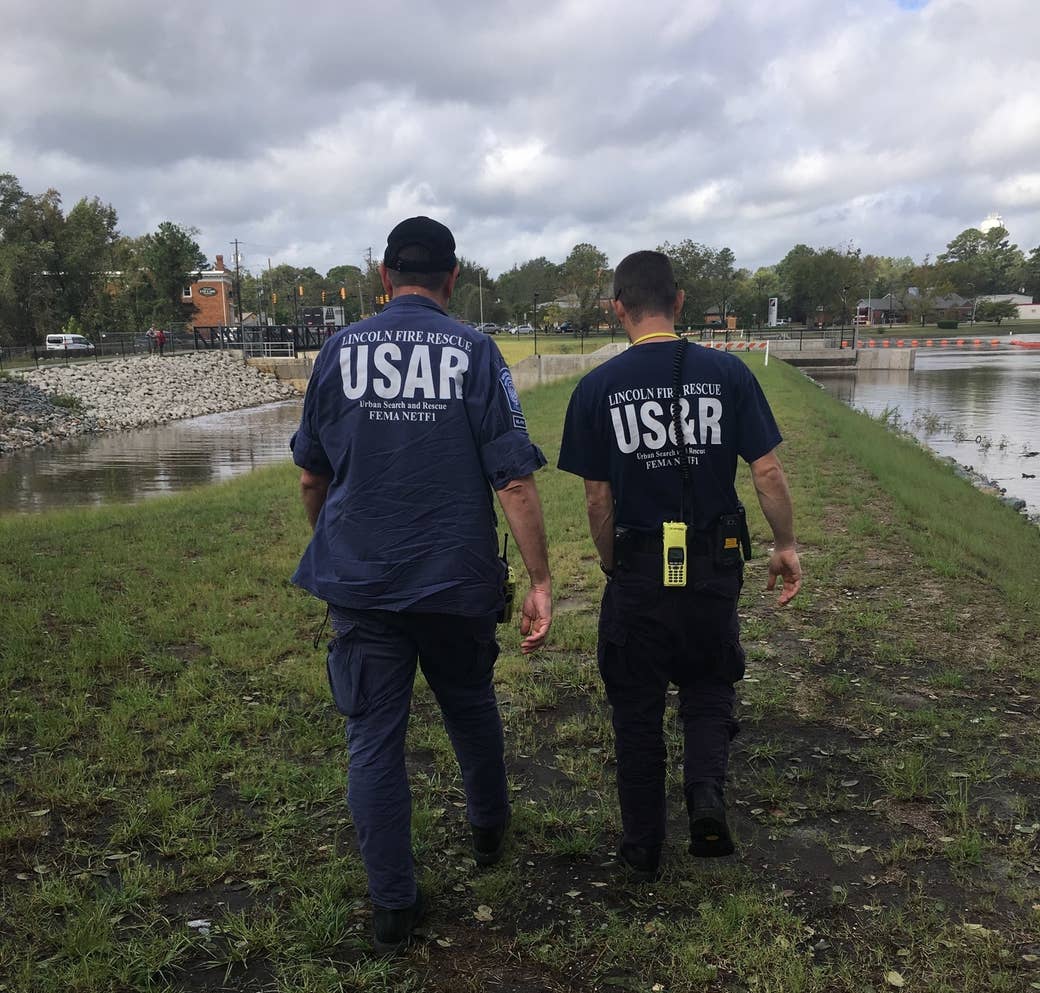 HOPE MILLS, North Carolina — The power went out at the Hope Mills Recreation Center last Friday afternoon.

That's where a FEMA search and rescue team of mostly Nebraska firefighters had set up a makeshift base during Hurricane Florence. So, not ideal. "It's better than staying in tents," one rescuer told BuzzFeed News.
The backup generator kicked on, and they used power only for the most critical things, like computers, walkie-talkies, cellphones that streamed the Nebraska football game (they lost), and three coffee pots.
The air conditioning was off, leaving the three dozen or so rescuers hot and sticky. Even with constant cleaning, condensation lingered on the gym floor under their sleeping cots, and water leaked through the ceiling of bathrooms and hallways. The two search dogs, 7-year-old Lilly and 9-year-old Noah, were taken on walks around the nearby park.
For most of the day, the Nebraska team of nearly all men killed time working out, calling home, and sharing stories about past storms — until disaster struck. As soon as the Nebraska Task Force 1 Chief Roger Bonin got off the call with orders to help people struggling with Florence's unforgiving rains, the center erupted in movement. This is what they had come for. In minutes, they were suited up and out the door.
"It goes from zero to 100 pretty quick," Dan Ripley, the team's logistics lead, told BuzzFeed News.

The life of a hurricane rescue worker oscillates between long periods of waiting, punctuated by heart-pounding action. Again and again, rescue workers would quip that "waiting is the hardest part."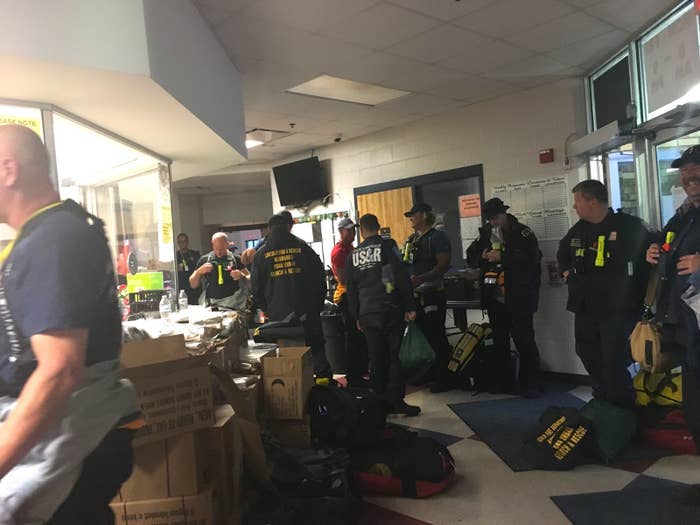 Sometimes the job is horrifying. During last year's Hurricane Harvey, this same Nebraska-based FEMA team spent several days in Houston helping to rescue people in apartments and private homes from the historic rains. But other times, not much happens: Those who rushed to Florida for Hurricane Irma saw little action because the storm track shifted.

The FEMA team here in Hope Mills was part of a large response effort, both public and private, that poured into the state ahead of what the National Weather Service predicted could be "the storm of a lifetime." The US Forest Service, for example, brought in men and women to provide protection and support to the rescue teams. North Carolina's largest utility, Duke Energy, brought in thousands of people from its Midwestern and Florida operations to help repair power lines. Then there were the nonprofits like Operation Blessing, a Christian group based in Virginia Beach, where eight members drove down to help the state's poor communities.
When the Nebraska team was tapped, they knew they could be gone from their families for weeks. It was a disruption to their daily lives, but one they signed up for. Take Todd Roberts, the Nebraska team's doctor, who runs a martial arts school with his wife, Marcia, back in Lincoln.
"Marcia and my senior students had a plan in place to cover all the classes during my deployment, so classes have continued uninterrupted," Roberts told BuzzFeed News. Just like hurricanes, he added, "preparing for contingencies beforehand makes things go a lot easier."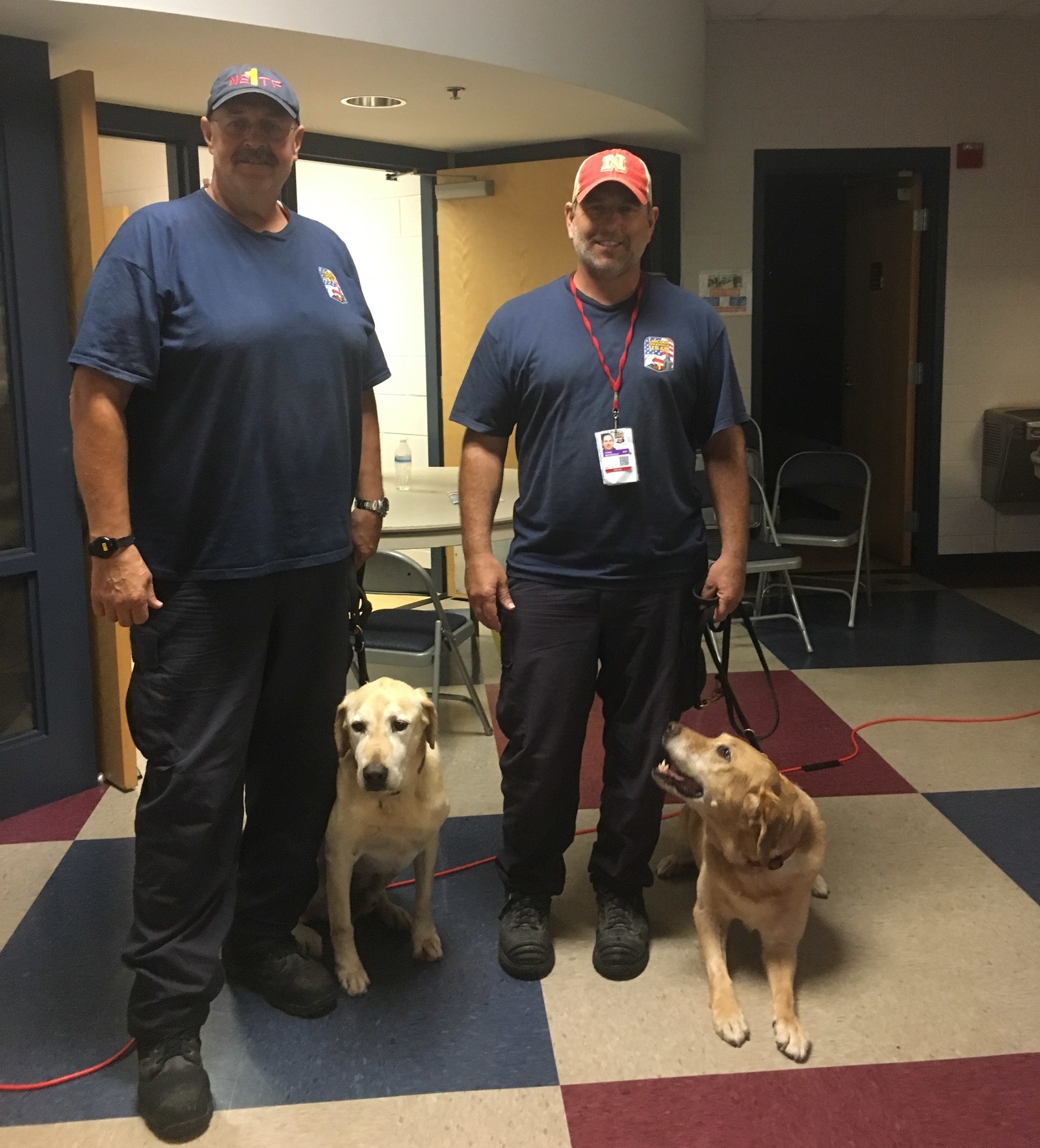 By Saturday afternoon, Bonin and others left the center to do some reconnaissance around the neighborhood. They hopped in a large white truck and started driving, but the parking lot was partly underwater. Bonin opened the front right door and looked down. Water was "below the sideboard," meaning less than a foot deep, so they slowly drove on through.

Their first stop was the dam shoring up the town's lake. Under construction when Hurricane Matthew hit in 2016, waters overtopped it and triggered damaging flooding. A new and improved dam opened this past January, and this was its first test. Would it hold?
"That's gone up a shift load" — FEMA-speak for about 10 feet — a guy in the truck said, referring to the lake's growing levels just since that morning.
Looking at a soggy lawn a few blocks from the lake, Bonin said, "When the water is standing like that, it means the ground is saturated and it can't take anymore." They passed pooling water in an apartment complex parking lot that flooded during Matthew, downed trees on empty roads, and power outages at the Taco Bell and Waffle House. Gas stations had bags over their pumps.
Besides worrying about the local dam, the Nebraska team eyed the raging Cape Fear River, which also flooded badly during Matthew and was projected to rise further now. Big trees bobbed in the river as the team peered over a bridge. The waters, said Lloyd "Eddie" Mueller, looked "muddy and angry."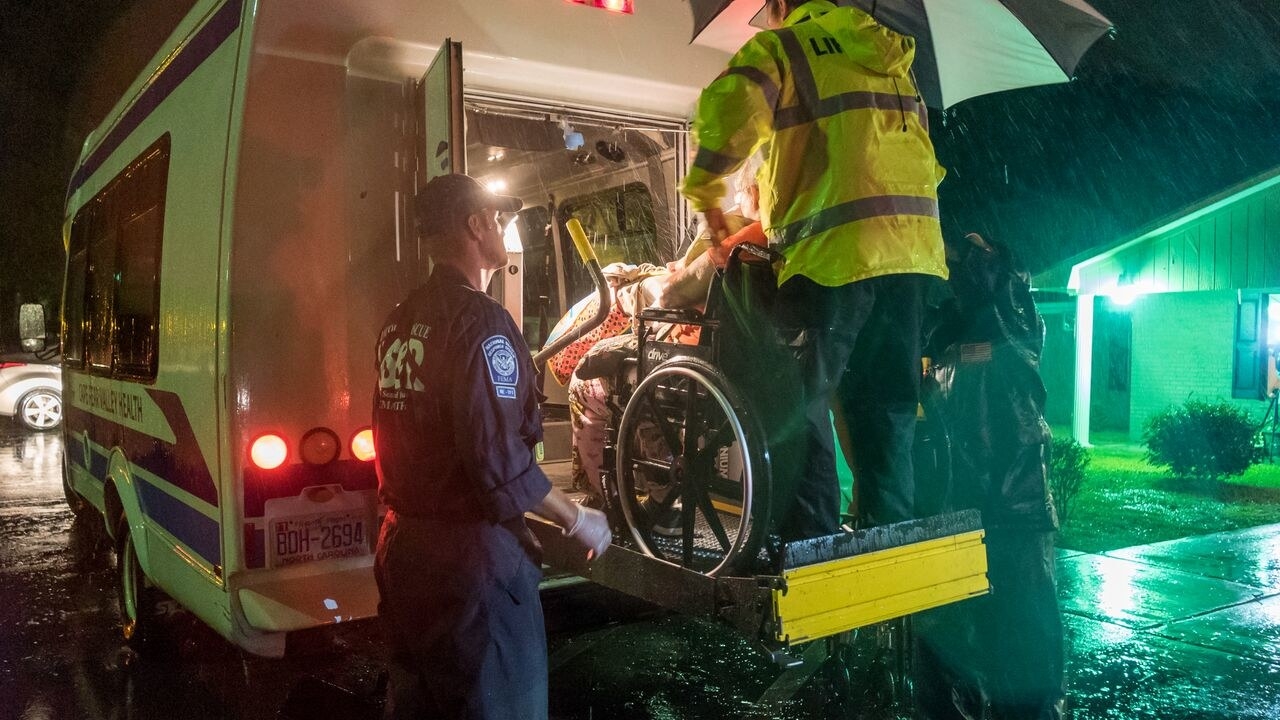 Back at home base a few hours later, Bonin got the call for an evacuation mission. The crew was to drive to Cedar Creek Assisted Living in Fayetteville to move 100 or more seniors, many with wheelchairs, to a nearby church.

Adrenaline rushed. Everybody threw on boots and rain gear and loaded into the trucks and vans. Bonin's car led the way through the dark streets, with two members in the back seat navigating via smartphones and sharing directions over a radio system.
When the Nebraska team pulled into the facility's flooded parking lot, the person in charge, Cherie Readus, came out, stunned. The seniors are old, Readus said, and "a lot need a nap, quite frankly." She got the call that Shiloh Methodist was opening its doors only hours before, and hadn't even notified the residents' families about the move.
The evacuation started with a procession of walkers, and then wheelchairs. Over the course of five hours, the rescuers moved 124 seniors and people with disabilities into city buses, then unloaded them into padded pews in the small church, pushing the wheelchairs to any available space.
It wasn't just the residents that were moving, so were their mattresses, medications, and food supplies. "If you don't take the medical cart, you might as well not bring the residents," Readus said.
This was just the latest ordeal for the evacuees, scared and disoriented. Some of them were moved from their own facilities to Cedar Creek earlier in the week due to Florence. Then they got to Fayetteville and the power went out for at least a day. One woman with short white hair hurt her ankle on the way to the door. "Oh, it hurts," she said later on an ambulance stretcher.
All of the residents were moved by midnight. "We checked everywhere at least twice to make sure no one was left behind," Bonin told BuzzFeed News.
Back at Hope Mills, the gym lights were turned off around 1:30 a.m. Wake-up alarms started ringing four hours later.
There was more rain, and waiting, on Sunday morning.

The FEMA rescuers fell back into a holding pattern. The three-person medical team checked people's vitals, the floors were mopped, and there was an hourlong training on how to best navigate the boats on fast-moving water.
Shortly after lunch, the first call came in. Bonin and half of the team visited an elderly woman whose home was blocked off from the main road by a fallen tree. Her power was out, and her daughter couldn't reach her — so she called for help instead. But when rescuers arrived, the woman refused to leave the rocking chair on her porch, despite running low on canisters of oxygen. "I'm afraid if it gets hot tomorrow, we'll be back to help you," Bonin told the woman.
Just across the street, meanwhile, the other half of the Nebraska team successfully rescued two people and a massive dog from a flooded home.
When it seemed like nothing more would happen, most people started preparing for bed. At 10:30 p.m., the dreaded call came in: It looked like a dam had breached.
It wasn't the nearby dam that everyone had been worried about, but one further upstream. If this one broke, the fear was the other one could follow in a deadly chain reaction. Not only would the teams need to be on standby for evacuations and rescue missions, Chief Bonin was told by phone, but the rec center was at risk of flooding and might need to be evacuated too.
While a lot of guys did not know exactly what was going on, they had orders to pack up their personal belongings and jump into their vehicles. An entourage of more than a dozen government cars parked in front of the Cotton Volunteer Fire Department Station 4. Meanwhile, a skeleton crew stayed behind to empty the rec center.
In a closed-door meeting, a local fire official told Bonin the dam status: It hadn't breached yet but was expected to. So the plan was to knock on doors in the surrounding neighborhoods and encourage a voluntary evacuation. The hope was that if people were impacted by Matthew, they would heed the warning and leave.
As the truck turned one corner, the rescuers saw a street full of cars.
"Oh, Jesus Christ," one person muttered — lots of people to move out. The car blared its sirens and they started knocking on doors. FEMA team paramedic Mark Bridwell found a family with six people, including a woman with a wheelchair. They convinced a family member to get her out, but the others stayed.
Another part of the task force team, meanwhile, had visited an animal shelter. While the local fire official had said they absolutely needed to evacuate, the shelter staff refused.
It was around this time that Bonin got the call to stand down. "We're calling it a night?" Bonin said into the phone. "Nothing is going to happen and we're OK?"
As it turned out, Bonin said later, all the fuss was caused by a prank call about the dam breach, or possibly someone who didn't know what a breach actually meant.
Overnight, flooding had worsened — but the dams held. The sun came out, and so did the mosquitos.

At a stop by the Hope Mills Lake dam, engineer Shane Hennessey explained he was looking for three types of failure: structural (when the dam's concrete broke), hydrologic (when water overtopped the dam), or seepage (when water soaked the earthen sides of the dam). He saw no signs of any of them.
"We are cautiously optimistic," said Melissa Adams, city manager of Hope Mills. She was up all Sunday night checking the dam.
While this one weathered the storm, other dams in the state weren't so lucky. There were at least five confirmed dam breaches and five unconfirmed in North Carolina, according to FEMA's tally Thursday morning, and even more state dams that overtopped.
Once it was clear the worst had been avoided in Hope Mills, the Nebraska team turned its attention to the Cape Fear River. Although the river crested Tuesday at 61.5 feet above normal — and above Matthew's levels — the team was never called to action. (Other teams were, however, and more than 60 people and their pets were rescued Tuesday, according to local officials.)
Perhaps due to all the communication about the river likely flooding, the long nature of the storm, people's own bad experiences with Matthew, or the abundance of help, the Nebraska team was demobilized Thursday morning. They'll be back home in Nebraska Friday evening, in time for Hennessey to go to his son's college family day and for Bridwell to help his daughter with knee surgery.
Before leaving, Bonin used his downtime for an unexpected family reunion.
"I was adopted when I was a kid, a newborn," Bonin told BuzzFeed News. In recent years he'd come in contact with his biological family, including a sister who died earlier this year. "She got a hold of me right before she died," Bonin said, and connected him with a previously unknown nephew, R.J. Perry, who lives in Raleigh.
Perry saw a Facebook post, likely from Bonin's wife, that he was in the state responding to the storm, and texted him this week. The two met for this first time over lunch Wednesday, according to Bonin, and "It was very good. It was interesting. He was a nice guy."
CORRECTION
The name of Cedar Creek Assisted Living was misstated in an earlier version of this post.