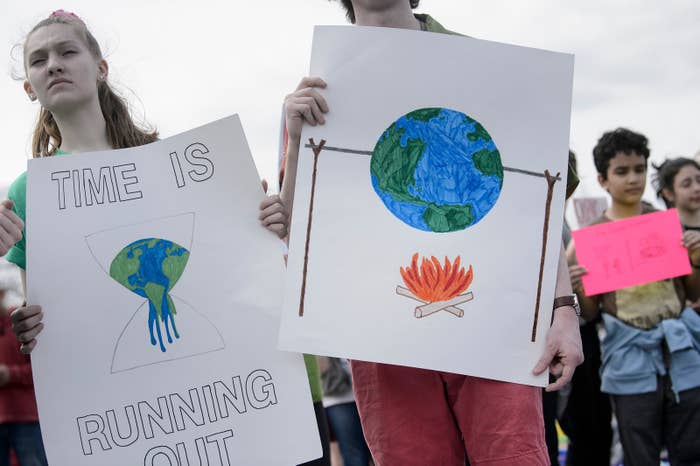 House Democrats, in a show of unity on climate change, overwhelmingly voted through a bill on Thursday directing President Donald Trump to help the US meet the goals of the Paris climate agreement.

"This is the first time in 10 years that major climate legislation is being heard in the people's House," Rep. Kathy Castor, a Democrat from Florida, said Wednesday. "This is a patriotic vote." Castor is chair of the Select Committee on Climate Crisis, and the lead sponsor of the bill.
The bill, called the Climate Action Now Act, is not expected to pass the Republican-controlled Senate and would not get Trump's signature even if it did.
Nonetheless, Democrats are claiming victory with the bill's passage in the House, delivering a symbolic rebuke of Trump's June 2017 pledge to withdraw the US from the global deal. The vote was 231-190, with three Republicans joining Democrats to support the bill.
"Today we sent a message to the President, to the American people and to the world that we recognize the seriousness of the climate crisis and that we intend to do our part to address it," Rep. Frank Pallone Jr., a Democrat from New Jersey and chair of the Committee on Energy and Commerce, said in a statement.
This bill follows the Green New Deal resolution proposed in February by Rep. Alexandria Ocasio-Cortez, a Democrat from New York, as well as many congressional hearings on climate impacts, policies, and solutions since then.

Multiple polls in recent months, including one released by CNN this week, suggest that climate change is one of the top priorities for Democratic voters. And Democratic presidential hopefuls seemed to have noticed: Washington Gov. Jay Inslee announced his bid as the climate candidate, and former Texas Rep. Beto O'Rourke released his first major policy platform on the topic just this week. Environmental groups, meanwhile, have encouraged this trend by helping pro-climate presidential hopefuls fundraise.
The bill, which has more than 200 co-sponsors, would order Trump to create a plan to meet the original Obama-era pledge to the Paris agreement, which is to cut the country's emissions by at least 26% by 2025 in comparison with 2005 levels. It would also block the spending of funds to withdraw the US from the deal.
Although the Trump-led US has announced its intent to pull out of the agreement, the earliest it can do so is in November 2020, the day after the next presidential election. Meanwhile, US officials have continued to participate in global talks in a reduced capacity.
UPDATE
This story was updated to include a comment from Rep. Frank Pallone Jr. and additional details about the vote.