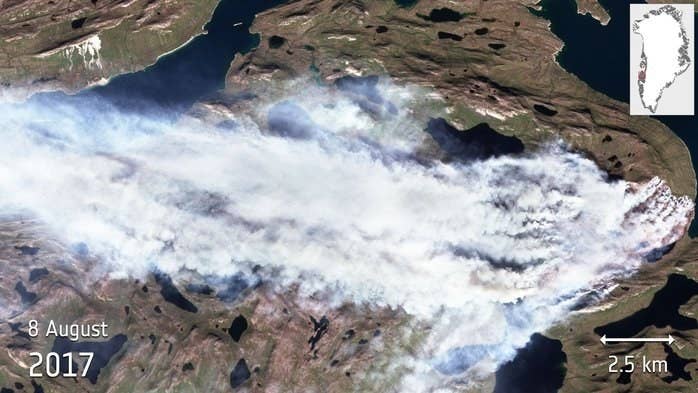 A massive fire has been raging in western Greenland for more than a week.

"In an unusual event, satellites have detected a sizable wildfire burning in Greenland," according to the National Aeronautics and Space Administration. The fire was first detected on July 31.
The fire has so far burned about 3,000 acres. This makes it possibly the largest fire to burn in Greenland in recent decades, though scientists don't have enough information yet to say for sure. Experts also don't know if climate change played a role.
"Fires are not unusual in Greenland, but they are rare. It is not a typical fire environment," researcher Stef Lhermitte of Delft University of Technology in the Netherlands, told BuzzFeed News.
When Lhermitte heard about the fire, he did a quick review of what's called MODIS satellite imagery — which measures the temperature of the earth's surface and can be used to identify fires — to find out just how common this event was.
"This fire is the biggest one we have in that record," Lhermitte said, though he noted that the data set has some shortcomings. For example, fires may not be detected on cloudy days, and the record only goes back to 2000. Lhermitte also noticed some false fire detections in parts of Greenland in the data set.

Greenland is mostly covered in ice, but the landmass also has some grassy, carbon-rich vegetation, especially along the western fringes. The fire appears to be burning up some of these peatlands, according to Jessica McCarthy, an assistant professor of geography at Miami University.
The main blaze is in a remote area, located about 90 miles northeast of the town of Sisimiut, which has a population of approximately 5,600 people. There's also a second, smaller fire burning in the vicinity.

Due to the fires and related smoke being released, the Greenland police is warning hunters and visitors to stay away.
The size of the wildfire is small compared to ones that have hit the US and Canada, but it is large for the mostly icy country of Greenland. Experts have not yet determined what caused the fires or exactly how long they will last, but multiple satellites are keeping watch. With little rainfall expected in the near future, the fires could keep burning for days to weeks.
Some scientists are speculating about whether climate change contributed to these fires.
One idea is that climate-linked melting of permafrost, or icy ground, in Greenland could have contributed to the events. "The fear is that the fire may have broken out because permafrost is melting, making the peat more susceptible to catching fire," according to the European Space Agency.
But Lhermitte said it's too early to tell whether there are climate fingerprints here. "It might be an interesting topic to follow up," said Lhermitte, talking about the Greenland wildfires, "to try to understand what might happen in the future in the context of climate change."