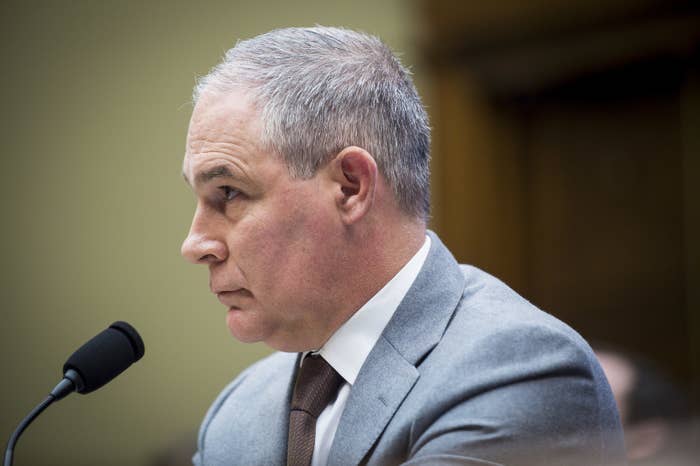 At a contentious Congressional hearing about the Environmental Protection Agency on Tuesday, Democrats and Republicans could only agree on one thing: that agency head Scott Pruitt is nothing like his predecessors.

"His leadership of EPA is vastly different than that of his last two predecessors," Sen. John Barrasso, a Republican from Wyoming and chairman of the Senate Committee on Environment and Public Works, said at the hearing. "Under the Obama administration, the agency had lost its way."
He and his fellow Republicans said Pruitt's efforts were having a positive impact on the economy and creating jobs, and praised the rollback of more than a dozen air, water, and climate rules.
Democrats, meanwhile, lambasted these same actions when they got a chance to speak. "Those aren't achievements, Mr. Pruitt," said Sen. Tom Carper, a Democrat from Delaware and the ranking minority member of the EPW committee. "Those are the exact opposite — clear failures to act."
It was Pruitt's first Senate oversight hearing since the committee approved his nomination for the job nearly a year ago. "It's been too long," Pruitt said in his opening remarks.
Besides walking through his "back-to-basics" agenda — focused on cleaning up land, air, and water — Pruitt outlined a new focus area with potential for bipartisan support: cleaning up lead.
"One of the things I think is terribly troubling is the lead in our drinking water across this country," Pruitt told the committee, adding that he has brought this up with President Trump.
"We look forward to working with you to declare a war on lead as it relates to our drinking water," he said, adding that he also wanted to collaborate on cleaning up abandoned mines and federal toxic waste sites.
Some lawmakers did not agree with Pruitt's stated priorities. Sen. Dan Sullivan, a Republican from Alaska, asked Pruitt to prioritize bringing water and waste infrastructure to rural communities that don't have any before fixing broken infrastructure elsewhere. "I'd like you to get to that before you get to the lead issue," Sullivan said.

Sen. Tammy Duckworth, a Democrat of Illinois, asked the EPA chief to state for the record what the safe level of lead is.
"The EPA has a level of 15 parts per billion," Pruitt said. "I don't think there is a safe drinking level and we need to eradicate it from our drinking water."
"The right answer is zero, according to scientific literature. So it would be wonderful if you could take what your opinion is and apply it to the EPA," Duckworth responded.
One of the tensest moments of the hearing came during Duckworth's second round of questions, when when she asked Pruitt about his recent four-day trip to Morocco to promote the sale of American natural gas.
"Natural gas, in case you are unaware, is under the jurisdiction of the US Department of Energy," she said. The EPA Inspector General is investigating Pruitt's travel following a request by Senate Democrats.
Duckworth added: "Can I assume, like all decent Americans, that you did not find Morocco, a North African nation, to be a shithole when you visited?" Pruitt did not have time to respond. (During an immigration meeting at the White House, Trump asked why people from "shithole countries come here." He was referring to places such as Haiti, El Salvador, and African nations.)
Another awkward moment: when Sen. Sheldon Whitehouse, a Democrat from Rhode Island, asked Pruitt if he remembered criticizing Trump in a 2016 radio interview.
During that interview, Pruitt reportedly said: "I believe that Donald Trump in the White House would be more abusive to the Constitution than Barack Obama — and that's saying a lot." Congressional staff held up posters with some of Pruitt's quotes printed on them. Pruitt said he didn't remember the interview.
On both sides of the aisle, senators asked Pruitt about his future plans. One Democrat asked whether Pruitt would revisit the EPA's "endangerment finding" that climate change poses a risk to human health. Another asked about the fate of Pruitt's proposed "red team/blue team" to debate climate science. Pruitt said he hadn't made a decision on the endangerment finding, and that the climate debate is "still under consideration."

On the Republican side, Barrasso asked Pruitt if he would consider changing air rules to exclude the air quality data collected during "exceptional events," such as wildfires, from regulatory decisions. Pruitt said he was looking into it.