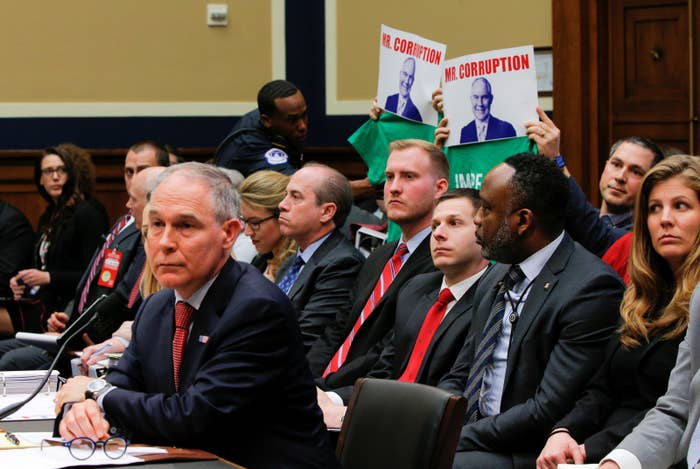 Environmental Protection Agency head Scott Pruitt was in the hot seat on Thursday, facing tense questions from Congress in back-to-back hearings about a wave of ethics allegations tied to his spending, travel, and treatment of staff.

In recent weeks, Pruitt has faced increasing scrutiny for: a housing deal tied to an energy lobbyist; spending millions on first-class travel and security measures; and reportedly retaliating against staffers who spoke out against his spending. Pruitt's actions are being investigated by government watchdogs, Congress, and the White House. In fact, last week, the Office of Government Accountability found the EPA violated two laws when it spent $43,000 on a secure phone booth for Pruitt without getting prior approval from Congress.
"I have nothing to hide," Pruitt said in his opening remarks at a packed morning hearing by the House Committee on Energy and the subcommittee on the environment. "I'm not afraid to admit it's been a learning process," he added.
House Democrats uniformly hammered President Donald Trump's EPA chief about his ethics allegations.
"Administrator Pruitt has brought secrecy, conflicts of interest, and scandal to the EPA. In any other administration, Republican or Democrat, you would be long gone by now," said Rep. Frank Pallone, a New Jersey Democrat and the ranking member of the House committee. Pallone said he had requested for Pruitt's testimony to be under oath at the hearing, but the request was declined by the committee chair.
Republicans were far more supportive of Pruitt, but some admitted that his ethics scandal was too big to ignore.

"We scheduled the hearing to focus on the EPA' s policy and budget priorities," said Oregon Republican Rep. Greg Walden, the chair of the House Energy Committee. "But you surely understand that members of both sides of the aisle also have serious questions [about] the management and operations of the agency."
Others took aim at the press and their Democratic colleagues for making personal attacks against the administrator.
"To the public, I think this has been a classic display of innuendo and McCarthyism that we are seeing too often here in Washington that unfortunately I think works against civility and respect for people in public office," said Rep. David McKinley, a West Virginia Republican.
"I think it is shameful this hearing has turned into a personal attack hearing," said Ohio Republican Rep. Bill Johnson, "and a shameful attempt to denigrate the work that's being done at the EPA and with this administration and make this a personal attack."
Environmental activists and others lined up to get a seat at least an hour ahead of time. There was a brief disruption during the hearing, where some participants held up signs and quickly received an initial warning from the committee chair and a security officer. Meanwhile, outside the House building where the hearing was taking place, activists brought anti-Pruitt signs that read "Boot Pruitt" and "Pruitt endangers human health."
Although Pruitt said in his opening remarks that he took responsibility for the agency's actions on spending and travel, he went on to largely deflect ethics-related questions or blame his staff.

In one especially tense exchange, Rep. Tonko, a New York Democrat, questioned Pruitt about whether he was aware of a pair of aides getting big raises even after the White House didn't approve them. Pruitt carefully toed the line, saying he was not aware of the amounts of the raises or about the process used to approve the raises.

"I was not aware of the amount," Pruitt said, adding that he was "[not] aware of the bypassing" or the process not being respected. He later said he didn't even know one of the staffers was seeking a salary increase.
"I'm concerned you have no idea what is going on in your name at the agency," Tonko responded.
In a separate exchange, Pruitt was asked about reporting by the New York Times that at least five agency staff were fired, demoted, or reshuffled after raising questions about the administrator's spending. Pruitt denied this reporting.
And when he was repeatedly asked about his controversial and expensive secure phone booth, Pruitt said "the process failed" and he was not aware of how much the phone booth had cost.
"It's never good to blame your staff," Rep. Shimkus said to reporters following the first hearing. "Or you do it behind closed doors and you talk to them. Not publicly."
Less than 30 minutes after the close of the first hearing, Pruitt had a second one in front of a House subcommittee on appropriations. In this afternoon hearing, there was more discussion on EPA's request for $6.14 billion in fiscal year 2019. That's a $1.9 billion cut below the current appropriated level.
"While some reductions may be in order, cuts of this magnitude put important programs at risk," said Rep. Ken Calvert, a Republican from California and chairman of the subcommittee.

In both hearings, Pruitt defended his new proposal to restrict the science the agency uses to make rules, relying only on studies where the data is publicly available.
Another recurring policy question was about the fate of California's waiver to have stricter air pollution rules for cars. When asked if the EPA would revoke this waiver, Pruitt said that talks with the state were ongoing. Later he added, "we can't have one state dictating the rest of the country." Earlier this month, Pruitt revoked Obama-era climate rules to curb cars and light trucks.
The most charged exchange of the hearing involved a back-and-forth between Rep. Betty McCollum, a Democrat from Minnesota, and Pruitt over reports of worker retaliation.
"What are you doing to do to regain the trust of your staff or my trust?" asked McCollum. When she didn't get a satisfactory answer, she responded: "I think it's time you resign."
When asked by reporters if Pruitt should resign, Rep. Calvert said: "No."
CORRECTION
A previous version of this story misidentified Rep. Pallone from New Jersey as the Congress member who questioned EPA chief Scott Pruitt about staff raises. It was actually Rep. Tonko from New York.