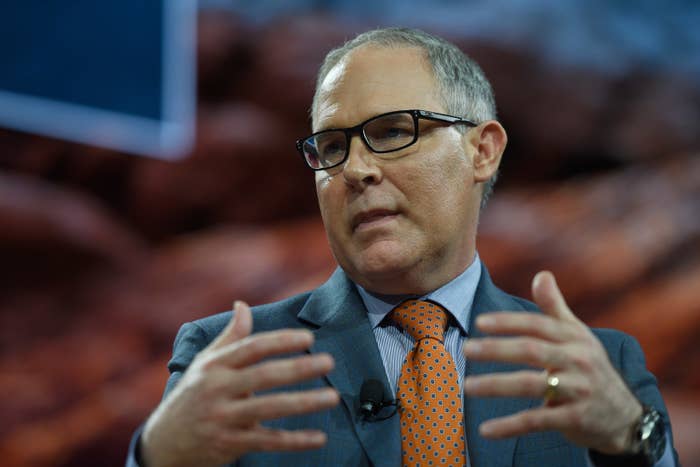 A federal watchdog on Monday said the Environmental Protection Agency broke the law when it spent more than $43,000 on a new soundproof phone booth for its chief, Scott Pruitt.
The EPA was required to tell Congress before it purchased the phone booth, exceeding the $5,000 limit on decorating and furnishing Pruitt's office, but didn't. Trump's EPA ended up violating two laws in the process, according to a new report by the US Government Accountability Office that was obtained by BuzzFeed News.
Specifically, Trump's EPA violated a portion of the Financial Services and General Government Appropriations Acts and the Antideficiency Act.
"[W]e conclude that EPA violated section 710 when it obligated $43,238.68 for the installation of a soundproof privacy booth without providing advance notice to the Committees on Appropriations of the House of Representatives and the Senate," the GAO wrote. "Further, because EPA obligated appropriated funds in a manner specifically prohibited by law, we conclude that EPA violated the Antideficiency Act."
"EPA is addressing GAO's concern, with regard to Congressional notification about this expense, and will be sending Congress the necessary information this week," Liz Bowman, an agency spokesperson, told BuzzFeed News in an email. She also noted that GAO's decision Monday recognized the need for staff to have access to secure phone lines when handling sensitive material. The report itself, however, does not draw conclusions as to whether or not a privacy booth is the best means of doing that.
EPA's general counsel, in contrast, previously reviewed the phone booth purchase and ruled it was legal, according to a March 23 letter shared by the EPA.
The phone booth is slightly more than 4 feet wide, 3 feet long, and 7 feet tall, according to contract information provided by EPA, and it includes "silenced ventilation" and is made of soundproof material on all sides.

"The Government Accountability Office has found that EPA failed to notify Congress before installing this privacy booth," said Sen. John Barrasso, a Wyoming Republican and chair of the Senate's Committee on Environment and Public Works. "It is critical that EPA and all federal agencies comply with notification requirements to Congress before spending taxpayer dollars. EPA must give a full public accounting of this expenditure and explain why the agency thinks it was complying with the law."

Besides the phone booth purchase, Pruitt's actions on the job are under review by Congress, various government watchdogs, and even the White House. Last week, for example, the Office of Government Ethics asked the EPA to look into Pruitt's former housing deal tied to an energy lobbyist, among other issues. That's on top of Democrats in both chambers demanding answers from Pruitt on a host of ethics allegations and then the House Committee on Oversight and Government Reform, which is led by Republicans, expanding its review of Pruitt to include interviews with five of his staff.
"Today's GAO report is the latest proof of the rampant corruption and misconduct at the Environmental Protection Agency under Administrator Pruitt," Rep. Betty McCollum, a Democrat from Minnesota, said in a statement. "There are few greater examples of government waste than a $43,000 phone booth. Now we know that the purchase wasn't just unnecessary and wasteful, but actually illegal."
McCollum is one of four members of Congress that asked the GAO to look into the phone booth.
"An illegal privacy booth to conduct secret discussions with his polluter friends does nothing to help our health or environment. The list of ways he has abused his office just keeps getting longer," Sen. Tom Udall, a Democrat of New Mexico, said in a statement shared with BuzzFeed News.
Following the new report, the agency may need to do more staff training or secure more funding for Pruitt's office, according to Scott Amey, general counsel for the nonprofit Project on Government Oversight. "The EPA should report the interior decorating violations to Congress and the President and take the necessary remedial actions," Amey told BuzzFeed News by email. "Someone at EPA might need more training on spending taxpayer dollars and the agency might need funds to cover Pruitt's office alterations."
CORRECTION
Rep. Betty McCollum is a Democrat from Minnesota. A previous version of this story misidentified where she represents.