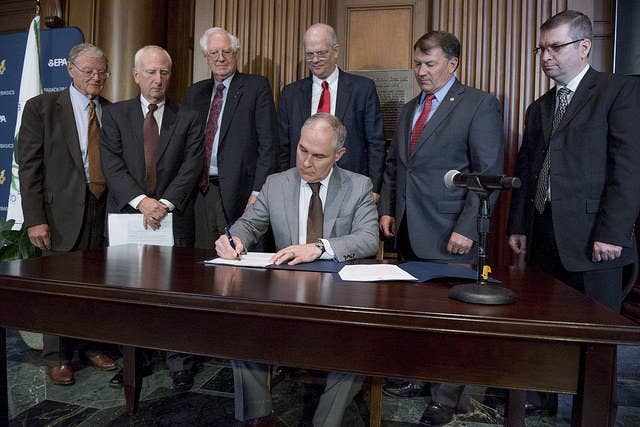 The Environmental Protection Agency announced on Tuesday afternoon sweeping changes to who can advise the agency on its research and regulatory priorities, opening the door to more industry participation.
Effective immediately, scientists who receive EPA funding cannot serve on the agency's three major advisory groups. Some Republican lawmakers have been pushing for similar changes to the agency's advisory boards for years.
"We want to ensure that there's integrity in the process and that the scientists that are advising us are doing so without any type of appearance of conflict of interest," EPA head Scott Pruitt said at a press conference announcing the directive.
Pruitt used a story from the Book of Joshua to help explain the new policy.
On the journey to the promised land, "Joshua says to the people of Israel: choose this day whom you are going to serve," Pruitt said. "This is sort of like the Joshua principle — that as it relates to grants from this agency, you are going to have to choose either service on the committee to provide counsel to us in an independent fashion or chose the grant. But you can't do both. That's the fair and great thing to do."
A large coalition of science organizations, science advocates, environmentalists, and politicians lined up in fierce opposition to the policy changes, arguing the rules not only disqualify top environmental and health researchers from advising but also favor scientists paid for by EPA-regulated companies. They also have pointed out that EPA has strict rules in place for disclosing any conflicts of interest.
"Frankly, this directive is nuts."
"Frankly, this directive is nuts," Al Teich of George Washington University wrote in an email to BuzzFeed News.

"There is an important role for citizen advisors who are not experts in a scientific field and who represent various constituencies on advisory committees," wrote Teich, a research professor of science, technology, and international affairs. "But they should complement, not replace the experts. Disqualifying the very people who know the most about a subject from serving as advisors makes no sense."
The change calls into question EPA's ability to protect the country, according to Rush Holt, chief executive officer of the American Association for the Advancement of Science. "We question whether the EPA can continue to pursue its core mission to protect human health and the environment," Holt said in a statement issued Tuesday.
Pruitt also announced the new chairs of EPA's advisory committees on Tuesday.
Michael Honeycutt, a controversial toxicologist from Texas, is the new head of EPA's Science Advisory Board, which provides scientific counsel to the agency's top official. Honeycutt once told Congress he didn't agree with the EPA's toxic evaluation for mercury, and he's argued against the agency's ozone standards, according to a 2014 investigation by InsideClimate News and the Center for Public Integrity.
Tony Cox is now the chair of EPA Clean Air Scientific Advisory Committee, which offers technical input on the nation's air standards. Cox is president of Cox Associates, a Denver-based risk analysis firm.
And Paul Gilman is the new leader of the Board of Scientific Counselors (BOSC), which provides input on the EPA's research agenda. Gilman works at the waste management company Covanta Energy and served as an EPA assistant administrator during the Bush administration.
According to Deborah Swackhamer, the former head of BOSC, she got no warning from EPA that she was being replaced.
"I read about it in the news," Swackhamer, an environmental chemist, told BuzzFeed News by email. Swackhamer has confirmed with the EPA that she will continue to serve on the committee until her term expires on March 8, 2018. "Given Mr. Pruitt's recent actions on renewals, I would be surprised to be asked to serve a second term, but who knows," she wrote.
The three new advisers attended Tuesday's EPA press conference and stood behind Pruitt as he signed the new directive. Some lawmakers who have been highly critical of EPA regulations also attended the briefing.
"Today's announcement shows that we have an administrator with common sense, commitment, and courage," Rep. Lamar Smith, a Texas Republican who chairs the House Science Committee, said at the press briefing.
Smith's committee passed a bill called the EPA Science Advisory Board Reform Act earlier this year that would have put in place some of these same restrictions on EPA advisers. The legislation has not yet passed both houses. The new policy enables "us to put the principles of this bill into practice," Smith said.
UPDATE
This story has been updated with comments from Deborah Swackhamer, the former head of one of EPA's advisory committees.