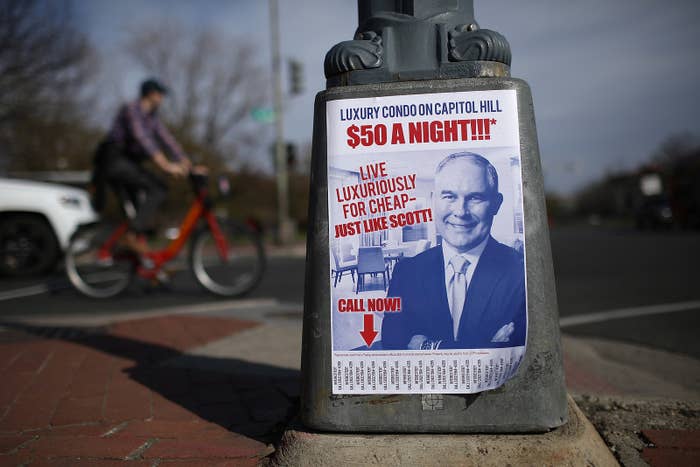 The Environmental Protection Agency's ethics office is kicking a new request to investigate the allegations piling up against agency head Scott Pruitt to the department's inspector general.
The federal Office of Government Ethics sent a letter to the EPA's ethics office Friday, which was posted online Monday morning, asking for a review of Pruitt's past housing arrangement, his spending and travel on the job, and his treatment of staff. EPA officials have now forwarded that request to the internal watchdog, according to EPA's response obtained by BuzzFeed News.
The IG's office has investigative powers, unlike the EPA's ethics office, which, for example, does not have the authority to demand staff come in for interviews or conduct fact-finding on the scale likely need for this review.
"Consequently, in an instance in which the EPA ethics office lacks sufficient evidence to assess fully an ethics matter, we have a long-standing practice of referring it to the EPA's Inspector General (IG) for investigation," Kevin Minoli, EPA's top ethics official, wrote in an April 9 letter. "Consistent with our practice, we referred your letter to the EPA IG."
David Apol, the federal ethics office's acting director and general counsel, said in the initial letter that: "OGE expects that the EPA will review and analyze the alleged conduct." In a different part of the letter, he wrote: "The American public needs to have confidence that ethics violations, as well as the appearance of ethics violations, are investigated and appropriately addressed."
"Essentially, OGE is saying that it is watching and the EPA better conduct comprehensive investigations into the numerous ethics concerns involving Pruitt," Scott Amey, general counsel of the government watchdog group Project on Government Oversight, told BuzzFeed News in an email. "OGE even goes so far to cite authorities that could lead to an OGE investigation and disciplinary recommendations if the EPA drops the ball."
Minoli, in his new response to the OGE request, said, "To the extent that there are ethics issues to resolve, we will serve as the subject matter expert on those issues. As always, the EPA's ethics office stands ready to assist the IG in any way." He added that his office will follow up on any areas of improvement the watchdog may recommend as part of this process.
"This is kind of an unprecedented situation as far as I know," Jennifer Kaplan, a spokeswoman for the EPA Office of Inspector General, told BuzzFeed News, referring to the unusual way the request landed on the IG's desk after originating with the Office of Government Ethics and then getting bounced off EPA's ethics office.

When asked about the status of the request, Kaplan added: "We'll wait to see what the IG and his team decides."

The OGE is already auditing Pruitt's expensive traveling, and officials there told BuzzFeed News they are still reviewing multiple requests from Congress and others to look into Pruitt's housing situation and additional ethics concerns.

Specifically, questions have been raised about Pruitt's leasing of a condo tied to an energy lobbyist for only $50 a night; for his spending millions on security and traveling first class, including on trips home to Oklahoma; for reportedly greenlighting major raises to a pair of aides even after the White House didn't approve of them; and for reportedly reassigning and demoting multiple staffers who raised questions about his spending habits.

Rep. Trey Gowdy, chair of the House Oversight Committee, has said he is investigating the recent ethics controversies tied to Pruitt. A small handful of Republican members of Congress have joined dozens of their Democrat colleagues in criticizing Pruitt, and some have even called for his removal.
Conservative and tea party groups, however, have come out in support of Pruitt and his progress in rolling back environmental regulations. Just last week, Pruitt announced plans to ax Obama-era climate pollution rules for cars and light trucks.
President Donald Trump continued to publicly support his EPA chief over the weekend.
In the April 6 letter, the Office of Government Ethics raised a number of concerns it hopes EPA officials will clarify, such as whether Pruitt's stay at a condo tied to the energy lobbyist, J. Steven Hart, qualifies as a gift. Contrary to initial reports, EPA's ethics team has not cleared Pruitt of all potential ethics violations.

Moreover, "reports of the Administrator making frequent official trips to his home state at Government expense to offset the expense of returning home for personal or political reasons do raise concerns about whether the Administrator is using his public office for personal gain in violation of ethics rules," Apol wrote.
Apol also called the reports about Pruitt reassigning staff "extremely concerning." If found to be true, he wrote: "it is hard to imagine any action that could more effectively undermine an agency's integrity than punishing or marginalizing employees who strive to ensure compliance with the laws and regulations that safeguard that integrity."
UPDATE
This story has been updated to include EPA's response to the letter, which was obtained by BuzzFeed News, and a comment from Jennifer Kaplan, a spokeswoman for the EPA Office of Inspector General.