President Donald Trump's Environmental Protection Agency chief last year rented an apartment in Washington, DC, owned by the wife of an energy lobbyist, raising questions over whether the arrangement crossed an ethical line.

EPA Administrator Scott Pruitt's adult daughter stayed in a different room of the same apartment, according to ABC News, though it's unclear whether she had a different rental arrangement. And Pruitt's security team apparently knocked down a door in the condo, located a few blocks from Capitol Hill.
"There's so much drama going on with this story," Justina Fugh, an ethics lawyer at the EPA for a dozen years, told BuzzFeed News.
Fugh told the EPA on Thursday night that she didn't think the incident was a case of Pruitt accepting an improper gift. But she made that decision based on Pruitt's lodging alone, without knowing if other people shared the apartment.
The EPA ethics office has since formally stated that Pruitt's living situation was not improper, according to an agency memo shared with BuzzFeed News.
The details of Pruitt's former housing — which cost him $50 a night on the nights he stayed there, according to Bloomberg News — is just the latest example of his behavior in office raising eyebrows. Pruitt has already drawn public criticism, as well as internal review and congressional scrutiny, for his expensive practice of traveling with a large security detail and flying first class, as well as for spending $43,000 to install a soundproof phone booth. He was also reportedly recently called out in private by the White House for ethics concerns.
"Scott Pruitt has demonstrated right from the beginning, in fact even before he got to Washington, DC, that he doesn't know where the ethical lines are between public office and private interest," Rep. John Sarbanes, a Democrat from Maryland, told BuzzFeed News. Sarbanes is on the House Energy and Commerce Committee, which has oversight over the EPA.
In the case of the apartment, Sarbanes added, "Whether he was getting a sweetheart deal from the wife of a lobbyist of an energy industry, and then turned out and did some favors for a particular company in the energy industry — these are all particular questions that need to be asked and answered."
Here's what we know (so far) about Pruitt's past housing situation, which gets more tangled by the minute.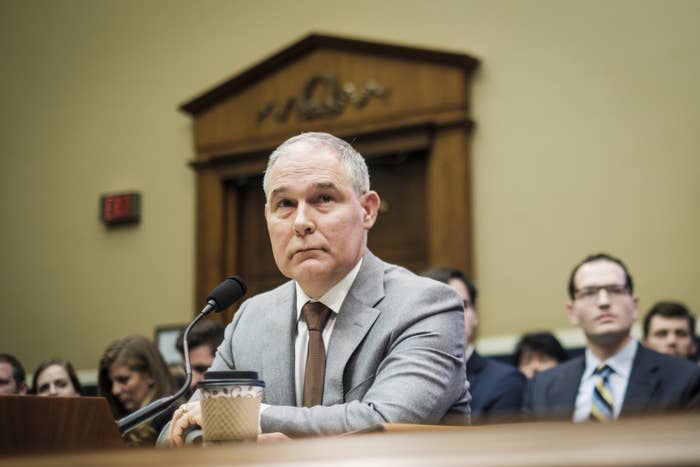 Shortly after starting at the EPA, Pruitt signed a short-term lease for $50 a night for the nights he stayed in a bedroom in a shared condo partially owned by health care lobbyist Vicki Hart, who is married to energy lobbyist Steve Hart.

Pruitt paid at least $6,100 total from March 18 through Sept. 1, 2017, according to six canceled checks obtained by the EPA and shared with Bloomberg News. Fugh confirmed the payments to BuzzFeed News. Specifically, Pruitt paid $450 on March 18, $900 on April 26, $850 on May 15, $700 on June 4, $1,500 on July 22, and $1,700 on Sept. 1.
The EPA also obtained a copy of Pruitt's lease and past rent checks on Thursday, after the news of the arrangement first broke.
EPA officials read portions of the lease and the value of Pruitt's checks to Fugh Thursday night. Fugh determined that the apartment use did not constitute a gift, because it seemed Pruitt was paying a reasonable rent, she told BuzzFeed News.
But even if it was a gift, she reasoned, it would have been permissible because Pruitt is friends with the Hart couple, so it would have been an example of what's called a "gift exception" from friends.
Steve Hart, in a statement sent to BuzzFeed News via his lawyer, only called Pruitt "a casual friend," and said he has "had no contact with him for many months except for a brief pass by at the National Prayer Breakfast in 2018."
Hart also said Pruitt "signed a market-based, short-term lease for a condo owned partially by my wife," and said he personally had no ownership interest.
The situation is atypical for the EPA. "This just isn't a routine thing an ethics lawyer does at the agency. I had no idea where Gina McCarthy lived," Fugh told BuzzFeed News, referring to Pruitt's predecessor.
Complicating the situation, ABC News reported later on Friday that Pruitt's adult daughter, McKenna Pruitt, stayed with him at the apartment while she was a White House intern. It's not yet known exactly how long she lived there, or if she paid separately.
When BuzzFeed News asked Fugh about how the question of Pruitt's daughter weighed into her ethical consideration, she said it didn't — because this was the first time she was hearing about it.
In order to figure out if her initial assessment about the gifts still rang true, she'd need more information about Pruitt's daughter's stay. To determine if that arrangement is aboveboard, she said, she would need several questions answered: Did McKenna pay separately? Is she a dependent on her dad's taxes?
"I don't have any facts to know what the daughter did and didn't pay," Fugh said. "I don't have any facts to know if she's a dependent on his taxes."
There's also the question of whether the Harts had any special access to Pruitt because of his lodging, and vice-versa. Fugh said she was not asked to weigh in on this.
EPA's Ethics office determined on Friday that Pruitt's living situation was not improper, taking into account visits by his family, according to a memo.
"As EPA career ethics officials stated in a memo, Administrator Pruitt's housing arrangement for both himself and family was not a gift and the lease was consistent with federal ethics regulations," Jahan Wilcox, an EPA spokesman, told BuzzFeed News in a statement.

The memo does not mention McKenna Pruitt's living situation, however, and a spokesperson for the EPA did not return comment when asked about it.
The latest wrinkle to the story involves Pruitt's security detail, and more EPA expenses. For undisclosed reasons, ABC News reported Friday, Pruitt's protective detail broke down the apartment building's front door last March to get to Pruitt, who they believed to be in medical danger. The EPA paid back the building's landlord for the cost of the door, according to ABC News, but the landlord would not disclose the amount of money.

The hubbub around the apartment, coming soon after controversy about other expenses, could complicate Pruitt's future. There have been reports since January that he was under consideration to replace Jeff Sessions as attorney general, and that Pruitt covets the job.
As EPA head, Pruitt has led an aggressive rollback of environmental regulations, proposing to undo Obama's signature climate rule to bring down power plant emissions, among others. Fed up with Pruitt's agenda, a group of environmental organizations this week launched a campaign to oust him called "Boot Pruitt."
"I think with Pruitt, the question is what else is there?" Rep. Sarbanes told BuzzFeed News. "It's conceivable he'll come up with a perfectly good explanation for all this. It's hard to see it right now."
UPDATE
This story has been updated to include information about a new memo from the EPA ethics office and a comment from EPA spokesman Jahan Wilcox.