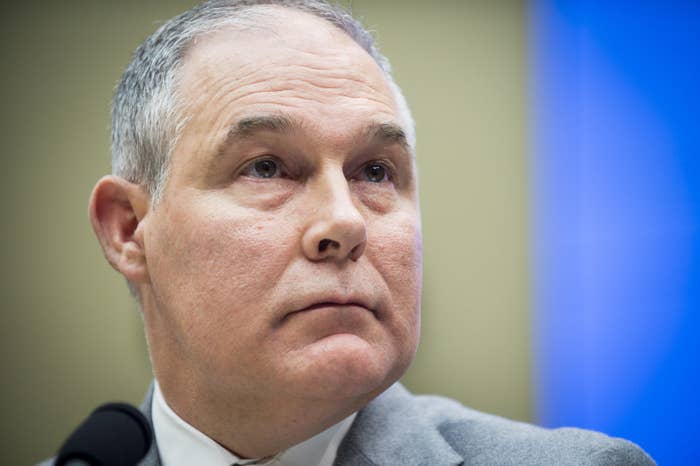 The Trump administration announced Monday afternoon that Obama-era rules to reduce climate pollution from cars and trucks have got to go because they are too strict.

The decision comes at a time when cars, trucks, and other forms of transportation are the top source of greenhouse gas emissions in the US, surpassing climate pollution from the power sector for the first time in 2016, according to the US Energy Information Administration.
It's the latest example of the Trump administration gutting environmental and climate rules — from the Environmental Protection Agency proposing to undo the Clean Power Plan to the Interior Department allowing new coal leases on public lands.
The long-anticipated announcement on car emissions rules was immediately praised by automakers and conservative groups.
"This was the right decision," Wade Newton, a spokesman for Auto Alliance, an association of car manufacturers, said in statement emailed to BuzzFeed News. "We support the administration for pursuing a data-driven effort and a single national program as it works to finalize future standards."

Myron Ebell, a director of the Competitive Enterprise Institute who has long advocated against action on climate change, said it was the first step in many years toward "reducing government control" over what kinds of cars people can choose to buy.
But many policy experts, environmental groups, and state officials have come out in opposition to the decision, saying the move is a bad deal for the climate, public health, and consumer wallets.
"This kind of effort by the Trump administration to roll back our progress here means it's going to be more challenging to reduce emissions from the transportation sector, and that's really the big source of greenhouse gas emissions in most of the United States," Ethan Elkind of California Berkeley's Center for Law, Energy & the Environment told BuzzFeed News.
California has pledged to keep stricter standards, and several states are expected to follow, effectively splitting the US car market in two.

"As the administration tries to take the nation backwards, more than a dozen states — led by California — are pushing ahead, and we hope more will join," Michael Bloomberg, former New York mayor and cochair of a US cities and states coalition pushing ahead on climate action called America's Pledge, said in a statement. "If anything, we expect this misguided move to spur even more bottom-up progress."
The Obama administration in 2012 set climate and fuel efficiency standards for new cars and light trucks built between 2022 and 2025, leaving the door open to changing the standards in the future. Under the original rules, according to former EPA official Janet McCabe, "each type, each size of vehicle has its own expectation, in terms of how much more efficient it is going to get over time."
McCabe and others reviewed the standards a few years later, deciding to keep the same strict ones in place. "We found that those standards were still feasible, still appropriate, and still cost effective," McCabe said. The resulting impact, EPA projected, would be an average fuel efficiency of about 51.4 miles per gallon across the vehicle fleet in 2025.
Shortly after President Donald Trump took office, however, two agencies — the EPA and the Department of Transportation — reopened the so-called midterm review of the car pollution standards. Now the second review has ended, and the administration has decided to set new car standards.
"The Obama Administration's determination was wrong," EPA Administrator Scott Pruitt said in a statement Monday.
The EPA and DOT's National Highway Traffic Safety Administration intend to develop new, weaker rules for both greenhouse gas emissions and fuel efficiency for new cars and light trucks built between 2022 and 2025. The exact timing of the new rule-making has not been announced.
Another unknown is what the administration will do about California, which has a waiver from Obama's EPA to set its own strict standards.
"Cooperative federalism doesn't mean that one state can dictate standards for the rest of the country," Pruitt said, adding that the agency was still deciding what to do about California.
California officials have already threatened to sue the Trump administration on this issue.
"We're ready to file suit if needed to protect these critical standards and to fight the Administration's war on our environment," California Attorney General Xavier Becerra said in a recent statement. "California didn't become the sixth-largest economy in the world by spectating."
UPDATE
This story has been updated to include information about the original standards, as well as quotes from former EPA official Janet McCabe and Auto Alliance spokesman Wade Newton.