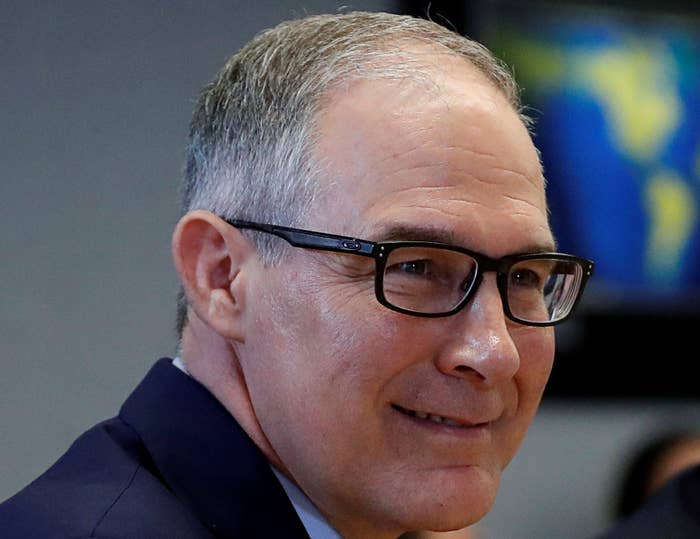 Two high-level officials at the Environmental Protection Agency are leaving after getting entangled in the ethics scandal tied to agency head Scott Pruitt.

Millan Hupp, an EPA scheduler who had helped Pruitt find housing and a used mattress from the Trump hotel, is leaving at the end of the week, the Atlantic first reported and BuzzFeed News has confirmed. (When the Atlantic asked the EPA about Hupp's departure, EPA spokesperson Jahan Wilcox reportedly responded: "You have a great day, you're a piece of trash.")
Sarah Greenwalt, a senior adviser at the agency, is also on her way out, BuzzFeed News has confirmed with the EPA. The New York Times first reported on her departure.

Both Hupp and Greenwalt worked with Pruitt in Oklahoma when he was the state attorney general and followed him to the EPA. The pair of aides received big raises this spring, even after the White House had denied those increases. Since the news of their salaries got out, both Congress and EPA's internal watchdog have looked into it.
There are more than a dozen open investigations — by Congress, multiple federal watchdogs, and the White House — into Pruitt's EPA. The allegations range from his spending of more than $3 million on an around-the-clock security detail to lobbyists being tapped to plan Pruitt's international travel, to his use of four different emails for work, to his reported retaliation against workers who questioned him. In testimony before Congress, Pruitt has repeatedly blamed his staff for many of these issues.
The latest dustup came Tuesday, when the Washington Post reported that an aide reached out to the fast-food chain Chick-fil-A on Pruitt's behalf to get his wife a job there. Pruitt confirmed this in a taped interview Wednesday.
"My wife is an entrepreneur herself. I love, she loves, we love [Chick-fil-A]," Pruitt said. "Chick-fil-A is a franchise of faith and it's one of the best in the country and so that's something we were very excited about. We need more of them in Tulsa. We need more of them across the country. It's an exciting time."
Earlier in the week, two House Democrats — Elijah Cummings from Maryland and Rep. Gerald E. Connolly from Virginia — released a letter describing what Hupp had told the lawmakers about her work under Pruitt. Hupp confirmed previous reporting that she had spent several hours across multiple months helping Pruitt find an apartment, including on agency time. She described other personal favors for Pruitt too, including asking the Trump International Hotel in Washington, DC, if it sold used mattresses and booking his vacation home for Christmas.
"Ms. Hupp cooperated with our investigation and should not become the latest scapegoat for Administrator Pruitt's litany of abuses, his disregard for our nation's ethics laws, and his refusal to accept responsibility for his own actions," Cummings said in an emailed statement. He called for the EPA to hand over more documents tied to the ethics allegations, adding, "we need House Republicans to subpoena them if Mr. Pruitt continues to obstruct our investigation."
The House Oversight Committee has interviewed three EPA officials so far as part of its wide-ranging ethics probe: Hupp, Greenwalt, and Pasquale "Nino" Perrotta, Pruitt's former head of security. All three have left the agency or will be leaving soon.
That's on top of at least two other high-level EPA officials resigning in May: Liz Bowman, the former head of EPA communications, and Albert "Kell" Kelly, the head of the Superfund program.
The committee will be interviewing two more EPA employees later this month, Samantha Dravis and Ryan Jackson, spokesperson Amanda Gonzalez told BuzzFeed News by email. Gonzalez declined to comment on the EPA departures.
"Scott Pruitt cannot shift the blame for his scandals to his aides or career EPA employees," Rep. Don Beyer, a Democrat from Virginia, told BuzzFeed News in a statement. "The corruption begins with Scott Pruitt, and it must end with his resignation or firing."
UPDATE
This story has been updated to note that the EPA has confirmed Sarah Greenwalt's departure.