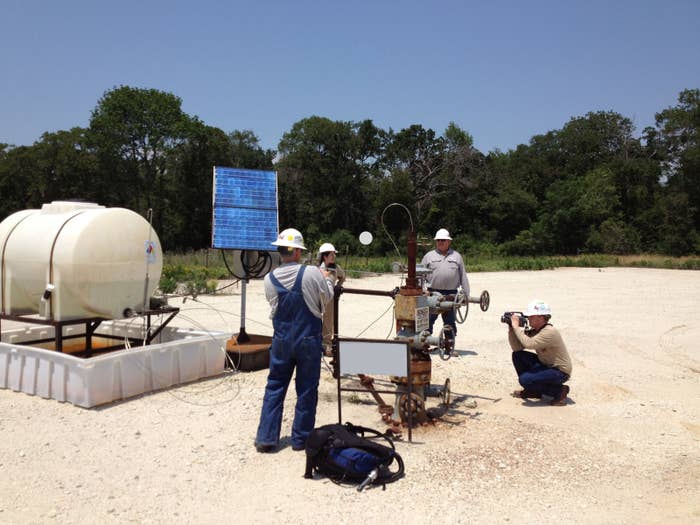 Oil and gas wells, pipelines, and storage sites are leaking 60% more methane gas into the air than the US government originally estimated, according to new study.

These results have big implications for the climate, experts say. Methane, the main component in natural gas, can cause temperatures to rise when trapped in the atmosphere. Methane is far more potent as a greenhouse gas than carbon dioxide.
Natural gas is typically thought of as cleaner than coal or diesel because it produces less carbon dioxide when burned. But the new study suggests that an abundance of leaking methane can negate that benefit of natural gas.
The leaked gas "essentially doubles the climate impact of natural gas use over a 20-year period," Ramon Alvarez, the lead author of the study and a scientist at green group Environmental Defense Fund, told BuzzFeed News.
This work comes as US production of natural gas is on the rise, and the Trump administration has delayed or ended a series of rules to curb and better monitor methane leaks from the energy industry.
The study, published Thursday in the journal Science, found that the total methane leaking from energy infrastructure is about 13 teragrams (or more than 28 billion pounds) per year, mostly from oil and gas wells. That's far more than the 8.1 teragrams estimated by the Environmental Protection Agency, calling into question the way the agency tracks climate pollution from oil and gas.
"More and more evidence points to the same conclusion: We are underestimating methane emissions," Rob Jackson, an earth science professor at Stanford University who was not involved in the study, told BuzzFeed News.
For the study, scientists from 15 academic and research institutions nationwide pulled together existing methane leak data for all types of energy infrastructure, from wells to pipelines to storage units. They relied on studies using ground monitors located slightly downwind of oil and gas sites to best capture facility-wide emissions. They also used emissions data collected in the sky, such as by plane or satellite.
The EPA relies on a mix of academic studies and data routinely collected by companies using their own equipment. This means that the EPA inventory may miss big accidental emissions, possibly from malfunctioning equipment that isn't normally monitored, according to Alvarez.
An EPA representative told BuzzFeed News that the agency would review the paper following its publication, declining to respond ahead of that time.