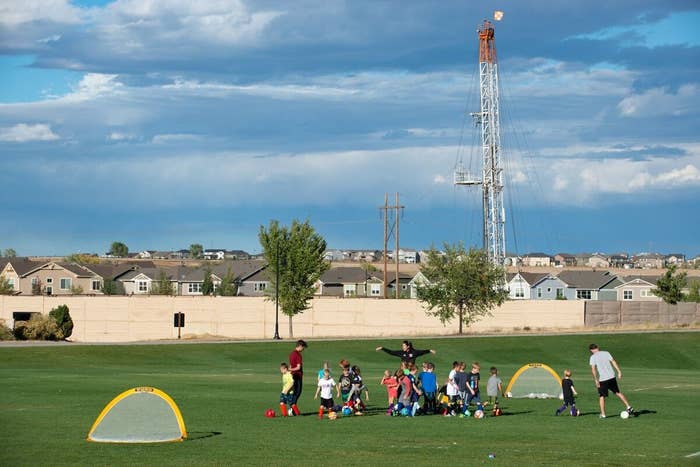 Oil and gas companies are spending millions to squash a pair of ballot initiatives this election cycle: a proposal for limiting the location of new oil and gas sites in Colorado, and a plan to charge climate polluters in Washington state.

In both states, the stakes are high. And the battle lines are similar — with the energy industry arguing the proposals would hurt the economy, and environmental groups saying the proposals will protect human health. The fundraising, though, is dramatically lopsided, with way more money on the oil and gas side.
In Colorado, the sixth-largest oil-producing state in the nation, the fight is over some of the strictest so-called setback rules. Ballot initiative 112 proposes that new oil and gas sites in the state be set back 2,500 feet, or about half a mile, from homes, schools, and other occupied buildings. Under the current rules, energy sites must be 500 feet from homes, and 1,000 feet from schools and other buildings.
Protect Colorado, the main opposition group, has raised about $35.6 million, mostly from energy companies, according to its latest filing on Oct. 15. More than a dozen oil and gas companies and trade associations have collectively spent more than $1 million in last-minute donations since then. And Anadarko and Noble Energy, two of the largest oil and gas operators in the state, have each spent nearly $7 million this year on the campaign.
This proposal would limit where new oil and gas infrastructure can go, Jesse Mallory, Colorado director for conservative political group Americans for Prosperity, told BuzzFeed News. As an industry, "if you can't grow, what are you going to do?"
Meanwhile, Colorado Rising, the main supporter of the initiative, raised nearly $1 million by October 24. This includes a flurry of last-minute donations by mostly individuals and some green groups like 350.org.

"This is really a David versus Goliath, people versus corporation" situation, said Anne Lee Foster of Colorado Rising, and this measure comes after years of Coloradans pushing for more protections against the industry. It was a bitter fight just to get the issue on the ballot, Foster added, where those collecting signatures faced harassment.
"This is really a David versus Goliath, people versus corporation" situation.
Despite the uneven spending, Coloradans are split on the issue. One recent poll, by the University of Colorado's American Politics Research Lab, found voters in mid-October were narrowly in favor of the stricter setbacks, with 52% of poll participants supporting the initiative and 48% opposed.

"I don't think anything is in the bag," Anand Sokhey, an associate professor of political science at the University of Colorado, Boulder, who worked on the poll, told the Denver Post. "There's still time for those numbers to move around, especially with independent voters."
Washington voters are more uncertain of the proposed initiative, according to a recent Crosscut/Elway poll, with 50% of survey participants supporting the measure, 36% against, and 14% undecided. And the spending gap is not as wide.
Ballot initiative 1631 proposes to charge certain companies, chiefly those involved in the distribution and use of fossil fuels for electricity and other purposes, for pollution that includes carbon, which contributes to global warming. The fee would be based on the amount of carbon in the fossil fuel, and ratchet up over time, starting in January 2020 as $15 per metric ton of carbon content.
The opposition group "No on 1631" is sponsored by the energy trade group Western States Petroleum Association and has raised at least $29.9 million, according to state records. That's a new fundraising record for state initiatives, according to the Associated Press. Oil company BP America, the largest donor, has spent about $11.5 million on the campaign.
"This is a serious issue," Dana Bieber, a No on 1631 spokesperson, told BuzzFeed News, adding that the proposal would cost voters money and not address some climate pollution. "A lot of money is being spent on both sides," Bieber said.
But her opposition, the Clean Air Clean Energy WA's "Yes on 1631" campaign, has only raised about half as much — $15.2 million, per state records.
"We have the largest coalition in state's history," Nick Abraham, a Yes on 1631 spokesperson, told BuzzFeed News, one involving hundreds of environmental, labor, and tribal groups. If this proposal passes, Abraham added, it would be the first time in the US that people voted in a fee on carbon pollution.
A similar ballot measure failed in Washington in 2016, and Governor Jay Inslee has repeatedly proposed legislation to put a price on carbon only to see it go nowhere in the hands of state legislators.
In Colorado, a similar proposal failed to get enough signatures to get on the ballot in 2016. A last-minute political deal struck between Gov. John Hickenlooper and the proposal's financial backer, Representative Jared Polis, who is now running for governor, kept the measure off the ballot in 2014.
At a time when most congressional campaigns in 2018 are largely avoiding the issue of climate change, these ballot initiatives have become a flashpoint for the nation's environmental community, drawing the support of prominent activists like 350.org founder Bill McKibben and organizations like the Peoples Climate Movement. The green community is also closely watching a handful of other initiatives that could bring environmental wins, including proposals to boost renewable energy in Arizona and New Mexico.