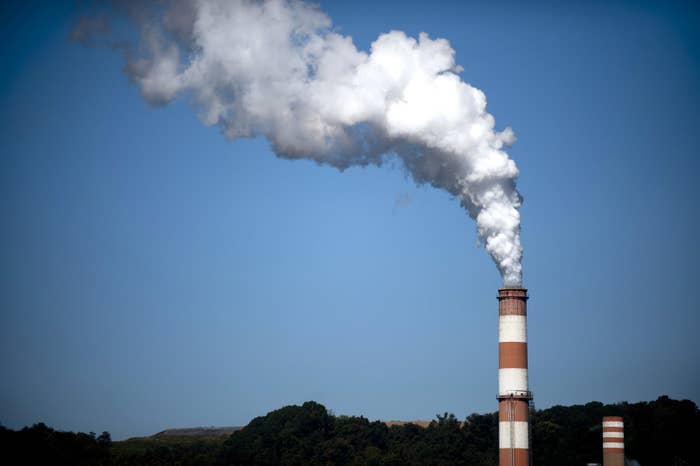 The nation's electric grid is working just fine despite big shifts in the sources providing that power, but this could change in the future, concludes a highly anticipated new Energy Department report.
Energy Secretary Rick Perry launched this controversial study in April, with the aim of measuring the reliability and vulnerabilities of the US electricity grid — the massive, interconnected network that delivers power from energy producers to consumers. Perry raised concerns about the declining number of coal and nuclear power plants and suggested that subsidies for wind and solar energy were primarily to blame.
Many energy and environmental groups balked, viewing this study as an attempt to justify new policies prioritizing power plants over solar, wind, and other forms of renewable energy. On the defensive, academics, energy experts, and advocates released study after study this summer highlighting the benefits of renewable technologies.
Meanwhile, President Trump has repeatedly criticized or ignored wind and solar power projects, and touted the notion that environmental regulations have created a "war on coal." He's also moved to revive the flagging nuclear industry.
The Energy Department's 187-page analysis, released late on Wednesday night after weeks of delays, is not the overt attack on renewable energy many worried it would be.
"There have been many analysts worried that the study would be used as a hatchet against renewables and shameless promotion of coal. The study is neither," David Victor, a professor of international relations at the University of California, San Diego, wrote in an email to BuzzFeed News. "Most strikingly, perhaps, is that the report offers zero evidence for the 'war on coal' that President Trump believes is affecting that industry."
The report concluded the rise of cheap natural gas is "the biggest contributor" to the closing of a string of coal and nuclear power plants over the last decade. The officials also found other factors contributed, albeit to a lesser extent, to the decline in power plants — such as a flattening of electricity demand, environmental regulations, and more power coming from renewable energy.
Despite massive changes in the electricity markets, the grid has not suffered major reliability problems, according to the report. (This was also the key takeaway of a draft version of this report, leaked in July.) But it's an open question as to what will happen in the future as the nation's electricity mix continues to change, with more renewables coming online and power plants shutting down.
To this end, the report contends that energy sources that can be generated around the clock — notably coal, nuclear, hydropower, and natural gas power plants — are necessary for the vitality of the grid in the long term.
But critics say this idea is wrong because reliance on these big power plants, which are difficult to dial down or turn off quickly, would actually jeopardize the future grid's stability in a warming world. "Coal and nuclear power plants aren't flexible in terms of being able to provide output," Steve Clemmer, a director of energy research at the Union of Concerned Scientists, told BuzzFeed News. The report does not mention climate change, he added.
To make the grid more reliable and resilient going forward, the report also recommends: changing how prices are calculated in electricity markets, rolling back environmental and climate regulations, and streamlining the licensing and permitting for different energy sources, among other policies.
Coal and nuclear groups have largely praised the report. "The U.S. Department of Energy's electric grid study reaffirms our view that nuclear energy is a key and necessary contributor to a clean, reliable and resilient electric grid, which is now more important than ever," Nuclear Energy Institute President Maria Korsnick said in a statement.
"We are pleased that this report acknowledges the importance of coal-fired baseload electricity generation" in the US, Gary Broadbent, a spokesperson for Murray Energy Corporation, said in a statement emailed to BuzzFeed News. To boost coal generation, Broadbent recommended declaring a federal emergency on the grid and banning any new closures of coal plants. The coal miner group has repeatedly asked the Trump administration to take this extreme step and was recently rebuffed, according to the Associated Press.
But reactions from renewable energy experts and advocates have been mixed. Some told BuzzFeed News that although they agree with many of the report's key market-trend findings, they have concerns and questions about the policy recommendations.
"I think most of what was discussed in the document was fairly factual," Christopher Clack, founder of grid-modeling and software firm Vibrant Clean Energy, LLC, wrote in an email to BuzzFeed News. "My big question is how, if at all, it will be used as spin by the administration for certain priorities," such as backing coal jobs, natural gas pipelines, and economic growth.
"We look forward to reviewing the full report in greater detail, and welcome the focus on the resilience and security of our electricity supply," Gregory Wetstone, president and CEO of the American Council on Renewable Energy, said in a statement.
"Certainly, we would be concerned by any effort to use resiliency as an excuse for propping up uneconomic sources of electrical power, and denying consumers free market access to clean, cost-effective renewable energy from, for example, wind and solar power," Wetstone added.