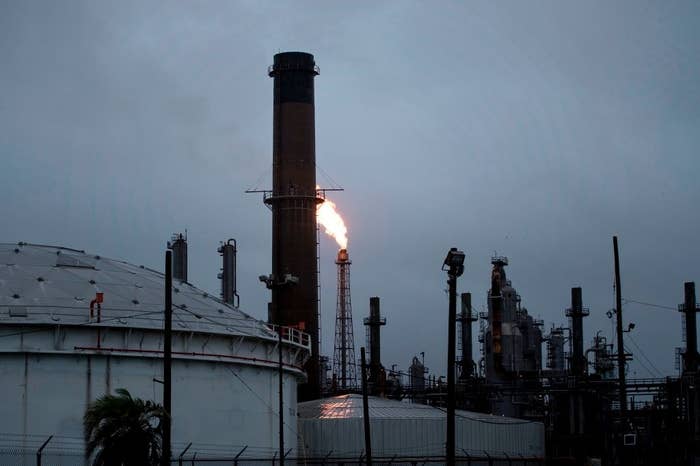 A wave of refinery, petrochemical plant, and other industrial facility damages and shutdowns along the Texas coast in response to Harvey's wrath has led to the release of millions of pounds of pollutants into the air, according to company filings analyzed by BuzzFeed News.
One of the nation's hot spots for refining and other chemical processing, Houston is especially vulnerable to hurricanes and other flooding. Early Thursday morning — after Harvey had hit the city with more than 49 inches of rain in some places — the Arkema chemical plant in Crosby, Texas, about 30 miles northeast of downtown Houston, exploded twice due to flooding. The ongoing fire has released black smoke, raising questions about whether large amounts of dangerous materials are being emitted.
Although Arkema has not yet filed a report estimating the air pollution triggered by this explosion, dozens of other industrial facilities already have.
Chevron Phillips, for example, moved to shut down its chemical manufacturing plant outside of Houston. In the process of halting production, however, various pieces of plant equipment spewed an estimated 754,000 pounds of air pollution. This was a noxious mix of cancer-causing chemicals, smog-forming pollutants, and other pollutants, according to the company's recent report to Texas environmental regulators.
Chevron isn't alone. A BuzzFeed News review of company filings from the 54 counties covered by Texas Gov. Greg Abbott's state disaster declaration reveals that more than 40 industrial sites had either reported a spike in emissions, or predicted one, during shutdowns prompted by Harvey, or reported damage caused by the storm. The count includes reports that indicate emissions began on or after August 23, when National Hurricane Center staff first warned Texans about the storm, and which were posted by the morning of August 31.
Shutdowns can lower the efficacy of equipment used to capture or reduce emissions, according to Luke Metzger, of the local activist group Environment Texas, leading to spikes in pollutants released.
"Pollution controls are most effective when facilities are at top temperatures and flows, and as you are bringing that down, the equipment doesn't work as well," Metzger told BuzzFeed News. "You often do see a lot of emissions associated with startups or shut downs."
There are steps companies can do to minimize this pollution, Metzger added. This includes not waiting until the last minute to shut down, and instead having "a more controlled, careful shutdown."
Harvey tracked through two major refining and chemical hubs in Texas — Corpus Christi and Houston — and now heads toward the neighboring energy state of Louisiana. The result is that more than 3 million barrels of refining capacity are offline in Texas, representing about 16% of the nation's capacity, according to an S&P Global Platts analysis from Wednesday.
That number is expected to go up as some Texas facilities soon return online at reduced rates, and others in Louisiana close. Gas prices are expected to go up, and Platts has predicted there could be Harvey-linked gas shortages in the US by Friday.
As refineries and other companies begin to resume operations, however, more emissions are expected. This is apparent in reporting to regulators from companies anticipating restarting soon, or already in the process of it.
But Harvey's pollution footprint doesn't end with shutdowns. Some facilities were damaged during the storm, and companies have started to report on those impacts, too. For instance, lightning struck equipment at the Dow Chemical Company plant in Freeport, Texas, releasing about 54,000 pounds of pollution, including toxic chemicals that can threaten human health, such as benzene and toluene.
Staff at the Texas Commission on Environmental Quality did not respond to a request for comment about the emissions and other Harvey-linked pollution reported by companies so far, instead deferring to the agency's summary of its Harvey responses posted online Tuesday.
A spokesperson for the trade group American Petroleum Institute said in a statement that taking refineries offline during extreme weather events is a "complex process," and added that the industry "is committed to the safety of our workers and the community."
Based on the reporting to Texas regulators available online so far, here's a list of the top sources of Harvey-linked industrial pollution, by pounds of pollutants reported. Only pollution from facilities shutting down or damaged from the storm were included: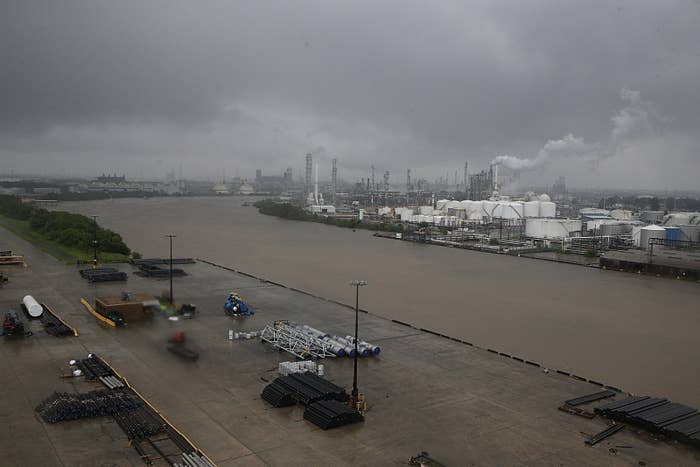 1. Chevron Phillips Chemical Cedar Bayou Plant
A chemical manufacturing plant in Baytown, Texas, reported it is shutting down due to Harvey. The company reported estimated emissions from 20 sources, totaling approximately 745,000 pounds of pollution. The plant separately reported that heavy rains triggered problems with a cooling water pump, resulting in the additional release of nearly 250 pounds of pollution.
2. Flint Hills Resources Port Authority Facility
Closing Flint Hills Resources' chemical manufacturing plant in Port Arthur, Texas, released about 533,000 pounds of air emissions from three sources. The pollution amount provided is preliminary, and could be finalized in the coming weeks, the company reported.
3. Pasadena Terminal
Rainfall from Harvey caused some storage tanks to spill at a chemical manufacturing plant near Houston. According to two reports from the operator, about 407,000 pounds of pollution were released, including toxic chemicals such as benzene, butane, and xylene.
4. ExxonMobil Baytown Refinery
ExxonMobil's refinery near Houston shut down due to Harvey and its rainfall, releasing about 371,000 pounds of pollution. According to the company's filing to state officials, some of the emissions "may be authorized" under its permit. Harvey's heavy rains then damaged some storage tanks at the refinery, causing an additional release of about 12,600 pounds of emissions.
5. Chevron Phillips Chemical Sweeny Old Ocean Facility
A chemical manufacturing plant near Old Ocean, Texas, released an estimated nearly 223,000 pounds of pollution during its storm-related shutdown. There were 15 sources, according to Chevron Phillips' filing.
6. Marathon Petroleum Texas City Refinery
A Harvey-linked shutdown at Marathon Petroleum's refinery in Texas City, Texas, resulted in the release of more than 201,000 pounds of emissions, according to the company's reporting to Texas officials. This pollution resulted from dozens of sources, such as flares and so-called sour water units.
7. Chocolate Bayou Plant
At a chemical facility near the city of Alvin, Texas, Harvey's flooding and other impacts disrupted operations at various units. The units were then shut down. Nearly 153,000 pounds of air pollutants were released, according to the company's report.
8. ExxonMobil Beaumont Refinery
The storm led to nearly 109,000 pounds of emissions, according to two reports from this Jefferson County facility. The vast majority resulted from its shutdown, but an additional "upset" caused an estimated 1,300 pounds of excess sulfur dioxide emissions.
9. Flint Hill Resources' Corpus Christi West Plant
Flint Hills Resources turned off its petroleum facility in Corpus Christi, running into some problems along the way, near where Harvey made landfall as a Category 4 storm. Using past events to estimate emissions, the company expected this led to about 108,000 pounds of air emissions across nine sources.
10. Formosa Point Comfort Plant
The chemical manufacturing plant near Port Comfort, Texas, shuttered in anticipation of Harvey. Operators submitted a series of emissions reports. It's unclear whether each report listed additional emissions or updated previous estimates, and the company was not able to clarify by deadline. However, the highest of these predicts almost 92,000 pounds of pollutants, such as carbon monoxide and methane, were released.
John Templon from BuzzFeed News contributed to this report.