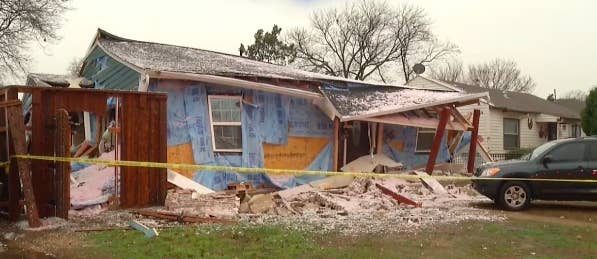 A week after a gas leak killed a 12-year-old in a house explosion, and two nearby homes went up in flames, the shaken residents of a Dallas neighborhood are angry that the gas company has left them in the dark about what went wrong — and whether another tragedy could strike.
The company, Atmos Energy, announced on Thursday that it was shutting off the gas in about 2,800 area homes for up to three weeks as it lays down new pipes, citing "extraordinary rains and unique geological conditions" in a press release.
The news has sent some residents reeling after an already exhausting week. More than 400 homes and apartment units were evacuated, with hundreds of people staying in hotels at the company's expense. An elementary school with about 730 students was evacuated for a day, and a town hall meeting devolved into residents venting their frustration at Atmos, which offered few answers to their questions.
It wasn't until Thursday evening that some residents, after standing in line for hours at local recreation centers, finally got some face time with the company and money to cope with the gas disruption. But residents still know little about when their homes will be safe again.
"We don't know anything right now, which is really frustrating," Danaë Martínez, 34, who has lived in the largely Latino neighborhood in northwest Dallas for 27 years, told BuzzFeed News. Martínez waited in line for three hours Thursday night to get a check to pay for space heaters and other supplies while her gas is out.
Across the US, deadly accidents like these are rare. According to federal data, the number of gas pipeline accidents resulting in injuries and fatalities has dropped dramatically, from 65 accidents in 1998 to 25 in 2017. This is likely due to a number of changes, from the installation of newer pipes to increased enforcement of pipeline safety rules and the introduction of new ones.

But there continues to be a high number of overall pipeline accidents, including those resulting in property or environmental damage. A big source of these problems is aging pipes, like the ones in Dallas.
Atmos Energy has a history of pipeline problems in Texas. Between 2011 and 2016, the company paid penalties at least seven times for violating state pipeline safety rules, totaling $145,000, according to a BuzzFeed News review of online enforcement records. The violations included failing to fix a gas leak within six months of detection, not following the rules for emergency responses, and inadequate record-keeping.
Atmos is looking into what just happened in Dallas in a collaborative investigation with state and federal regulators that could take more than a year, all told. (Atmos did not answer questions from BuzzFeed News about the leak and investigation.)
The problems in northwest Dallas started last Wednesday, when a house caught fire on Durango Drive, a quiet street full of single-family homes and longtime residents. The next day, another fire blazed in a different house a few doors down. Then around 6:45 a.m. on Friday, a third home exploded one street over on Espanola Drive, killing 12-year-old Linda Rogers and injuring at least four others.
Julie Treviño, 23, lives with her grandmother on Durango Drive. She remembers feeling the explosion but not knowing what it was. "I thought it was an earthquake," she told BuzzFeed News in a Facebook message. "Little did I know a 12-year-old died a street over."
Within hours of the explosion, several nearby blocks were evacuated. Residents were directed to so-called safe zones, and the hundreds of staff and kids at Stephen C. Foster Elementary School were moved to nearby middle and high schools.
Treviño left her home to buy groceries that morning, and was stopped by the police on her way home. "The cops told us we couldn't go to our houses due to a gas leak," she said, adding that she was able to get in later to get stuff out — but only with a firefighter escort "since they didn't know if it was safe or not."
They were allowed to return on Saturday, but to a home without gas. On Thursday of this week, she received a check from Atmos to pay for heaters, an electric stove that plugs into the wall, and a toaster oven — appliances to cope with the lack of gas. When asked if she feels safe, Treviño says her grandmother does, "but I don't."
Her biggest complaint, and one shared by many who live and work in the area, is a lack of information from Atmos. She's also upset that the company began its repair work on streets that did not have the fires.
"I just wanna know when they gonna work on Durango and Espanola drive! I mean they're working on the other streets around us. But not our streets," she said.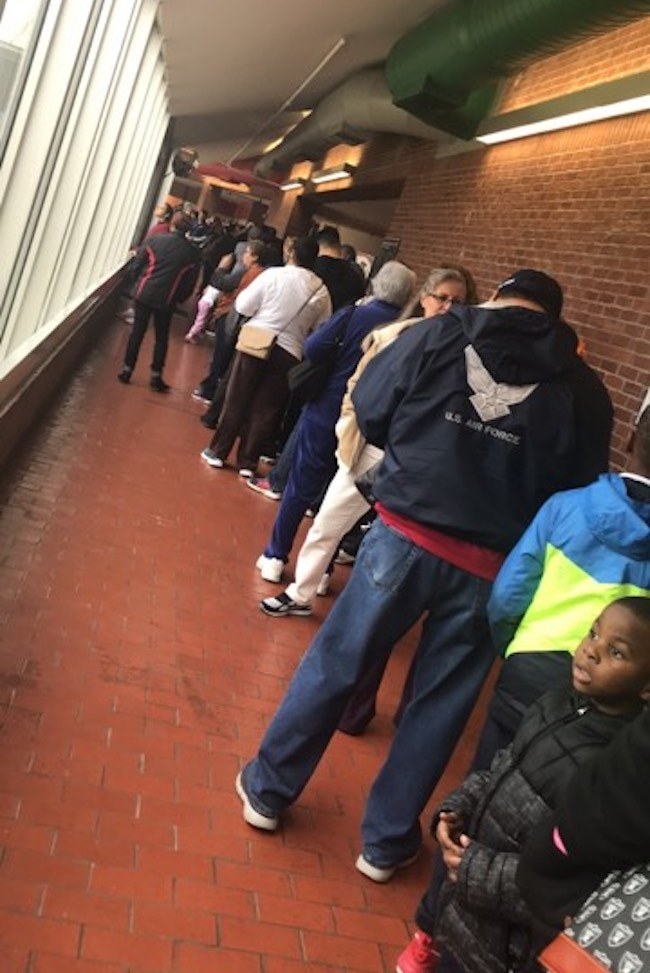 Emotions boiled over at a town hall meeting at Foster Elementary School on Tuesday night, when officials and Atmos spokespeople took questions from the community.
"We wanted to get everyone in the room to be on the same page," Deputy Mayor Pro Tem Adam Medrano told BuzzFeed News. Medrano explained that his office had for days been bombarded with calls from residents "about the lack of communication with Atmos and them not getting the information in a timely manner or at all."
"They don't trust Atmos right now. They are afraid" — even when Atmos has fixed their line and says its safe to go home, he added.
At the town hall, Atmos said it was replacing 2.5 miles of pipeline, and continuing to support more than 300 people still evacuated at that point with lodging and other resources. The company said it had so far provided gift cards totaling more than $170,000 to impacted families.
But when residents stood up to ask about the source of the accidents, the company did not answer, according to Treviño.
"It was okay and they gave us info. But it's info we already know," she said, adding, "everybody just went off subject and got mad and crazy on the Atmos lady up there." After feeling like she wouldn't be able to ask her question, she left early.
Atmos was asked to provide counseling, especially to the children in the community grieving for the loss of Linda Rogers. Another recommendation, from a resident, was to install gas detectors in all the homes after the repairs, so families feel more comfortable about knowing the safety status in their own homes.
But the most common request, according to Councilmember Omar Narvaez, was for Atmos to improve its communication, especially in Spanish.
"It's important all of [Atmos] information is translated," Narvaez said, adding that he'd heard from many residents struggling to get answers to their questions in Spanish. In recent days, the company has started to provide more information in press releases and public alerts in Spanish.
Martínez, who speaks English and Spanish, learned that her gas would be shut off by listening to the radio on Thursday morning. In search of details, she said she called Atmos Energy's hotline at least 10 times between 5:30 a.m. and 7:30 a.m., and never got through. "It rings and it rings and it rings and it sounds like it's busy and then it hangs up on you."
The federal National Transportation Safety Board is investigating the deadly house explosion, as well as looking to see if the other two house incidents are related, according agency spokesman Keith Holloway.
The company is now blaming the gas leaks on local geology and the weather, based on feedback from a geologist it hired, but federal officials say that is just one of the theories under consideration.
Moreover, officials have identified a pipeline leak at the so-called "service tee connection" to the house that exploded, and a piece of this pipe will be shipped to a lab in Washington, DC, for examination. They are also planning to review 911 calls, 311 calls, and calls to the company before and after the incidents.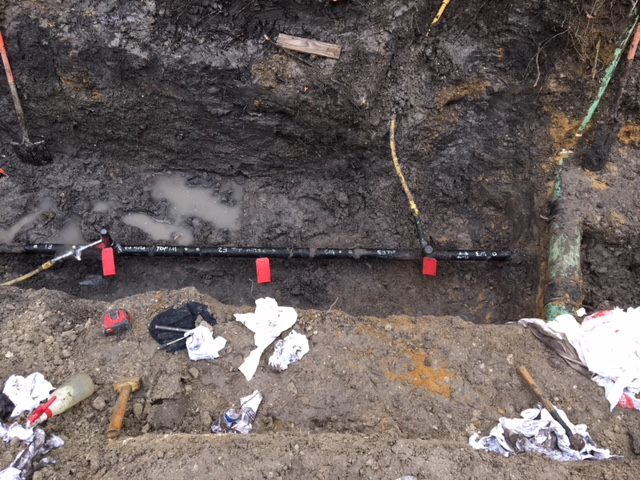 At the end of this review, which could take many months to more than a year, NTSB will issue an accident report, likely including safety recommendations to the company.
Meanwhile, state regulators are trying to figure it if Atmos Energy has violated safety rules. "The RRC is looking to determine if there were any violations of our pipeline safety rules," Ramona Nye, an agency spokeswoman, told BuzzFeed News in an email.
"I just hope, definitely within the next three weeks of leaving us without gas, they realize … how badly [they] are messing with people's lives," Martínez said about Atmos Energy. "I hope they keep in mind we're people, we're not just account holders."