A "Bomb Cyclone" Is Raging Up The East Coast. Here's Everything You Need To Know.
Along the East Coast, "there's a potential for record-breaking cold on Thursday, Friday, and Saturday," according to a meteorologist at the National Weather Service. It's not on track to be the monster snow dump that everyone is fearing, though that could change.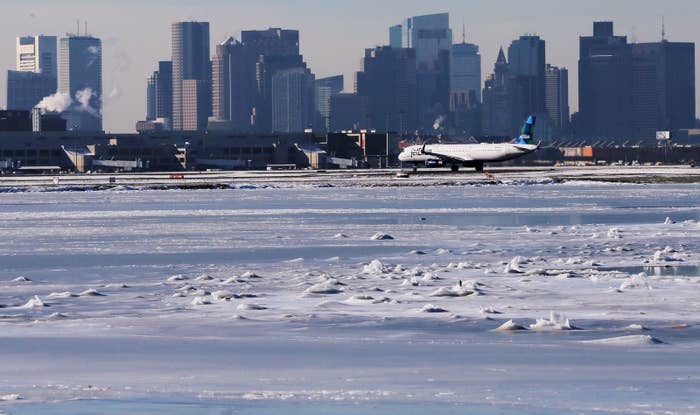 The first major US winter storm of 2018 is here, and the so-called "bomb cyclone" has the entire East Coast bracing for snow and frigid temperatures.

After forming off the coast of Florida, the storm brought ice and even light snow to parts of the Sunshine State. Tallahassee got its first snow in nearly three decades, and the city even made a video about it.
As the storm moves north, it's expected to intensify — fast. Weather experts are calling this event a "bomb cyclone" because of its rapid intensification. When a storm's central pressure drops at least 24 millibars in a day, it's referred to as a bomb or "bombing out," meteorologist Ryan Maue told BuzzFeed News. These storms can also be called extratropical cyclones, mid-latitude cyclones, or just plain old nor'easters.
By the time the winter storm reaches coastal New England, it could be touting gale-force winds of up to 50 miles per hour, resulting in some coastal flooding, and dumping more than a foot of snow, according to the latest forecasts by the National Weather Service.
So is this going to be a record-setting storm?
When we talk about a major storm, it's all relative, Gregg Gallina, a meteorologist at the National Weather Service's Weather Prediction Center, told BuzzFeed News. Southern states such as North Carolina and South Carolina could see a few inches of snow this week, and "that's a big deal for them."
Meanwhile, there's potential for Boston to get more than a foot, and "that may not be a big deal for them," he added. So far, Washington, DC, is on track to get an inch of snow and New York City could likely see between 5 and 8 inches.
But this could all change, warned Gallina. If the storm's track shifts west, or closer to the coast, these cities could see a lot more snow and higher winds. We're still ironing out the details of the track and "we need people to pay attention" to the updates, he said.
For much of the East Coast, the biggest impact of the storm will be the cold temperatures that last into the weekend. "There's a potential for record-breaking cold on Thursday, Friday, and Saturday," Gallina said.
For weeks, the eastern half of the US has been locked in a weather pattern where it's been continually blasted by cold arctic air. The contrast between that cold air over land and the warm ocean temperatures in the Atlantic, along with the interaction of another weather system higher in the atmosphere, were all key ingredients in forming this fast-growing storm, according to Jonathan Martin, a meteorology professor at the University of Wisconsin-Madison.

But it's all pretty normal: About 10 of these cyclones occur across the northern hemisphere every year, he said.