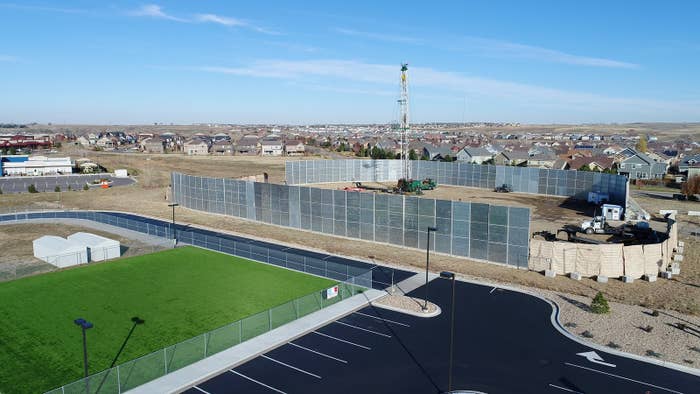 Coloradans roundly opposed a ballot measure to more strictly limit new energy development, handing a big win to the oil and gas industry.
This means the state's current so-called setback rules will stay in place, requiring oil and gas activity be at least 500 feet from homes and 1,000 feet from schools and other buildings. Ballot initiative 112 proposed more protective standards, mandating all new oil and gas infrastructure be at least 2,500 feet away from all types of occupied buildings.
"This is a great night for our state," Colorado Petroleum Council Executive Director Tracee Bentley said in a statement. "Colorado plays a leading role in America's energy revolution, and our state has spoken loud and clear that we recognize the importance of the industry to the state's economic well-being."

Big Oil spent millions in opposition to the proposal. The main group against it, Protect Colorado, received more than $37 million, per state filings, largely through energy industry funding. In contrast, the main group in favor of the measure, Colorado Rising, raised just about $1 million, according to state filings.
Environmentalists have tried for years to change Colorado's setback rules. A campaign for a similar proposal failed to even get on the ballot in 2016, due to a lack of signatures, and an attempt in 2014 was derailed by a political deal struck between the campaign's main financial backer, Democrat state Rep. Jared Polis, and Gov. John Hickenlooper.
Polis won tonight's race to succeed Hickenlooper as Colorado's governor, campaigning on a goal to transition the state to 100% renewable energy.
"Colorado's new governor and legislature can transition our state toward a clean future by prioritizing renewable energy, energy efficiency, electric cars, and high-storage batteries," said Danny Katz, director of the Colorado Public Interest Research Group and a supporter of the failed proposal.
"Change is hard," Katz said. "Drilling has been part of our economy for a long time now, so even though we no longer need to rely on oil and gas to power our homes and vehicles, we understand why many voters are afraid to leave it behind."
Colorado, the sixth largest oil-producing state in the country, has seen an explosion in oil and gas activity in the past two decades, largely due to the increased use of horizontal drilling and hydraulic fracturing to extract fossil fuel reserves. The state held about 9,200 active oil and gas wells in early 2000, and that number has jumped to more than 40,500 wells in 2018, according to Colorado's Department of Public Health and Environment. Opponents to the measure have warned the new setbacks will sharply curb new development and have devastating impacts on the economy.
But all this drilling has alarmed some communities, who are worried about impacts from air and water pollution to public health and the environment. For example, residents have reported more than 280 health-related concerns about oil and gas activity to state officials from September 2015 to December 2017. The setbacks were pitched by supporters as a way to better protect communities.