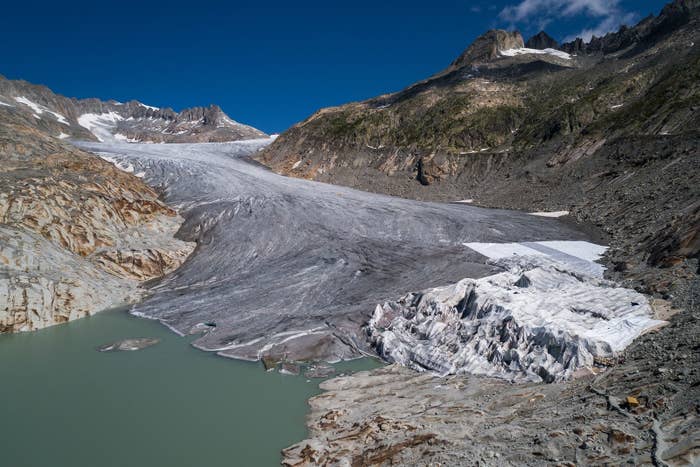 Even if countries succeed in dramatically cutting their climate pollution and limiting man-made global warming to only 1.5 degrees Celsius, scientists say, there's no escaping a series of negative impacts — rising seas, steep declines in coral reefs, and more extreme weather.
When nearly 200 countries signed the Paris climate accord aimed at preventing catastrophic climate change, they agreed to limit warming to at least 2 degrees Celsius, and ideally to 1.5 degrees Celsius. Now a new report published Sunday night by the Intergovernmental Panel on Climate Change explains what that half-degree really means.
"For some people, this is a life or death situation, without a doubt," Natalie Mahowald, a scientist at Cornell University and one of the report authors, said in a statement. Mahowald is one of more than 90 global experts who wrote the special report.

For example, scientists projected 1.5 degrees of warming would lead to a decline in coral reefs by between 70% and 90%. But 2 degrees of warming would mean essentially all coral reefs disappear, per the report.
Moreover, scientists estimated sea levels would rise nearly a foot more under a 2-degree scenario versus a 1.5-degree one. And in the warmer world, the Arctic Ocean is projected to be ice-free far more often, according to the report.
"Every extra bit of warming matters, especially since warming of 1.5ºC or higher increases the risk associated with long-lasting or irreversible changes, such as the loss of some ecosystems," Hans-Otto Pörtner, a scientist at the Alfred Wegener Institute and a report coauthor, wrote in a statement.
Human activities have already caused about 1 degree of warming, and warming is expected to hit 1.5 degrees between 2030 and 2052 if it continues to increase at the current rate, according to the report.
This means countries only have a narrow window for preventing further warming, a feat that will require them to dramatically cut the amount of greenhouse gases they are releasing into the atmosphere. By mid-century, countries would have to achieve what's called "net zero" emissions, according to the report, releasing only as much climate pollution into the air as they can take out by natural or man-made methods.
This new sobering report comes about a year after President Donald Trump vowed to withdraw the United States, the second-largest emitter of climate pollution, from the global climate agreement. The Trump administration has also rolled backed or weakened several climate regulations in the US relating to coal power plants, car pollution, and more.