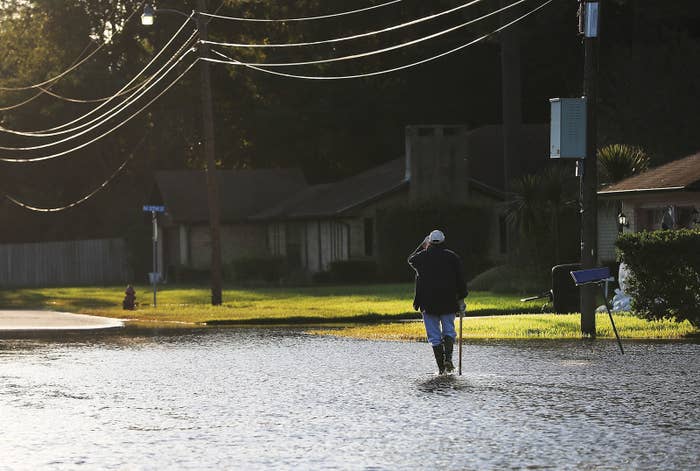 Following a string of damaging hurricanes, about 30 organizations are urging the Trump administration to adopt restrictions on building in dangerous flood zones, BuzzFeed News has learned.
The diverse group includes environmental, insurance, architecture, emergency management, engineering, and fiscally conservative organizations.
"We ask the administration to lead the nation in rebuilding after Harvey and Irma by ensuring our communities and infrastructure are strong enough to withstand the next big flood, and would welcome the opportunity to work with the administration on such a standard," states the coalition's letter, which will be sent to the Trump administration on Monday morning.
President Trump revoked an Obama-era rule on this issue less than two weeks before Hurricane Harvey struck Texas, dumping some areas with more than 50 inches of rain. Some of the letter-signers had supported the axed rules, and sharply criticized their repeal.
Obama's executive order, issued in 2015, said that development projects using federal dollars had to consider current and future flood risk, such as from rising seas. It offered three options on how to do this: building to where there is only a 0.2% chance of a flood occurring in any given year, building at least two feet above the ground, or using climate data to decide where and how high to build.
The Trump administration has rolled back a string of climate rules and efforts in recent months, and some flood experts say the rule's mention of climate change is why it was axed.
Notably, the new letter to Trump officials does not mention the 2015 rules or climate change. That appears to be intentional.
"There's no point in talking about the past," Laura Lightbody, one of the letter-signers and a flood expert at The Pew Charitable Trusts, told BuzzFeed News. Rather than wade into a debate on climate change, she said, they want to show there is widespread support for flood resilience infrastructure.
"We're all raising our hand to say we'll be a partner to work with the administration," Lightbody said.
As of Sunday evening, 29 groups from all parts of the political spectrum had signed the letter, including the American Public Works Association, the National Emergency Management Association, the American Insurance Association, ConservAmerica, R Street Institute, National Ready Mixed Concrete Association, and Taxpayers for Common Sense.
"We signed on to the letter because it is common sense and fiscally conservative to not invest more tax dollars in areas prone to frequent flooding," Rob Sisson of ConservAmerica wrote in an email to BuzzFeed News. The conservative group has previously been involved in federal flood insurance reform campaigns.

The letter is the first time the free-market group FreedomWorks has weighed in to the flooding issue. "I just think it made sense from a fiscally conservative perspective," Jason Pye of FreedomWorks wrote in an email to BuzzFeed News.

The letter will be sent to Gary Cohn of the National Economic Council, Mick Mulvaney of the Office of Management and Budget, and Thomas Bossert of the Executive Office of the President.
According to a White House spokesperson, "The response to Hurricanes Harvey, Irma, Jose, and Maria are ongoing, but as a long-term solution, the Trump administration is committed to working with state and local partnership to ensure new construction, informed by recent research and data, is built to withstand future extreme weather events and support appropriate and swift recovery."

Officials were already considering new rules before Harvey hit, Lightbody said. That's according to conversations between the administration and groups, including Pew.
Trump's team has repeatedly hinted in recent weeks that it is considering new rules.
"We shouldn't use federal money to rebuild in ways that don't anticipate future flood risk," Bossert said at a press conference after Harvey. "So we need to build back smarter and stronger against floodplain concerns when we use federal dollars."
According to the letter, even before Harvey and Irma, the US has faced more than $500 billion in flood-related losses since 2000.
"The pressing need for an updated approach to assessing and managing flood risk is borne out by an increasingly costly cycle of flooding and rebuilding that can and should be broken," the groups wrote.
In a parallel effort in Congress, Sen. Chris Van Hollen, a Democrat from Maryland, recently proposed a bill that would reinstate the 2015 rules. Two other Democrats in the Senate have co-sponsored the bill: Brian Schatz from Hawaii and Cory Booker from New Jersey. Related bills may soon be introduced in the House, according to several sources tracking the issue. But since Democrats are in the minority and have no control over what does or does not get a vote, it's ultimately up to Republican leadership if these bills move forward.
"It was very shortsighted for the Trump administration to reverse the existing executive order," Van Hollen told BuzzFeed News, especially in the aftermath of the hurricanes. "We are hopeful they will reconsider, but either way we are moving forward and we believe we will ultimately have bipartisan support for this common-sense approach."
UPDATE
This story has been updated to include comments from the White House.