It's official: 2017 set a new record for big, costly disasters in the United States.
The nation was struck by 16 hurricanes, wildfires, and other natural disasters last year, each with losses exceeding $1 billion. Combined, these weather and climate disasters cost about $306 billion, according to new data from the National Oceanic and Atmospheric Administration (NOAA).
"No matter how you cut 2017, it was very historic and perhaps unprecedented in many ways," Adam Smith, an applied climatologist at NOAA's National Centers for Environmental Information, said Monday in a press call.

Hurricanes were the biggest source of damages by far. This past hurricane season resulted in a record high $265 billion in losses, and Hurricanes Harvey, Irma, and Maria all ranked in the top five most expensive US tropical cyclones based on preliminary estimates. Although Katrina remained the most expensive hurricane ($161.3 billion), Harvey ranked second ($125 billion), Maria third ($90 billion), Sandy fourth ($70.2 billion), and Irma fifth ($50 billion).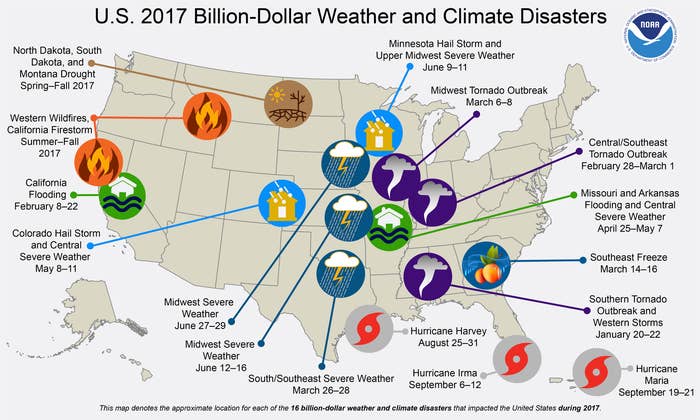 The three major hurricanes last year killed about 250 people combined, NOAA estimates. Maria knocked out Puerto Rico's entire electric grid, triggering the largest blackout in US history. Both Puerto Rico and the US Virgin Islands are still recovering from the direct strike by the Category 4 hurricane. While Florida continues to recover from Irma's strong winds and coastal flooding, Texas is still responding to the flood-related damage from Harvey's record rainfall that dumped up to 50 inches in some places.

Previously, 2005 was the most expensive year for disasters, largely due to devastation brought by Hurricanes Katrina, Wilma, and Rita.
A string of deadly fires in the West, including the largest fire in California's recent history, generated about $18 billion in losses, the new report found. That's three times higher than the past annual record, according to NOAA. These fires claimed the lives of at least 54 people and damaged or destroyed more than 15,000 homes and other buildings.
Some of the other costly US disasters last year include: an outbreak of tornadoes in various southern states in January; California flooding in February; a freeze in the southeast that damaged fruit crops in March; and severe thunderstorms in the midwest in June.
NOAA's cost estimates include both insured and insured losses, and are calculated using a variety of public and private data sources. They account for a range of damages, from various buildings, such as homes, businesses, and government buildings, to crops to offshore energy platforms. Not included, however, are healthcare-related costs or values associated with deaths.

Besides being an expensive year for disasters, 2017 was also the third warmest for the contiguous US since record keeping began in 1895, NOAA scientists said. The hottest year was 2012, followed by 2016.
UPDATE
This story was updated to include a quote from NOAA scientist Adam Smith and details about NOAA's total loss estimates.