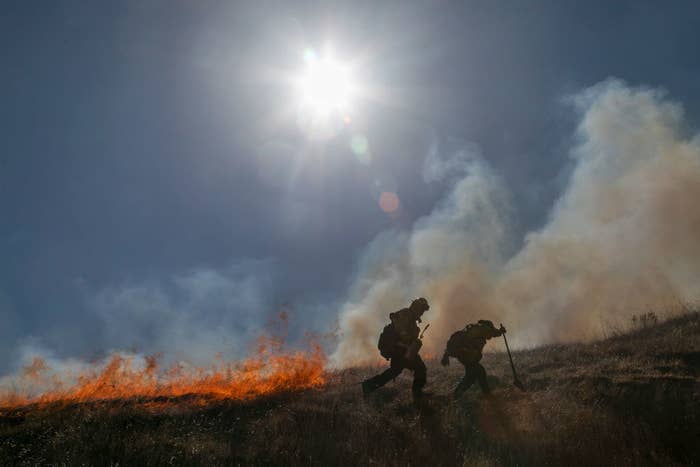 Joe Biden, who ran on the most progressive climate platform ever in a US presidential election, just won the presidency. Now converting that platform into meaningful action could prove his administration's toughest challenge.
The reality of the climate situation is grim. Even before Donald Trump took office, the world was hurtling toward catastrophic warming. His actions as US president made things worse. Carbon dioxide and methane levels in the atmosphere are soaring. There's been more than 1 degree Celsius of warming since the 19th century and the world's on track for 3 more degrees by the century's end. Wildfires and other disasters are getting more common and intense. And people across the country, from California to Texas, are already paying the price for inaction with their homes, their health, and their lives.
Biden faces a steep uphill battle to undo Trump's environmental policies and roll out an ambitious $2 trillion climate plan to transition toward renewable energy, tackle environmental justice, and cut climate pollution. And he'll have to simultaneously address a historic health crisis: a pandemic that has killed more than 230,000 people and cratered the economy.
And even if the Democrats win the two remaining seats in Georgia's runoff in January, Congress is deeply divided — making it extremely unlikely he'll be able to achieve all that he wants.
Pushing forward with Biden's climate plan will require executive orders, new regulation, and, most importantly, groundbreaking legislation to reinvent America's energy infrastructure. But there's little chance of new, rigorous climate laws being passed under Republican Senate Majority Leader Mitch McConnell's watch, and the Republican Senate could also drag its feet on confirming key Biden administration officials, including cabinet members and the administrator of the EPA.
"I would urge everyone who cares about climate change to be realistic about what's achievable in the first few years of a Biden administration because he's cleaning up Trump's mess and getting us back on track," Kim Carnahan, formerly the State Department's chief climate negotiator under Trump, told BuzzFeed News. (Carnahan left the administration earlier this year.)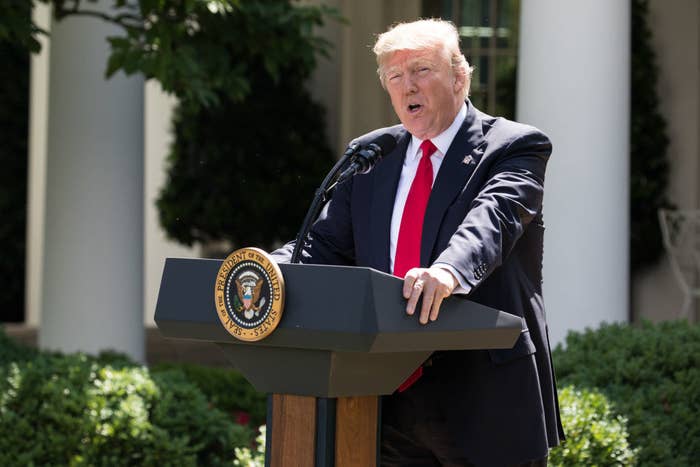 "We're substantially worse off than we were four years ago," said Michael Gerrard, the founder of Columbia University's Sabin Center for Climate Change Law.
Trump spent his time in office systematically rolling back or watering down dozens of climate policies and environmental protections in the US, burying climate and clean energy studies, undermining federal scientists, staffing his administration with science deniers, eroding pollution controls, and creating new opportunities for fossil fuel extraction.
In perhaps the most infamous move of Trump's first four years, he stymied the Paris climate agreement, a historic pledge signed by nearly 190 countries to keep future warming to well below 2 degrees Celsius, ideally to 1.5 degrees Celsius, to prevent catastrophic outcomes. Last week, the US officially withdrew from the agreement.
Biden has vowed to immediately reenter the US in the agreement. But four years of inaction by the world's largest emitter of climate pollution is still a huge setback.
"There is no hope whatsoever of keeping global warming below 1.5 degrees Celsius now, because of the past four years under Trump," Kevin Trenberth, a climate scientist at the National Center for Atmospheric Research, told BuzzFeed News in an email.
From a climate pollution standpoint, the biggest rule changes Trump made included weakening federal fuel emissions standards for vehicles, setting the average efficiency target at 40 miles per gallon by 2025. In an extraordinary challenge of state autonomy, Trump revoked California's ability to set stricter standards on car pollution, an impact that ricocheted to the 13 states that had adopted California's tougher standards. And he relaxed the Environmental Protection Agency's and Department of the Interior's rules tamping down on methane emissions from oil and gas operators. (A federal court last month struck down the Obama-era DOI rule; the other three rollbacks still face legal challenges.)
"I would urge everyone who cares about climate change to be realistic about what's achievable in the first few years of a Biden administration because he's cleaning up Trump's mess."
By one estimate calculated by the research and policy firm Rhodium Group, these rollbacks have the potential to generate 1.75 billion US tons more of climate pollution into the atmosphere by 2035 than if the original rules had stayed in effect.

"The cumulative impact of the standards and regulations that we've modeled is pretty big," said Rhodium climate researcher Hannah Pitt. But she added that not all of Trump's devastating impacts are so easy to quantify.

Some of the policies not captured in the Rhodium analysis include those that irreparably harm the environment. Trump approved the Dakota Access pipeline and Keystone XL pipeline, two oil pipelines that drew significant opposition from landowners and Indigenous communities, both currently being challenged in court. He opened up Alaska's Arctic National Wildlife Refuge, the largest stretch of wilderness in the US, to oil and gas development and he slashed the size of Utah's Bears Ears National Monument to boost fossil fuel extraction.
The administration also aggressively unraveled myriad nonclimate environmental regulations and standards that affect the daily lives of Americans: narrowing the purview of the Clean Water Act, rejecting scientists' recommendations to strengthen air pollution standards for soot and smog, and rolling back rules designed to make chemical plants and offshore drilling safer for workers.
"The Trump administration has comprehensively attempted to dial back climate protections," said Gerrard, adding that many of the rollbacks have been struck down in court.
According to a review by the Washington Post, at least 89 of Trump's environmental rollbacks face legal challenges. So far, the administration has received 17 favorable judgments, including the rollback of a rule requiring oil and gas companies to reduce their natural gas flaring on public lands, and 37 unfavorable ones, such as the administration's unlawful hold on rules mandating that air conditioners and other products use less energy.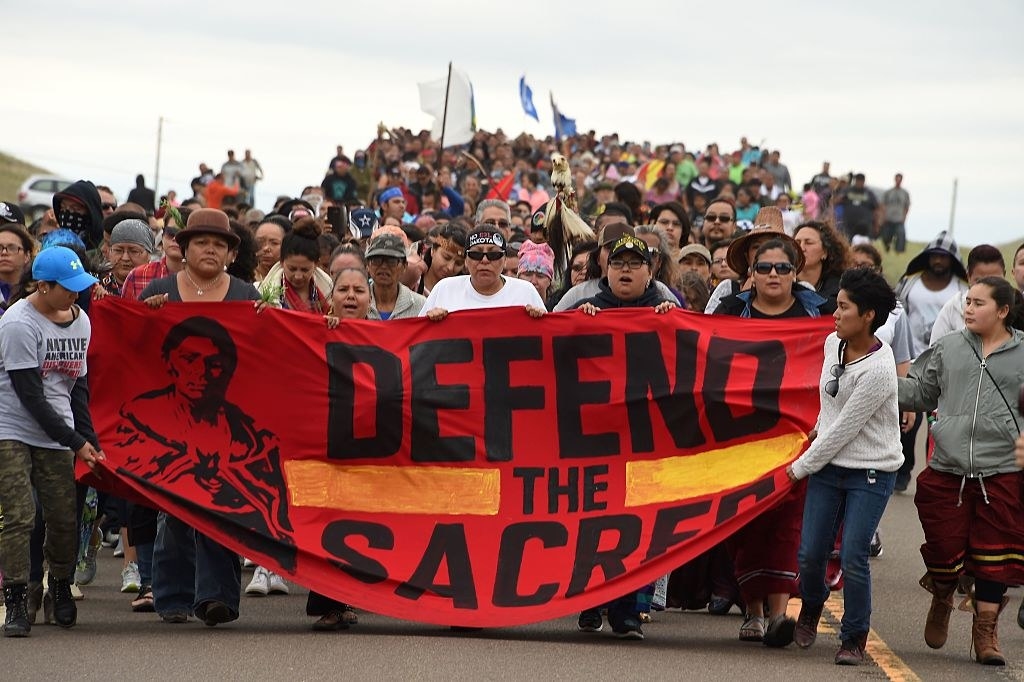 As it became clear the election was turning in his favor, on Friday Biden tweeted about how voters "have given us a mandate for action on COVID and the economy and climate change and systemic racism."
Biden campaigned on repairing the economic damage caused by the pandemic while tackling climate change in a way "that will put the United States on an irreversible path to achieve net-zero emissions, economy-wide, by no later than 2050."

Some of his other climate promises included creating millions of well-paying jobs in clean energy and infrastructure, having a carbon-pollution-free power sector by 2035, securing benefits for coal miners and others who have lost jobs due to the transition away from fossil fuels, boosting funding for agencies to clean up pollution in low-income communities and communities of color, and establishing an Environmental and Climate Justice Division in the Justice Department to hold polluters accountable.

Part of Biden's vision can be achieved through executive orders and new regulations. But after four years of Trump, the EPA, Interior, and Energy Department have lost much of their scientific expertise. "It will take time to rebuild agencies, just to be in a place to issue regulations," said Robert Brulle, a sociologist with the Institute at Brown for Environment & Society. "That would be a tough row to hoe."
For some activists, that's the path the president should take. "Joe Biden has a mandate to act," Jamal Raad, cofounder of the climate policy and advocacy group Evergreen Action, told BuzzFeed News in an email. "He doesn't have to wait for GOP Senators owned by the fossil fuel industry to get on board."
Such moves, similar to the path taken by former president Barack Obama, could be vulnerable to the whims of another hostile administration. A more enduring and far-reaching climate plan would involve securing cooperation from Congress and passing sweeping legislation, which seems unlikely.
But Curt Spalding, Obama's former EPA Region 1 head, isn't precluding the possibility of a new coronavirus relief package in Congress offering an upcoming opportunity to slip in some climate measures.
Biden is "a person of the Senate who loves the Senate," Spalding said. "He may well be able to pull something together."
But congressional Democrats representing states and districts with fossil fuel interests may not be so cooperative. "The Democratic Party is not unified," David Victor, a specialist in climate policy at the University of California, San Diego, told BuzzFeed News. "There's a world of difference between running for office and actually governing."
Similar divisions within Democratic ranks stymied efforts to pass comprehensive climate legislation in the first two years of Barack Obama's presidency, before the Democrats lost control of the House in the 2010 midterm elections.
Back then, the fossil fuel industry launched a massive lobbying campaign to fight proposed climate legislation. Brulle, the sociologist at Brown, expects a similar effort this time around. "Stand by for a major offensive," he said.
Meanwhile, Trump's presidency also helped spur a groundswell of climate advocacy, particularly among young people, determined to push lawmakers to take action on climate. One such group representing these newer activists, Sunrise Movement, convinced Democratic members of Congress to support the Green New Deal after the 2018 midterms and backed Biden only after he secured the Democratic nomination. The group has declared that it is prepared to push his administration and members of Congress to take aggressive environmental action.
"We delivered for Biden, now it's his time to deliver for us," Varshini Prakash, cofounder of the Sunrise Movement, said in a statement. "He ran as the climate candidate, and he must govern as the climate president. There's no time to waste, and we can't afford to spend another four years twiddling our thumbs in the face of Republican obstruction. He must do everything in his power and use every tool at his disposal to immediately address the climate crisis."

The rest of the environmental movement is ready to fight, too. "[Biden] got the most votes of any candidate in the history of our country. Most ambitious plan, most votes ever," Gene Karpinski, president of the League of Conservation Voters, said on a press call. He added that a big coalition of those voters "made clear again and again and again that they want climate action and they want it now."
"So we're all-in to make sure that happens," Karpinski said.