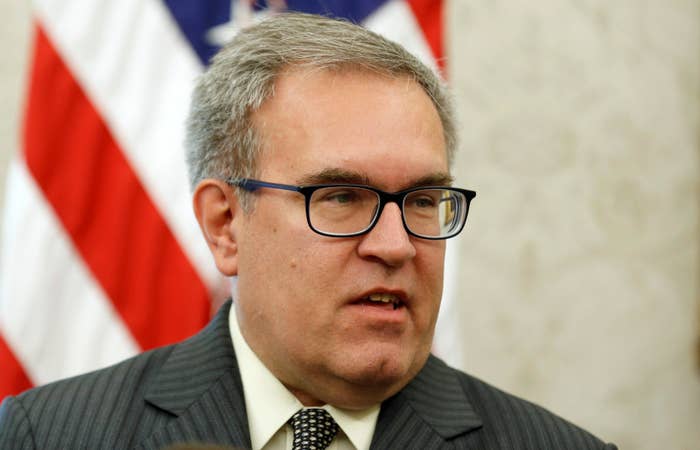 President Donald Trump on Friday said he's going to nominate Andrew Wheeler to formally take over the Environmental Protection Agency.
Wheeler has been the acting head of the agency since July, when Scott Pruitt stepped down from the role amid multiple ethics scandals. Under Wheeler's watch, the EPA announced it is rolling back car emission standards and proposed a weaker replacement to the Obama-era Clean Power Plan, which regulated coal pollution.
Wheeler's nomination had been rumored for weeks. As the nominee, he will have to go through another Senate confirmation, which he already passed when he became deputy administrator earlier this year.
Trump said Wheeler has "done a fantastic job" and "is going to be made permanent."
But environmentalists from the Sierra Club and League of Conservation Voters were quick to criticize the decision.
"Putting a coal lobbyist like Andrew Wheeler in charge of the EPA is like giving a thief the keys to a bank vault," Michael Brune, executive director of the Sierra Club, said in a statement. "He should be swiftly rejected by any Senator who cares about protecting the health of their constituents."
"To be clear @EPAAWheeler is a former coal industry lobbyist who has stayed the course set by disgraced EPA Administrator Scott Pruitt," tweeted Tiernan Sittenfeld, a senior vice president at the League of Conservation Voters.
Before joining Trump's EPA earlier this year, Wheeler led the energy and environment portfolio at Faegre Baker Daniels, a consulting law firm. In that role, he lobbied for the coal mining company Murray Energy Corporation on environmental regulations.

Delaware Senator Tom Carper, the ranking Democrat on the Senate Committee on Environment and Public Works, said he expects an opportunity to question Wheeler.
"If the President intends to nominate Andrew Wheeler to be the Administrator of EPA, then Mr. Wheeler must come before our committee so that members can look at his record as Acting Administrator objectively to see if any improvements have been made at the agency since he took the helm," Carper said in a statement.
BuzzFeed News reporter Dan Vergano contributed to this story.