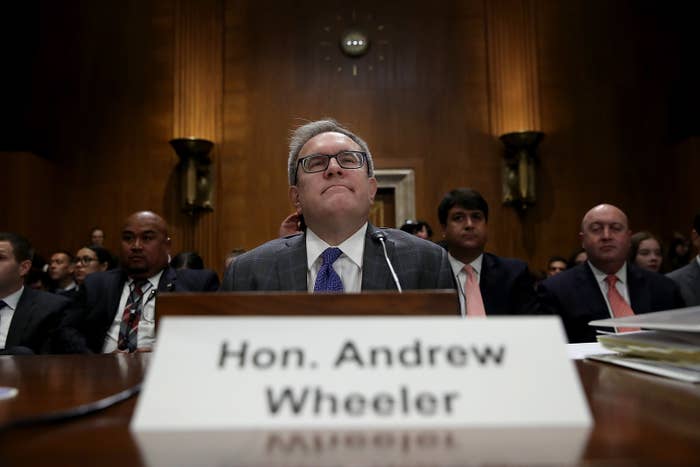 The Senate just confirmed Andrew Wheeler, a former coal lobbyist, to run the Environmental Protection Agency. The Thursday afternoon vote, 52–47, was largely along party lines.
"I am deeply honored, and I look forward to continuing the President's agenda and the work of the Agency alongside all my EPA colleagues," Wheeler wrote on Twitter following the vote.

Wheeler's formal addition to President Donald Trump's Cabinet has been a long time coming. He has been serving as the EPA's acting administrator for about seven months, since Trump's former agency head Scott Pruitt resigned last July amid multiple ethics investigations.
Trump announced he was tapping Wheeler for the top agency position in November, saying he had "done a fantastic job" in the temporary role.
Under Wheeler's watch, the agency has pushed the Trump administration's deregulatory agenda. This includes proposing to freeze car mileage standards, replacing Obama's signature climate rule, the Clean Power Plan, with a weaker rule for limiting coal plant carbon pollution, and easing other air pollution standards for new coal plants.
The EPA under Wheeler has also continued to fill its science advisory boards with controversial figures, including climate denier John Christy.
The agency has also been slow to enforce environmental rules under Trump, according to a review by the watchdog group Environmental Integrity Project, including completing fewer inspections and evaluations, cutting enforcement staff, opening fewer criminal cases, and referring fewer civil cases to the Department of Justice compared to the Obama administration.
Many Republicans have praised Wheeler's leadership. On Wednesday, Sen. John Barrasso, a Republican from Wyoming, said Wheeler "has led efforts to issue common sense regulatory proposals" at the agency. According to Barrasso, 63 agricultural and forestry groups wrote a letter in support of Wheeler's nomination.
In a break from her party, however, Sen. Susan Collins from Maine said Wednesday she opposed Wheeler's bid because "the policies he has supported as Acting Administrator are not in the best interest of our environment and public health, particularly given the threat of climate change to our nation."
Democrats and environmental groups have also been critical of Wheeler's close industry ties, rule rollbacks, and views on climate change. Sen. Sheldon Whitehouse from Rhode Island on Thursday called Wheeler a "slightly cleaned up version of Scott Pruitt."
In response to climate questions at his confirmation hearing in January, Wheeler said "I would not call it the greatest crisis," but added, "I would call it a huge issue that needs to be addressed globally."
Before joining the EPA last year, Wheeler worked for law firm Faegre Baker Daniels, where he lobbied for the coal mining company Murray Energy Corporation, as well as other energy companies, on environmental regulations. Before becoming a lobbyist, he worked as a Senate staffer for more than a decade, working on environmental and energy issues. And before that, he worked at EPA's Office of Pollution Prevention and Toxics.
Wheeler was also the president of the Washington Coal Club in 2016 and worked on energy and environmental issues on Trump's campaign as a volunteer that same year, according to records he submitted to Congress that were released in a Freedom of Information Act request to the Sierra Club.