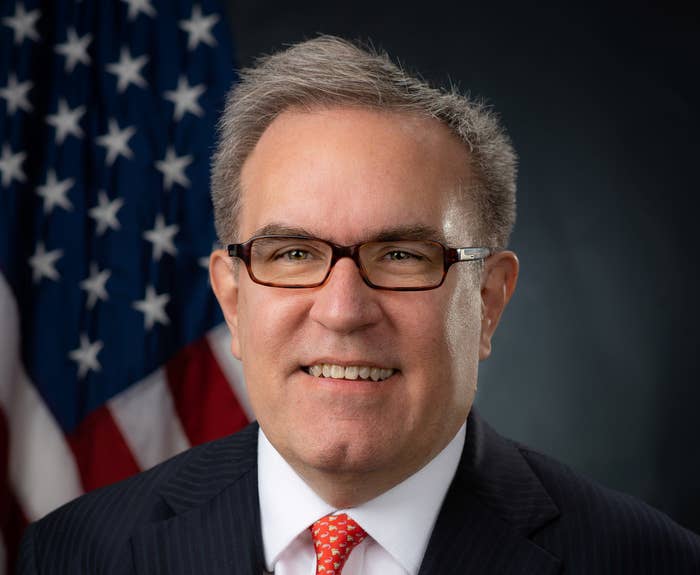 Andrew Wheeler, a former coal lobbyist, is the new acting chief of the Environmental Protection Agency.
Previously the EPA's second-in-command, Wheeler will become the interim chief on Monday, following the resignation of Scott Pruitt amid an ethics storm. President Donald Trump announced the changes in a series of tweets on Thursday afternoon.
"I have no doubt that Andy will continue on with our great and lasting EPA agenda," Trump tweeted. "We have made tremendous progress and the future of the EPA is very bright!"
Wheeler will have this job until Trump nominates an administrator, who must then be confirmed by the Senate. That process could take months, especially because confirming a new Supreme Court Justice will take top priority. Wheeler's approval as deputy was contentious, following a narrow Senate confirmation vote along party lines.
As interim leader, Wheeler is expected to follow in Pruitt's footsteps of rolling back environmental protections. But lawmakers and industry members say he will be more careful than Pruitt on ethics issues, noting Wheeler is a longtime Washington, DC, insider who started his career at the EPA and spent years working as a Senate environmental policy staffer.
(Upon his departure, Pruitt faced more than a dozen federal probes into his spending on travel and security, his treatment of staff, his former housing, and more. The House Oversight Committee will continue its ethics investigation of Pruitt.)
Before joining the EPA, Wheeler led the energy and environment portfolio at Faegre Baker Daniels, a Washington, DC—based consulting law firm.
In this role, he lobbied for Murray Energy Corporation, the country's largest coal mining company, on environmental issues tied to the EPA and other federal agencies as recently as last summer, according to lobbying disclosure forms.
Wheeler was in the room for a March 2017 meeting where coal baron Bob Murray pitched a plan to save the coal industry to Energy Secretary Rick Perry. After Perry proposed a rule to help struggling coal and nuclear power plants, which was rejected by regulators, an Energy Department photographer leaked photos of the secret Murray meeting and was then fired.
Since joining Trump's EPA in April, Wheeler has recused himself from business before the EPA linked to Murray and seven other former clients, including Sargento Foods, Underwriters Laboratories, Energy Fuels Resources Inc., Growth Energy, International Paper, Martin Farms, and Xcel Energy. This recusal list is in effect until April 28, 2020, according to his recusal papers obtained in a Freedom of Information Act request by the news site E&E News.
"I am both humbled and honored to take on this new responsibility at the same agency where I started my career over 25 years ago," Wheeler wrote in a message sent to staff Thursday night and obtained by BuzzFeed News.
Although several EPA employees told BuzzFeed News they are excited to see Pruitt go, they expressed concern about their new boss.

When asked about the mood in the office on Friday, one analyst at headquarters told BuzzFeed News, "It feels like things may actually get done now. Cautiously hopeful. Wheeler is terrible though, so not jubilant yet."
Many of the environmental groups that launched the campaign to oust Pruitt (#BootPruitt), are already calling for Wheeler's replacement.
"A coal lobbyist dogged by ethical questions like Andrew Wheeler is not the person [to restore public trust in the EPA," Michael Brune, the Sierra Club's executive director, said in a statement. "Senators must confirm a nominee who will hold the health and safety of American families in higher regard than the profits of big polluters."
Meanwhile, Republicans in Congress and industry officials have cheered Wheeler taking over the EPA.
"Andrew Wheeler is the perfect choice to serve as Acting Administrator," Sen. Jim Inhofe, a Republican from Oklahoma, said in a statement. "Andrew worked for me for 14 years, has an impeccable reputation and has the experience to be a strong leader at the EPA. I have no doubt and complete confidence he will continue the important deregulatory work that Scott Pruitt started while being a good steward of the environment."
"He is a very environmental person," Trump said about Wheeler while answering reporter questions on Air Force One Thursday night. "He's a big believer, and he's going to do a fantastic job."