The strongest storm anywhere in the world so far this year has claimed the lives of dozens of people and left a trail of devastation behind it.

In the Philippines, at least 60 people died after Typhoon Mangkhut made landfall on Saturday, and many more are feared to have been killed after a mudslide struck a miners' bunkhouse where people were sheltering from the storm.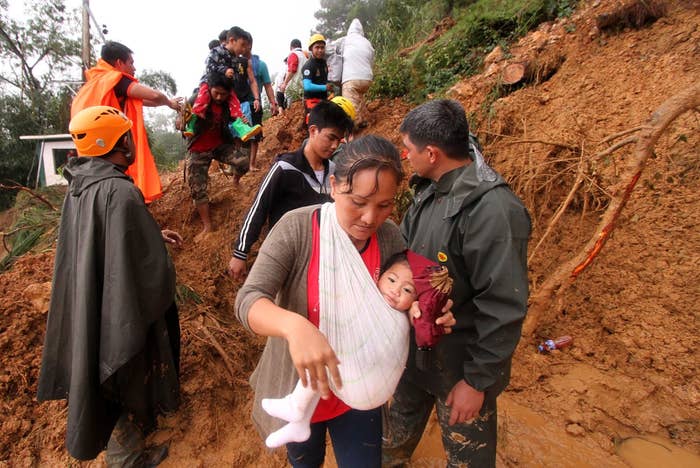 On Sunday the storm reached Hong Kong, becoming the strongest typhoon there in decades, and has since moved north into southern China where at least four people are known to have died.
More than 2.5 million people have been evacuated in Guangdong province, China's most populous. Videos posted from the city of Shenzen in Guangdong showed water flooding into a hotel cafeteria.
In Hong Kong, hundreds of people were injured and buildings were severely damaged by the storm, which had sustained wind speeds of up to 107 miles per hour.
Mangkhut sent scaffolding toppling from skyscrapers and cranes spinning, as videos and pictures posted online showed buildings swaying in the wind, and shattered windows.

Hong Kong's official weather forecast agency documented record levels of storm surge at 11 feet, while the highest possible typhoon warning — advising people to stay indoors and away from windows and doors — remained in place for 10 hours.

Transport services had been suspended in Hong Kong on Sunday and people were told to stay inside, and on Monday people struggled to get to work in the aftermath of the storm.

The storm is now weakening as it heads inland into China.