A Japanese Man Appeared To Kick A Statue Dedicated To "Comfort Women" In Taiwan And People Are Pissed
Mitsuhiko Fujii says he didn't kick the statue, but was just stretching his legs after a long flight.
A video of a Japanese man appearing to deliberately kick a statue commemorating "comfort women" in Taiwan has caused outrage after going viral over the weekend on Facebook.

Surveillance footage showed Mitsuhiko Fujii, a member of a visiting Japanese delegation, appearing to kick the bronze statue outside the office of Taiwan's opposition party Kuomintang (KMT) in the southern city of Tainan.
According to United Daily News in Taiwan, Fujii defended himself through a statement by arguing that he didn't kick the statue, and was merely stretching his legs after his long flight. He said he suspected that the KMT may have intentionally edited the photo.

"This is the same nasty practice that has been widely used to create fake news in Japan and the United States," the statement said. "The Alliance for Truth about Comfort Women and I strongly denounce such vicious behavior."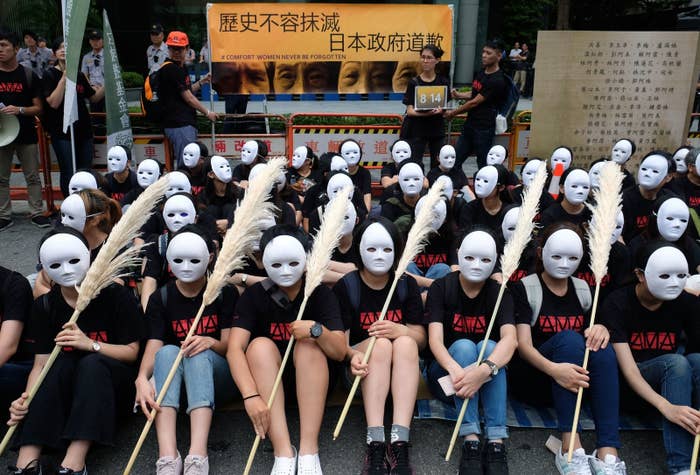 Last month the statue became the first memorial in Taiwan commemorating the more than 2,000 Taiwanese women forced into sexual slavery by the Japanese army in World War II. In total, tens of thousands of women from China, Korea and the Philippines among other countries occupied by Japan were forced to work in military brothels, and euphemistically referred to as "comfort women."

The issue is controversial, however, as despite international recognition for victims, some people and organizations in Japan have sought to downplay the issue in recent years.
Fujii and representatives from the Alliance for Truth about Comfort Women were in Taiwan to meet a city councilor from Tainan, Hsieh Lung-chieh, on Sept. 6.
But after seeing the footage obtained from security cameras near KMT's office in Tainan, Hsieh posted a screenshot of the video to Facebook, where many people criticized Fujii for disrespecting Taiwan.

"This is outrageous. He is trying to disrespect our sovereignty on our soil."


"How can Japan bully Taiwanese people to such extent!"


"We can't forgive him. We need to ask him to apologize."

In the post, Hsieh denounced Fujii's behavior and accused the Japanese delegation of abusing the statue under the disguise of distributing questionnaires to the public. Hsieh emphasized that Fujii should immediately apologize in front of the statue or else Taiwan's Ministry of Interior should bar him from leaving Taiwan.
On Monday, Hsieh organized a protest outside the Japanese representative's office with dozens of protesters and politicians who wore white T-shirts and masks, and held white roses. The group threw eggs towards the de facto embassy while several of them clashed with police. They demanded the Japanese government apologize on behalf of Fujii and accused the Taiwanese government of being indifferent to the comfort women issue.
"Taiwanese women should stand up for this moment, because this is simply not just a comfort women issue," said Huang Shu-jen, chairperson of the Tainan City Women's Human Rights Equality Promotion Association.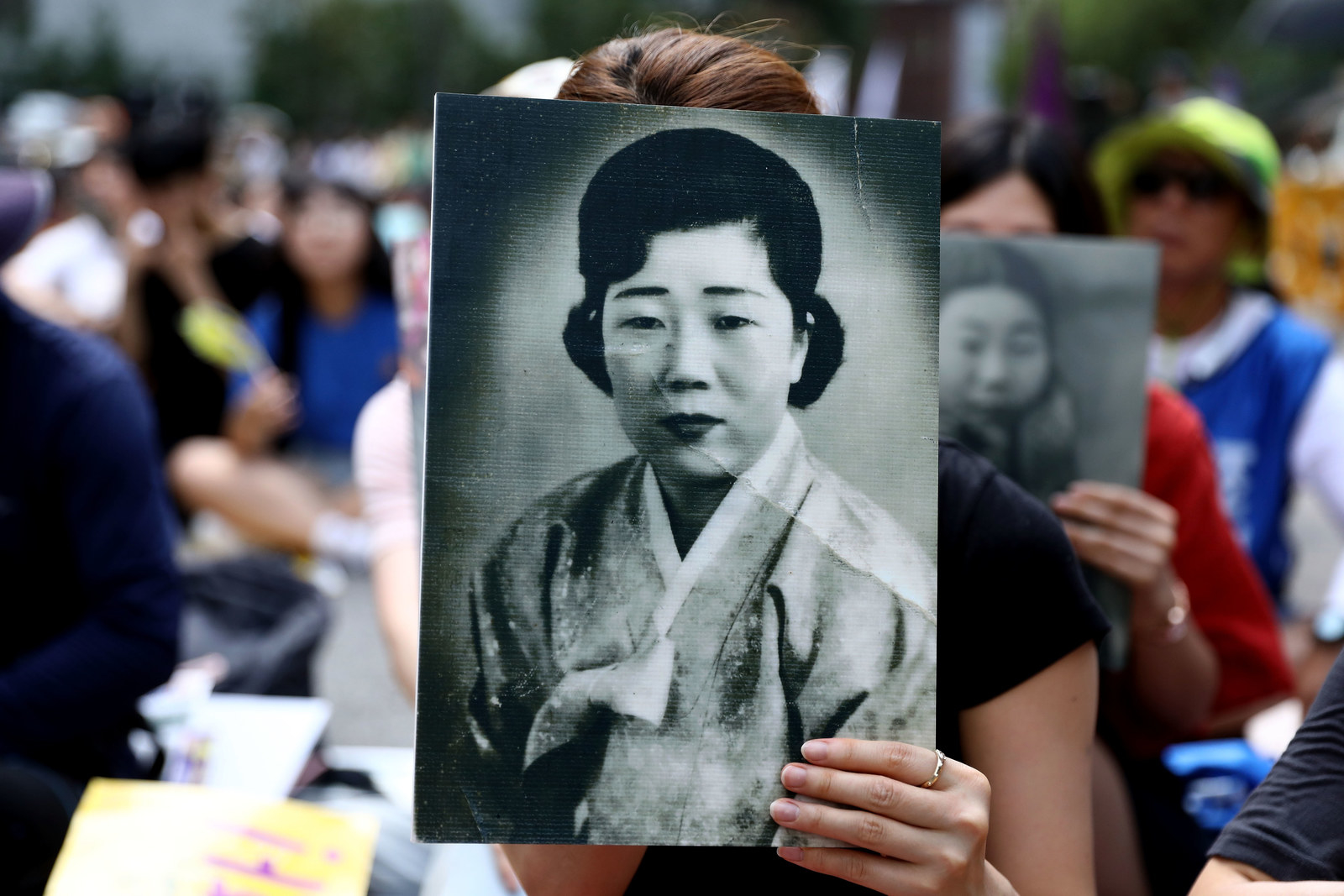 After about an hour, a representative of the Japanese government came out to accept the letter of protest from the group. The office later told BuzzFeed News that they regret Fujii's behavior in Tainan, and their stance on the issue of comfort women remains the same.

"We don't have any specific comments about the incident in Tainan at this point," the Japanese representative office told BuzzFeed News through a phone interview.
The spokesperson from Taiwan's Ministry of Foreign Affairs, Andrew Lee, told BuzzFeed News that the government's position on the comfort women issue hasn't changed, and he called for all sides to deal with the incident calmly.
"We will continue to negotiate with the Japanese government about the comfort women issue, and we ask Tokyo to respect the rights of Taiwan's comfort women."
Taiwanese media reported that Fujii left Taiwan on Saturday, but Hsieh has vowed to bring the case to court and demand Fujii to testify in person.