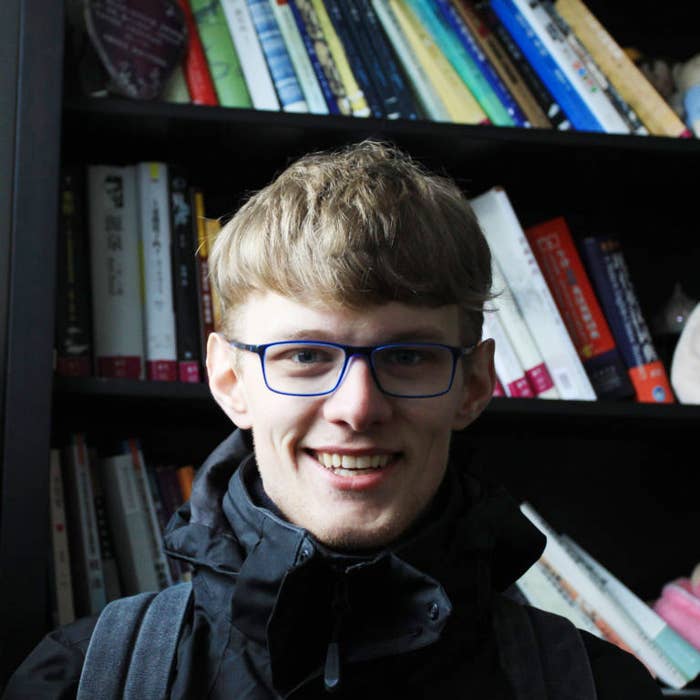 A German student says he was forced to leave China over a film he made for a class project focusing on the country's persecution of human rights lawyers.

David Missal, a graduate student who was studying journalism at Tsinghua University in Beijing, said the Chinese government refused to extend his student visa earlier this month.
Speaking from Beijing on Saturday before he flew out of China, the 24-year-old told BuzzFeed News, "The authorities told me that since I conducted some activities that weren't covered by the student visa, they couldn't give me the student visa for the next year."
Missal says he originally submitted an application to renew his student visa in June, but authorities informed him they had to "do some more investigations," extending a process that normally takes 10 days to almost two months.
Earlier this month he was called to come and collect his passport, but when he arrived at the immigration office he was told he had 10 days to leave China.
When Missal asked for a specific explanation about why his application had been rejected, he said he was told, "You know what you did."
He was studying at Tsinghua under an international exchange scholarship but is now unable to complete his degree.
"I didn't really know what to say, even though I knew there was the possibility that something like this could happen," Missal told BuzzFeed News in a phone interview. "I was just speechless."
Missal said he believes that he was forced to leave China because of a film he made about Chinese human rights lawyers as part of his university work. He became interested in the topic after seeing some posts about the lawyers and their family members, so when it was time to choose a topic for his class, he told his professor that this was what he wanted to cover. After gaining his professor's approval, Missal began to interview the lawyers, and he even visited one of them, Lin Qilei, in Hunan province.

In early May, Missal accompanied Lin to visit a detained activist in Wuhan, the most populous city in Central China, and while he was waiting outside the prison, two to three police cars suddenly showed up in front of him. Six to eight police officers approached Missal and asked him to go with them. He was then taken to a detention center in Wuhan, and detained there for three hours while the police took his passport away and started making phone calls.
"They were calling their supervisor, and they refused to tell me why they took me there," Missal told BuzzFeed News.
He was eventually released after a few hours. Once he arrived back in Beijing, he was contacted by the school and his academic adviser asked to meet him. The adviser told him that the school wasn't happy about his chosen topic, and asked him to avoid pursuing sensitive topics in the future.
"[My adviser] told me that the leadership were not happy with what I did, so I should try not to do it [in the future,]" said Missal.
Nevertheless, Missal went ahead and made a documentary film, which he also posted on his personal website, featuring interviews with several Chinese human rights lawyers in China, and a 62-mile walk undertaken by one of the detained lawyer's wife.
Missal's forced departure from China comes as Beijing increases its pressure on foreign academics who are critical of the Chinese government or focus on sensitive topics in recent months. In July, an American professor, Christopher Balding, at Peking University's HSBC School of Business announced his departure from China through a blog post, citing that the tightening control over open discussion makes him feel unsafe.
In an editorial published by China's state-run tabloid Global Times, the paper said that Missal's departure from China reflected the fundamental differences in the social perception of politics and law between China and Germany. To further justify the government's decision, the paper argued that Beijing is merely handling foreigners who don't follow rules in China based on the law.
"His behaviors and his explanations to the media show that he doesn't understand China's politics and law," the editorial in Global Times said. "He also didn't acquire even a bit of the self-consciousness and humility that are so entrenched in China's cultural values."
BuzzFeed News has reached out to the Exit and Entry Administration in Beijing, Tsinghua's International Students Office, and Tsinghua's School of Journalism and Communication for comment.
Despite his sudden departure from China, Missal still hopes to keep conducting research on China, emphasizing that China remains an interesting country with many aspects that fascinate him. Before boarding his flight on Sunday, Missal wrote that he was sad to be leaving.
He plans to stay in Germany, and maybe study in Taiwan in the future. While he still hopes to have a chance to return to China and work as a journalist, he thinks the chances are slim.

"I want to come back to China and work as a journalist, but that's not possible," Missal told BuzzFeed News.