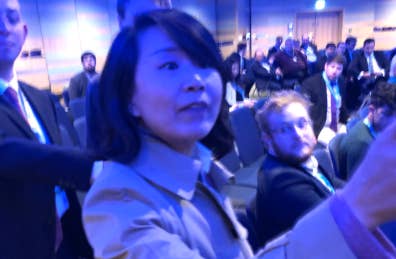 HONG KONG — A reporter for Chinese state media was arrested after allegedly slapping a delegate at the annual conference of the UK's governing party.

Footage posted online showed a woman with an accredited press pass being asked to leave a fringe event at the Conservative Party's conference in Birmingham on Sunday.
The woman, identified as Kong Linlin, a reporter for China's state-run CCTV, was attending an event organized by the UK-based Hong Kong Watch and the Conservative Party's human rights committee.
Towards the end of the event, the woman identified as Kong accused Hong Kong Watch chair Benedict Rogers of being "anti-China," and labelled prominent pro-democracy panelists including Martin Lee from Hong Kong's Democratic Party and Umbrella Movement student leader Nathan Law as "traitors."

Enoch Lieu, a volunteer, said he tried to escort Kong from the event when she was asked to leave by its chair, Conservative MP Fiona Bruce. Lieu said Kong accused him of trying to silence her, and twice slapped him.
"I said no, miss, you have to go," Lieu claimed in a tweet. "All of a sudden, she slapped me in the face."

Lieu said he was slapped a second time after other people at the event intervened to help escort Kong from the room. In a Facebook video shared by Hong Kong Watch on Facebook, Kong can be seen shouting at Lieu and claiming that he has no right to remove her.

"You have no right, there is no [democracy] in the UK," shouted Kong. "I'm a journalist here. Leave me alone."
West Midlands police, the local force, said officers were called to the conference venue at 2:30 p.m. local time Sunday after "reports a disturbance had broken out during a talk on Hong Kong. A 48-year-old woman from Kings Cross, London, was arrested on suspicion of common assault and was later released while investigations continue."

In response, the Chinese embassy in the UK said Kong's treatment was "completely unacceptable."

"In a country that boasts freedom of speech, it is puzzling that the Chinese journalist should encounter obstruction in such a way and even assault at the fringe event when she simply raised a question and expressed her opinions," a spokesperson said.
CCTV joined the embassy in demanding an apology for Kong's treatment, and said it had lodged an "official protest" with UK authorities over the incident.
"CCTV journalist based in the UK, Kong Linlin, expressed her views when raising questions, becoming obstructed and even physically harassed," the statement said.
In China, Kong's behavior was praised by Weibo users.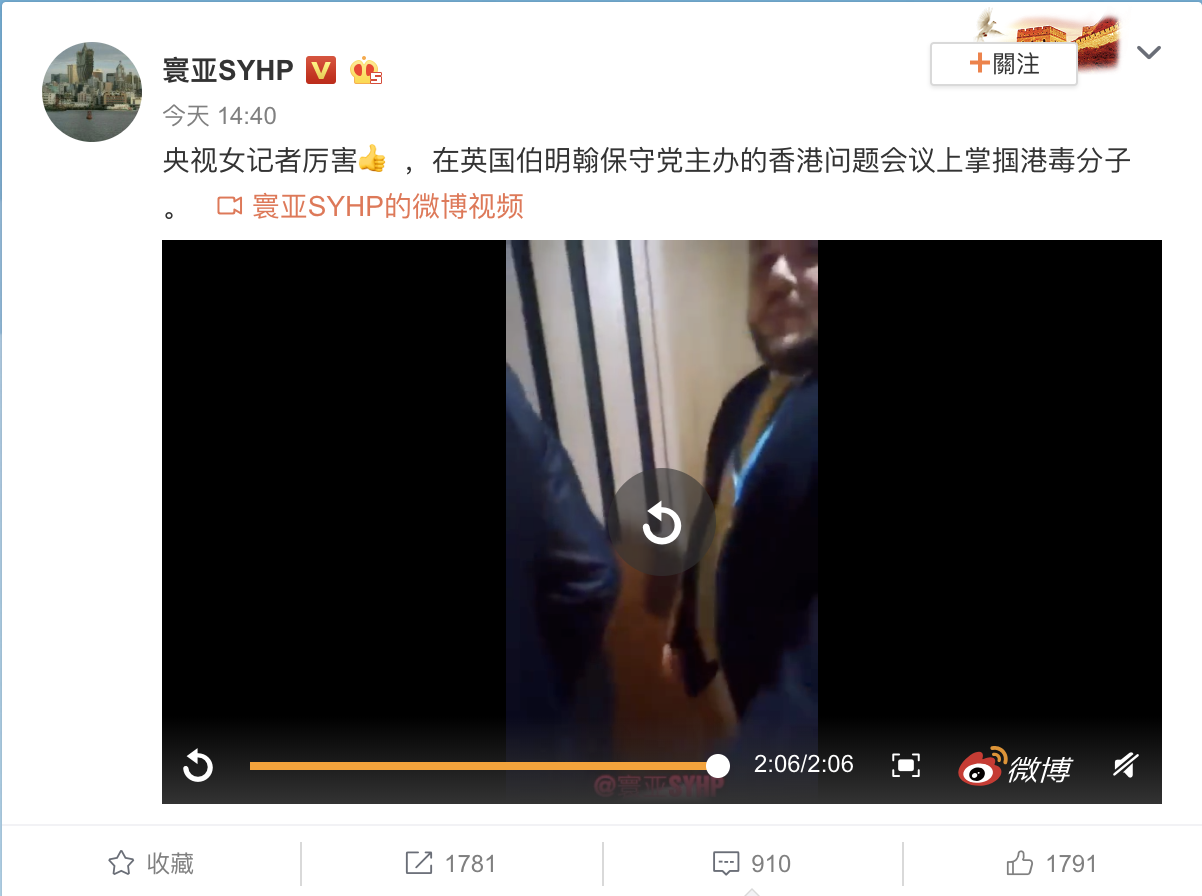 Sunday's incident comes after a satirical Swedish TV show caused uproar in China after it aired a segment mocking Chinese tourists.

The incident set off a diplomatic row between China and Sweden, with the Chinese embassy issuing a statement condemning the TV program as a "gross insult to and vicious attack on China and the Chinese people."