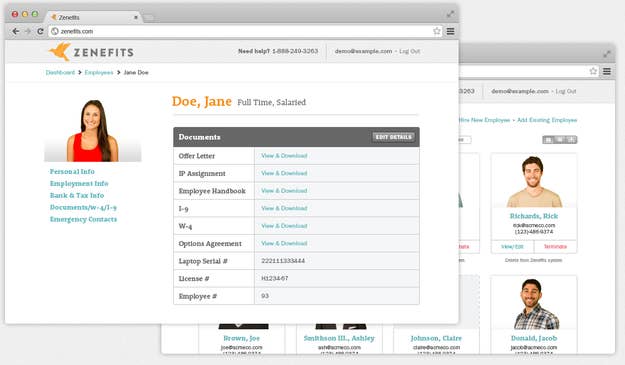 The startup insurance broker Zenefits has struck its first settlement with state regulators in an ongoing effort to move beyond its past licensing violations.
Zenefits, which has admitted that its sales reps hawked health insurance without the required state licenses, reached a deal with regulators in Tennessee under which it will pay a relatively small fine of $62,500 and be allowed to continue operating in the state. The settlement, announced on Monday, sets a precedent that Zenefits can point to in negotiations with other states that are investigating the company, such as California and Washington.
The licensing problems were first revealed in a BuzzFeed News article in November, which reported that the San Francisco-based Zenefits had allowed salespeople to act as insurance brokers in at least seven states without licenses to do so. The company subsequently opened an internal inquiry that revealed its founding CEO, Parker Conrad, had created software to let brokers cheat on the insurance licensing process in California. Conrad was ousted in February.
Under a new CEO, David Sacks, Zenefits voluntarily sent reports about its licensing compliance to regulators in all 50 states, according to the company.
The Tennessee Department of Commerce and Insurance, the state's insurance regulator, specifically praised Zenefits' efforts to correct its past problems under the new leadership. Among its remediation efforts, Zenefits has required brokers to complete 52 hours of coursework and has installed a new system for tracking licensing compliance.
"Fortunately, new company leadership has demonstrated a dedication to righting the ship," Julie Mix McPeak, the state's insurance commissioner, said in a statement.
"Under the company's past leadership, compliance with insurance laws and regulations was almost an afterthought," she added. Zenefits brokers, McPeak said, previously "were not complying with state laws."
In its report to Tennessee regulators, Zenefits identified about 65 examples of employees selling insurance or otherwise acting as a broker in that state without a local license, according to a consent order. This total included both "identifiable transactions" and "presumed violations based on a statistical sampling," the order says.
Of those 65 violations, 10 involved employees who hadn't even gotten an insurance license in their home state — a more serious problem, the order says.
The Tennessee settlement does not directly pertain to Conrad's cheating software, which enabled users to circumvent the system in California. Still, many Zenefits brokers who sold insurance in states like Tennessee did their initial training in California, making this software relevant in regulators' estimation of the problem.
Zenefits may reach settlement agreements with additional states in the future, either individually or in groups. The company has been told that it's under investigation by California, Washington, and Massachusetts. The Washington inquiry, which was revealed by BuzzFeed News last fall, began before the company publicly acknowledged its compliance failures.
Sacks has sought to highlight the company's own remediation efforts, and on Monday he said this approach had helped yield a favorable settlement in Tennessee.
"The state explained that more severe fines or penalties were not warranted because Zenefits self-reported its violations and took extensive remediation measures," he said in a Monday memo. "I want to thank the Tennessee Department of Commerce and Insurance for reaching a ruling that was tough but fair."