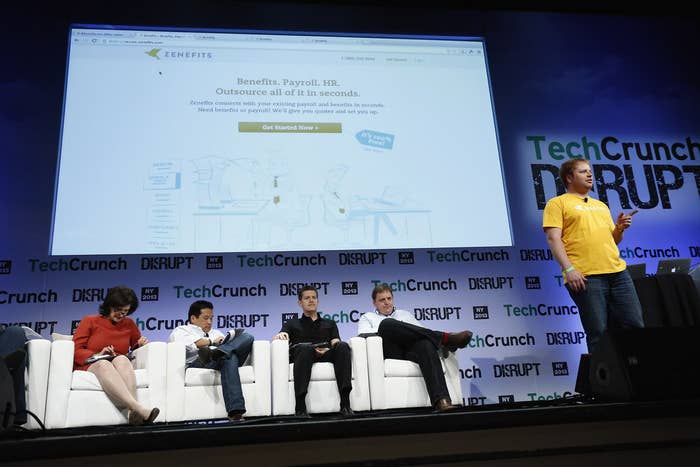 The Silicon Valley startup Zenefits is offering cash payments to former employees in an attempt to head off any legal action over what it says was an "error" in its employee handbook.

The tension between one of Silicon Valley's most highly valued startups and its former employees centers on whether the company failed to pay for accrued vacation days. According to documents obtained by BuzzFeed News, Zenefits said in its employee handbook in 2014 that its official policy was to pay out any accrued vacation days upon an employee's departure from the company.
Zenefits now claims, in a statement to BuzzFeed News, that the handbook contained an "error." A revised version of the handbook, dated March 2015 and obtained by BuzzFeed News, says employees have unlimited time off and won't be compensated for any accrued vacation days.
California law considers accrued vacation days to be a form of wages, requiring companies to pay departing employees for any accrued but unused time off. But some companies, especially in tech, are able to sidestep this requirement by offering employees unlimited time off — avoiding the question of accrued vacation days altogether.

In its statement to BuzzFeed News, Zenefits spokesperson Kenneth Baer said that in practice the company always operated with an unlimited time off policy, and that the handbook was incorrect. While the 2014 version of the handbook described "paid time off," the revised version instead refers to "flexible time off," or FTO, which is unlimited and has no accrual.
"FTO is not earned or accrued and there is no payout of FTO upon separation from the Company," the revised version states.
But some former staff have raised questions about missing payments. Zenefits has now emailed former employees who worked at the company before March 31 of this year, asking them to accept cash payouts and waive their right to sue over any violations of California's labor laws.
The legal agreement contained in the emails acknowledged that "questions have arisen" over whether Zenefits failed to pay former employees for vacation days they accrued.
"As you know, we've always had an unlimited flexible time off policy," Zenefits told employees.
"In order to resolve any dispute or unresolved issue between us regarding accrued wages," the legal agreement said, Zenefits offered to pay the former employees a cash sum via an electronic transfer to their bank account.
Zenefits said it wanted the employees to sign the agreement by Friday, Dec. 11. Doing so would essentially prevent them from suing over any labor violations.
"You waive and release and promise never to assert any and all claims that you have or may have against Zenefits arising from or related to claims arising out of the California Labor Code, the California Business & Professions Code, or otherwise related to Zenefits' payment or non-payment of wages," the agreement stated.
Zenefits asked employees to agree that "all prior agreements, understandings, representations, oral agreements and writings regarding the claims released herein are expressly superseded and are of no further force and effect."

News of the emails being sent to former employees was reported earlier by Pando.
Zenefits, launched in 2013 and valued at $4.5 billion in a funding round earlier this year, is a health insurance broker catering to small businesses. It offers free software to help businesses manage their employee benefits, and it gets paid commissions after selling insurance policies to those businesses.

Zenefits is facing scrutiny on several fronts. The Wall Street Journal reported last week that the company is set to fall short of an ambitious financial target for this year. A recent move by the mutual fund company Fidelity to mark down the value of its Zenefits shares generated headlines and speculation over the company's financial situation.
Last week, BuzzFeed News revealed that Zenefits had apparently flouted insurance laws by allowing unlicensed brokers to sell health insurance. At least one regulator, the insurance commissioner in Washington state, is currently examining whether Zenefits operated there without licenses.