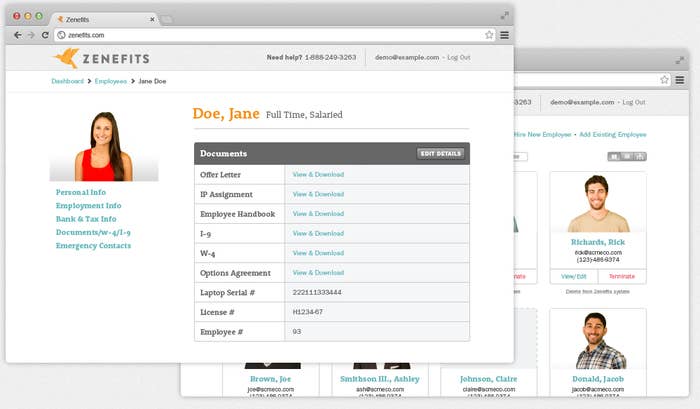 Zenefits, the human resources software maker that launched in 2013, has quickly joined the ranks of the most valuable startups in Silicon Valley, raising $500 million at $4 billion pre-money valuation.
The fast-growing startup announced this morning that it had raised $500 million in a Series C round of financing led by the mutual fund giant Fidelity and the big private equity investor TPG. Its 10-figure valuation in the financing round, far larger than its $500 million valuation in a round last June, shows investors' eagerness to get a piece of the company.
The investment also suggests an initial public offering may be in Zenefits' plans down the road. Fidelity in particular has lots of experience investing in the stock market, noted Parker Conrad, the Zenefits co-founder and CEO. He said the young company was "trying to get more sophisticated" about public markets.
"I've probably spent no more than 10 minutes thinking about ever going public as a company. It's not on our road map in the near future," Conrad, 35, said. "But it's probably a good thing for us to be aware of, in terms of our investor base."
For now, the investment highlights Zenefits' anointed status in Silicon Valley. The company offers its cloud-based software for free to small- and medium-size businesses, helping them automate human resources tasks. It makes money by doing related services, like acting as a health insurance broker or getting paid to send business to third-party payroll companies.
Investors tend to like cloud-based software companies for their predictable streams of revenue. Zenefits has benefited also from being free to use, increasing its appeal for smaller companies.
Conrad said Zenefits would use the $500 million to hire sales and marketing employees, as well as engineers and product people, as it fuels a breakneck pace of growth. After reaching $1 million in annualized revenue in early 2014, Zenefits grew to $20 million in annualized revenue by the beginning of this year, according to the company. It says it expects to reach $100 million in annualized revenue by the beginning of 2016.
Along with Fidelity and TPG, which invested through its TPG Growth arm, the investors in the latest round included Founders Fund, Khosla Ventures, Insight Venture Partners, and Sound Ventures. Previous investors in the company, like Andreessen Horowitz, Institutional Venture Partners, and the actor Jared Leto, also participated.
The company's customers include technology firms like Instacart and Twitch, which is owned by Amazon. While Zenefits is sometimes compared to Workday, a publicly traded company that also makes human resources software, it aims to sign up smaller companies as customers, with fewer than 1,000 employees.
"We're filling up a big tank because we're moving really quickly and we're going very far," Conrad said of the latest funding round. "That's why we're doing a big pit stop here."