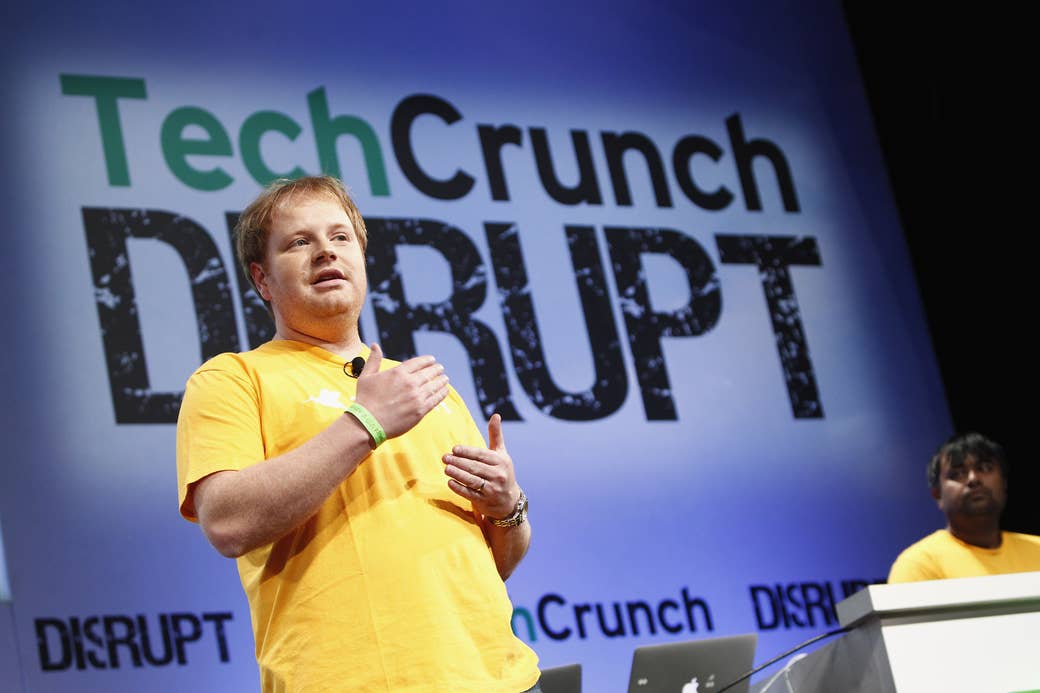 Parker Conrad, the Zenefits co-founder who resigned in scandal from the human resources startup, sold stock last year worth $10 million and later negotiated a $130,000 payment as a condition of his resignation, three people with knowledge of the matter told BuzzFeed News.
Conrad, the longtime CEO and a director of the company, was forced to resign from those positions this February after colleagues learned that he had created and shared with his employees a piece of software to cheat on California insurance broker licensing requirements, according to a report from the law firm Cooley that was obtained by BuzzFeed News.
The San Francisco-based Zenefits gives away software to help small businesses manage employee benefits, but it makes money by selling those businesses health insurance policies. An inquiry by BuzzFeed News last fall touched off the internal investigation at Zenefits that led to Conrad's ouster, according to a person familiar with the matter. Conrad was replaced by David Sacks, the former chief operating officer.
The cheating software Conrad created, known as a macro, was in circulation at Zenefits from 2013, the year he launched the company, into 2015, according to the Cooley report, which was submitted to the Zenefits board in March and released publicly on Monday. The macro allowed Zenefits employees to spend fewer than the legally required 52 hours in online pre-licensing training. Aspiring insurance brokers, including employees who used the macro, had to certify under penalty of perjury that they had spent the full 52 hours in study, the report said.
In June 2015, before use of the macro was known to other board members or investors, Conrad personally sold Zenefits shares worth $10 million to an outside party, the three people with knowledge of the matter said, speaking on the condition of anonymity. The previously unreported sale was done as part of Zenefits' Series C funding round announced in May, in which the company raised $500 million and was lauded as a freshly minted "unicorn," valued at $4.5 billion.
Conrad has retained John W. Keker, a prominent trial lawyer in San Francisco, two of the people said. Keker did not respond to emailed requests for comment. Through a spokesperson, Conrad declined to comment.
After Zenefits investigated the macro in late 2015 and early 2016, Conrad agreed to resign from the company at an emergency board meeting on Feb. 1, according to the Cooley report. But Conrad controlled three of the company's four board seats, giving him significant leverage in the negotiation over his ouster.
This allowed him to secure a $130,000 severance payment from Zenefits, the people said. Conrad also kept his Zenefits shares and was permitted to keep unvested stock that would vest over the subsequent six months, according to the people.
One important right Zenefits retained was the ability to speak openly about the macro and other past failings, the people said.
Amid the negotiation, Conrad and his advisers drafted a press release that did not make any mention of wrongdoing and instead suggested Conrad was stepping aside voluntarily, said three people who have read that document. But the letter Sacks ultimately published upon Conrad's resignation made it clear he had left "as a result" of compliance failures.
Conrad had enjoyed an unusual degree of control over Zenefits. Until the day he stepped down, he was the human resources administrator, approving vacation requests and offer letters, three people with knowledge of the matter said. Dawn Nott, the company's human resources director who was hired in 2015, did not have full administrative access for a period of time, two of the people said.
The Cooley report, based on roughly 15,000 documents and interviews with 16 current and former employees, excoriates Conrad but broadly absolves Sacks, who joined Zenefits in late 2014, of responsibility in the company's past failings. It was released to the public on Monday alongside a blog post by Sacks marking three months as Zenefits' CEO. In the post, Sacks said his overhaul of the company's policies and culture had been so successful that other businesses could now turn to Zenefits for help in complying with government regulations.

"If there is a silver lining to the difficulties that Zenefits has gone through the past three months, it is that we have turned compliance into a core part of our values, culture, and expertise," Sacks said in the blog post. "In turn, I believe that we will be able to use this experience to improve our product and help our customers with their own compliance needs."
Conrad, a licensed insurance broker in states across the country, wrote the macro for himself, when he was the only employee of Zenefits, and he wrote a set of instructions for its use, three people with knowledge of the matter said. Public records show that Conrad got his California health insurance license in September 2012, as he was preparing to launch Zenefits. The instructions he wrote, which were emailed around the office along with the macro, have been reviewed by BuzzFeed News.
Other problems finally brought the macro to light. On Nov. 20, 2015, a Friday, as part of an investigation into Zenefits' licensing procedures, BuzzFeed News sent Conrad and a Zenefits spokesperson a list of points that would appear in an upcoming article, asking for their response. This email prompted Zenefits to open an internal review of its licensing compliance.
On Nov. 24, as part of this review, an employee reported to Joshua Stein, who was then the company's vice president of litigation, regulatory affairs and public policy, that some employees had used the macro to speed up their licensing process, according to the Cooley report. The employee, who was not identified in the report, blew the whistle on the macro "out of a concern for possible legal impact to the company and to improve the company's regulatory compliance," the report said.
Stein, along with Zenefits general counsel Hillary Smith, shared this revelation on a call with Conrad and Sacks, who was hearing of the macro for the first time, according to the report. Conrad, the report says, "acknowledged the macro's existence, but did not admit that he wrote it or disseminated it to others at the company." One person who was on the call said Conrad was not directly asked about his authorship or dissemination of the macro, but that he reassured the others the software was nothing to worry about.
The BuzzFeed News article, published on Nov. 25, reported that Zenefits apparently flouted insurance laws by allowing unlicensed brokers to sell health insurance. It did not mention the macro, which was not known to BuzzFeed News at the time.
On Jan. 5, after Zenefits' own investigation found employees might have lied to California insurance regulators, Stein and Smith met with Conrad and told him they had found "violations of California licensing requirements," adding that they intended to hire outside counsel, the report says. This was when, "for the first time," Conrad acknowledged he had written the macro, according to the report. Zenefits retained Cooley the next day.
Sacks learned of the possible criminal implications of the macro -- stemming from the finding that some employees may have lied to regulators about their training under penalty of perjury -- on Jan. 25, in a meeting with Stein, Smith, and two outside lawyers, the report says. That was also when Sacks learned Conrad had created it. Before that meeting, Sacks, who had not sought a license himself, didn't even know about the 52-hour training requirement, according to the report. He "was dismayed and immediately supported disclosing the macro" to regulators and Zenefits' investors, the report says.
Lars Dalgaard, a Zenefits board member and a partner at venture capital firm Andreessen Horowitz, a major Zenefits investor, called an emergency board meeting for Feb. 1, a Monday. (Andreessen Horowitz is also an investor in BuzzFeed.)
Conrad agreed to resign at that meeting, though the details of his separation agreement would not be finalized until a week later. Immediately after agreeing to resign, three people with knowledge of the matter said, Conrad expressed a desire to start a new company.
On Saturday, Feb. 6, Sacks directed Zenefits' outside lawyer to report the macro to the California Department of Insurance, the state's insurance regulator, the Cooley report says. The regulator said later that it was investigating whether Zenefits complied with laws and regulations in California, the company's biggest market.
That Sunday was the Super Bowl, held down the road from San Francisco in Santa Clara, California. Sacks had a ticket to the game and showed up at a pre-game party inside the stadium complex, he has told multiple friends. But his advisers had warned him the macro and its use posed an "existential threat" to Zenefits. With his phone buzzing with the latest from the talks over Conrad's ouster, Sacks knew he had to leave.
Arriving home, he realized he still had his Super Bowl ticket hanging around his neck, he has told friends; he ended up handing it to the Uber driver who had given him a ride. Sacks declined to comment on that episode.
On Tuesday, Feb. 8, Conrad formally agreed to step down as CEO and give up control of the three board seats. Sacks, who took over as CEO that day, has fired managers who promoted use of the macro, expanded the company's board, and "clearly communicated to employees the importance of licensing compliance and the wrongfulness of macro use," the Cooley report says.
In his post on Monday, Sacks described new training measures he had put in place, including requiring that every Zenefits broker take 52 hours of coursework and pass a test before October. He also published a chart comparing the company's "old values" with its "new values."
One of the old values, "Ready, fire, aim," has been replaced with "Operate with integrity." Another, "Everyone's shit stinks," is now "Put the customer first."
Conrad, for his part, appears to be seeking a return to the spotlight. A Bloomberg Businessweek article on Monday morning, citing an unidentified person close to Conrad, said he "regrets resigning and is already working on a new company."