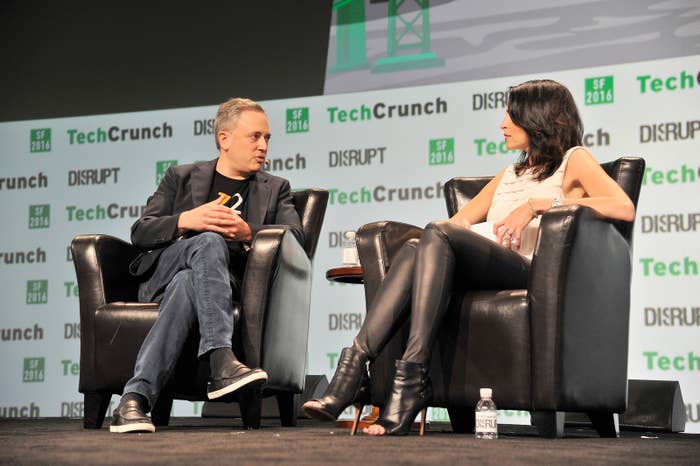 David Sacks, the CEO of Zenefits, plans to step down as head of the embattled human resources startup after less than a year on the job, he told BuzzFeed News Friday evening.
Zenefits is currently conducting a search for a new CEO and does not yet know who will take over, or when the handover will happen, Sacks said. He said he plans to stay on as CEO until that time, at which point he will take on the role of chairman, working alongside his successor.
Going forward, Sacks is open to the possibility of working in the administration of President-elect Donald Trump, even in an informal role, according to a person close to him who insisted on anonymity. Peter Thiel, the billionaire tech investor who is a member of Trump's transition team, is an old friend of Sacks' and sits on Zenefits' board. The two men, who met as students at Stanford University, once co-wrote a provocative book critiquing "multiculturalism" on college campuses and later were early executives at PayPal. (Both recently apologized for the book.)
The shakeup at Zenefits caps a turbulent year for the startup health insurance broker, which ousted its founding CEO, Parker Conrad, in February after revelations that it flouted state insurance laws. Under Sacks, Zenefits has shed hundreds of staff, struck settlements with state regulators that were investigating the company, and released a new software platform called Z2, all in an effort to remake itself.
Sacks said on Friday that he felt he had "accomplished everything I set out to accomplish," and that he had been discussing with the board for a few weeks the possibility of his stepping down as CEO.
"It's not a job I sought," said Sacks, who had been the chief operating officer before the board asked him to take the helm. "I had a responsibility to the investors and employees to guide the company through this crisis, and we've done that."
Sacks, who rose to prominence as chief operating officer of PayPal and later sold his software startup Yammer to Microsoft for over $1 billion, added, "This is the hardest thing I've done as an entrepreneur, effectively re-founding the company."
"You saw how tired I was at Z2," he said, referring to the October conference where Zenefits unveiled its new software platform. "This took everything I had."
The Wall Street Journal reported Friday that Sacks planned to join Trump's transition team, but Sacks refuted this, and told BuzzFeed News, "I have no plans to join the transition team." A Zenefits spokesperson declined to comment on the possibility of Sacks' working in the Trump administration.
The Information earlier reported that Zenefits was searching for a candidate to possibly replace Sacks as CEO.
Even as it cleans up its legal mess, Zenefits is awash in red ink. BuzzFeed News reported on Friday that the company lost $204.5 million in its last fiscal year, on revenue of $43.5 million, though its revenue is growing and it has reduced its monthly cash burn.

Here is the full text of an email Sacks sent to his employees Friday night, which was obtained by BuzzFeed News:
All-

Ten months ago, the Board asked me to step into the CEO role at Zenefits amidst a regulatory crisis. This is not a job I sought, but I felt a responsibility to our investors, employees, and customers to help the company through the crisis.

I accepted no compensation to do this, even though it was offered to me. I wanted to make sure there was more for all of you. (One of the accomplishments I'm most proud of is that employee ownership has more than doubled since I became CEO.)

This week, we successfully resolved the issues that gave rise to the crisis, signing a deal with our lead regulator, the California Department of Insurance (CDI). We've also settled with 19 other states, including Washington. (Far from being a setback, the Washington deal provides an answer on the rebating question for a handful of states, helping to resolve all of the existential issues that faced the company just a year ago.)

One of the most remarkable features of the California settlement is that CDI reduced its fine 50% in recognition of the remediation and cultural transformation that we accomplished.

In fact, regulators across the country have praised the New Zenefits for resetting our values, culture, mission, leadership, and governance. Because of that, the company will pay less than 1% of invested capital for a clean bill of health with regulators.

This is due to all of your hard work. Each of you chose to embrace the new values of the company and make great decisions for the business and our customers. Ten months ago, when we were facing headlines like this, most outside observers would have said this outcome was not possible. But you did it.

And not just that. You kept building. You didn't let the headlines distract you. You launched our new Z2 product that customers love. As a result, we've seen a huge increase in leads on the heels of Z2, causing Sales to hire again.

We've refocused on our core small business market and customer success. We've restored our relationship with all of our key stakeholders, including investors and our industry. We took tough but necessary steps to cut burn, including reducing headcount 35%.

In short, we've achieved every goal set forth in my Day 1 memo, which outlined the turn-around plan for this company.

With that turn-around complete, now is the time to start planning for the next phase of Zenefits. While there will be no immediate changes, I want to be transparent about my plan, which is to transition into a Chairman role and lead a search for the permanent CEO of the company.

The Chairman role will allow me to focus on what I do best — product and strategy — while working with a great operator who can help build our small business pipeline. I feel it is best to be public about this search so that we can attract the best candidates.

Zenefits has an amazing team, hundreds of millions of dollars in the bank, and years of runway to keep building. We are also the best All-in-One HR product for small businesses, a huge greenfield category. The company is spring-loaded for success, and I'm excited about partnering with a great operator to take Zenefits to the next level.

Looking back over the past year, I am extremely proud of the work that we did together to address the crises facing the company and turn the corner towards a better future, in which our success will be based solely on the quality of our product and service. In fact, of all the things that I've done in my career, and all the teams I've worked with, I couldn't be more proud of this team and what we accomplished.

I told you on Day 1 that you were all co-founders with me in the New Zenefits. That is still true. I still love this company and our mission to make entrepreneurship and small business ownership easier and more accessible to everyone. I look forward to the work that we will continue to do together. This is not an end on any level, it is the next chapter.