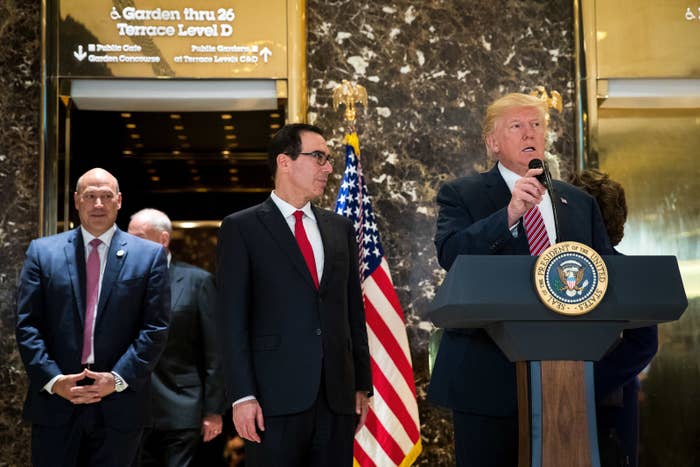 If President Trump could claim to be an ally of any group in the US, it would be American businesses. Yet the president's reluctance to condemn racism and violence this week — equating white supremacists with anti-racist demonstrators — created a moral emergency unlike any that the nation's top CEOs had previously faced, according to experts who advise business leaders.
A wave of CEO defections from Trump's American Manufacturing Council in recent days, following his response on the violence in Charlottesville, ultimately pushed the president on Wednesday to disband the council as well as another business panel called the Strategic and Policy Forum.

"This is different. This is historic," said Richard Levick, the chairman and CEO of the strategic communications firm Levick, which advises corporations and governments on high-risk situations. "We are in the moment when Donald Trump has dropped his dog whistle to the white nationalists and replaced it with a bullhorn."
Statements from prominent business leaders explaining their resignations from the panels took aim at Trump's ambiguity on extremism. They also cast doubt on the ability of the president's councils to achieve policies that would benefit their businesses in such a divided climate.

"The president's statements yesterday were deeply troubling," said GE Chairman Jeff Immelt in a statement on Wednesday. "The committee I joined had the intention to foster policies that promote American manufacturing and growth. However, given the ongoing tone of the discussion, I no longer feel that this council can accomplish these goals."
In the early days of the Trump administration, many CEOs, in keeping with decades of tradition, said that they were happy to serve the president, despite what their political leanings might have been — eager to absorb the prestige and influence that come with such a post. Rising investor confidence led the stock market to new highs.
"Business & jobs will grow," Trump said on Twitter. "Business is looking better than ever with business enthusiasm at record levels," he said in a separate tweet.
The president's response to Charlottesville, however, was not only personally repulsive to many CEOs but also created possible business risks for them, according to Jeffrey Sonnenfeld, a professor and senior associate dean at the Yale School of Management. Sonnenfeld said he had spoken with more than two dozen Fortune 500 CEOs about this issue since Tuesday afternoon.

"It would become very demoralizing if the CEOs didn't stand for something. People would think they'd fall for anything," Sonnenfeld said. "There would be a loss of faith in their leadership. Their ability to lead would be undermined."
While CEOs might once have cringed at the thought of an angry tweet from Trump, that concern has faded, Levick said. He noted, for example, that the stock of Nordstrom actually went up after the president lashed out at the retailer for dropping his daughter Ivanka's clothing line in February.
In addition, the president's failure to pass a health care bill and other legislative setbacks have created an impression among CEOs that Trump isn't able to do his job — making the decision to abandon him easier, according to Elaine Kamarck, a senior fellow in the governance studies program at the Brookings Institution and the author of the book Why Presidents Fail and How They Can Succeed Again.
"They've lost confidence in his ability to perform," Kamarck said. "I don't want to be too cynical about this, but that does make the moral calculation a lot easier."
It then became easier for executives to defect after Kenneth Frazier, the CEO of the pharmaceutical giant Merck, who is black, resigned from the manufacturing council on Monday, according to Sonnenfeld.
"One guy stood up and said the emperor is naked," Sonnenfeld said. "Ken stood up, and he called [Trump] for what he was. He shamed him."
It quickly became clear to many CEOs that remaining on the business panels carried more risk than leaving. Even Aetna CEO Mark Bertolini, who was not on either business council, jumped in Wednesday afternoon to say in a memo to employees, "I am ashamed of our President's behavior and comments."
"These CEOs, they are people, too," said Max Bazerman, a professor of business administration at Harvard Business School. "I think they care about their own image. And being associated with a morally repugnant, incompetent president just doesn't really bring you much prestige."