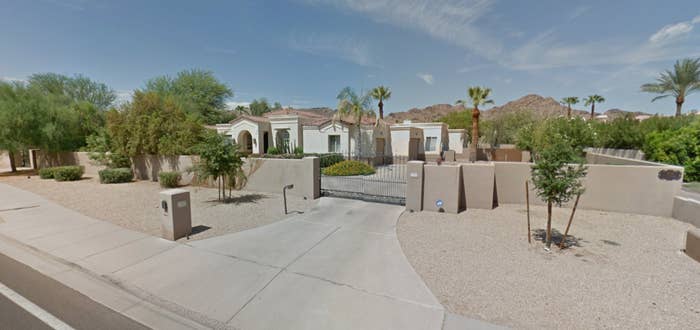 For the employees of one Silicon Valley unicorn, the days of lounging poolside under a flaming desert sunset are coming to an end.
For the past year, Zenefits, one of America's most highly valued tech startups, has paid $15,000 a month for a luxurious home in a wealthy Arizona suburb, BuzzFeed News has learned. But the San Francisco-based Zenefits, which lacks profits and is burning its way through the $500 million it raised from investors in May, has decided it no longer needs the 5,000-square-foot dwelling.
Now, the landlord tells us, Zenefits is letting the lease expire at the end of October.
The five-bedroom property was intended as a crash pad for Zenefits employees from San Francisco visiting the company's office in Scottsdale, which it opened last year. The company says it rented the five-bedroom home rather run up frequent hotel bills.
The rental, located in the upscale suburb of Paradise Valley, was quite the crib. Real estate listings, as well as videos obtained by BuzzFeed News, show a palatial residence equipped with a pool, hot tub, grand piano, outdoor grill area, six bathrooms, a wine closet, and a games room with a card table, billiards table and bar.
Employees, who made full use of the house during a rollicking holiday party last year, affectionally call it the "Zenemansion."
But now, with the Scottsdale office up and running, Zenefits is building up a new facility in nearby Tempe, which eventually will house the majority of its Arizona business. And that means letting go of the Zenemansion.
"The house was used consistently by employees at all levels — including the CEO — and saved Zenefits tens of thousands of dollars on hotel costs," said Zenefits spokesperson Kenneth Baer in an emailed statement. "Zenefits is letting the lease expire because the company is moving the bulk of its Arizona operation to Tempe, and the house is no longer convenient."
While not a household name to most Americans, Zenefits is a darling of the Silicon Valley establishment. The startup, which makes software to help small businesses manage their employee benefits, was valued at $4.5 billion in May, just two years after launching. That turned it into a "unicorn," the term for startups worth at least $1 billion.
Its investors include Hollywood celebrity Jared Leto, as well as a roster of prominent venture capitalists. The powerhouse venture capital firm Andreessen Horowitz has put more money into Zenefits than in any other startup in its portfolio. (Andreessen Horowitz is also an investor in BuzzFeed.)
But even its powerful friends acknowledge Zenefits is pursuing a risky course. It is using its pile of venture capital to expand at a breakneck pace, hiring lots of salespeople in an effort to win ever more small business customers. The hope is that Zenefits will finally turn a profit when it gets big enough — but there is no guarantee that this will happen, particularly if it grows too quickly to adequately serve its customers.
Despite its lofty valuation, Zenefits eschews some of perks, like free lunches, that are commonplace at other tech companies. The CEO, Parker Conrad, has said he won't consider job applicants who ask whether they'll be served free lunch.
Renting the mansion made economic sense, the company says, because of the numerous out-of-town employees helping set up the Scottsdale office. From March through September this year, according to the company, the house's five bedrooms averaged 90% occupancy.
But from the outside, the Zenemansion often looked empty. "In the past year, I haven't seen them there. Not once," said Rob Binkley, who works alongside the building's owner, Eric Weinbrenner, at BuyAZForeclosures.com. "It's very, very unused."
This observation, Binkley acknowledged, was based only on what he has seen while occasionally driving by the property. Since Zenefits employees would often use Uber instead of renting cars, the house's driveway would be empty even with people staying there.
Still, Binkley was surprised to learn Zenefits had insisted on having a daily cleaning service. The cleaning people, he said, often had an easy job to do.
"The joke is," Binkley said, Zenefits employees "only come something like once every month anyways. The cleaning ladies just come in, look around, and leave."